Product details of 150KG Digital Electronic Fitness Bathroom Body Fat Weight Scale Health Weighing
Description:
Wide-platform.
Auto on: When you step on the platform, the scale will automatically turn on.
Auto off: It will automatically turn off after work.
2.1" LCD Screen.
With low battery indication.
With tare function.
With Lock and Unlock function.
Two modes for unit option: bl and kg.
With capacity of 150X0.1KG or 330X0.2LB
Powered by 2 * AAA batteries (batteries NOT included).
High accuracy.
Low power consumption.
Decent design.
Simple usage.
A must buy to take care of your health and body shape.
Capacity: 150KG
Accuracy: 100G
Unit: LB/KG
Power: 2 * AAA batteries (NOT provided)
Button:
MODE: Switch unit between lb and kg
ON:
Be off status, press ON to turn it on;
Be at working status, press ON for 3 seconds to turn it off;
Be at working status, press ON for tare function.
Material: Durable plastics
Color: Black
Product dimensions: 240*150*27mm
Product weight: 450g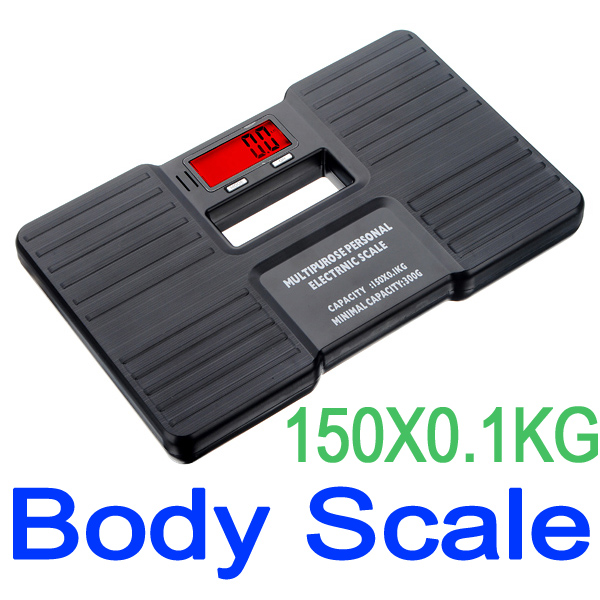 Operation:
Step 1. To make sure accuracy, always put the scale on a hard and flat surface like wooden or
marble floor (avoid carpet or soft surface).
Step 2. Gently step on the scale, then the scale will be automatically turned on. Stand evenly on
the scale without moving and wait until your weight shown on display is stable and locked.
Package included:
1 x 150kg Personal Portable Digital Scale (batteries are NOT included)
1 x User manual