**

XPAD Netpad LY-F1 A10 1.5GHZ HDMI HD Advance

**


1.5 ghz A10 Allwinner

8GB

+ 1GB DDR3 RAM !



COD Petaling jaya 17/38 (12-12 daily)
Contact: 016-3110962
**EX-STOCK 50+ SETS !!!**
We Have ORIGINAL 100% FIT LEATHER CASE (Blk or White)
for this Xpad Netpad F1 MODEL!!
(not cheapo string strap case) ADD RM 35 ONLY !
F1 Allwinner A10 Advance (Netpad A11) ANDROID 4.03 Tablet (*8GB + 1GB DDR3 RAM*)
1.5GHz, HD 2160P, 3G, Wifi, Camera ,5 Point Capacitive,1 GB RAM , 3D, HDMI Port
* SLIMMEST PROFILE & LARGE 1GB DDR3 RAM MEMORY for FAST 3D HD SPEED ! ! * (White )
It is 1GB RAM Tablet PC

It is A10 which carry HDMI Port ( A13 does not support HDMI )

It is A10 with 1.5Ghz ( A13 is 1.2GHZ maximum )

It is G+G Touch Screen ( A13 is G+P Touch Screen )

It is A10 that can play TEMPLE RUN ( 3D and High Speed Games )

( A13 cannot support Temple Run , you always fail at certain stage )

1 YEAR LOCAL COMPANY WARRANTY !!
** PROMOTION LIMITED Edition OFFER !!
** EX-STOCK !! **
This is Allwinner A10, not A13
A10
: Max. 1.5Ghz, HDMI port (our device)
A13
: Max. 1.0Ghz, without HDMI port (low cost)
This is a A10 Allwinners 1.5Ghz Tablet PC ( not A13 1.2Ghz )
Support 3G broadband & WIFI

Support HDMI, Full HD 2160

Support USB , words/excel/power point /PDF

CPU -A10 , 1.2Ghz ( over-clocking 1.5Ghz) ; this is NOT A13 , A13 is 1Ghz (over clock to 1.2GHz)

A10 has better performance than A13 . Higher Speed & support HDMI

Powerful WIFI + Long Lasting Battery Usage
A10 has higher speed than A13
A10- Speed = 1.2Ghz ( overclock 1.5Ghz)

A13-Speed = 1.0Ghz (overclock 1.2Ghz)
A10 can support HDMI but A13 cannot support HDMI
A10 Tablet PC come with HDMI port , but A13 Tablet do not has HDMI port

A10 has 2160 Full HD , but , A13 has 1080 HD

THE RESULT: Overall performance , A10 has better performance than A13 .

A

10 product cost is much higher than A13
It has 1GB RAM
It has 8GB Flash
It has G+G Touch Panel
It has POWERFUL WIFI
It can play / watch video about 4 hours
It has Very Bright LCD Screen
It is very slim and beautiful
F1 Allwinner A10 1.5Ghz ManyCore 1GB DDR3 RAM MID Andorid 4.03 ICS
Wifi, Camera, Ultra Slim & Light,
5 Point Capacitive Touch Screen, HDMI, 2160P HD, 3D Games .
* Allwinner F1 Come with lastest Android 4.03 ICS, with Real Android Market
++ Fastest 1.5Ghz Speed (Cortex A8 processor)
++ High quality 5 point touch Capacitive Screen (very bright, wide angle viewing, responsive and sharp LCD screen)
++Long lasting Battery
++ Super light weight and thin design (you can hold it for hours for movies and ebook reading without a sore wrist!)

Allwinner F1 8GB WITH 1GB RAM ! ( NetPad A11 )
Comes with following FREE gifts !! (worth rm70)
Free 1 x Screen Protector (RM25)
Free 1 x OTG usb cable (rm10)
Free 1 x 3 pin Malaysian charger (RM20)
1 YEAR LOCAL COMPANY WARRANTY !!
(note: other seller give 3 months only..look at their feedback rating) !!
AllWinner A10 CPU MODEL LY-F1 . MANY CORE 1.5GHZ CPU !, 8GB+ 1GB RAM + ANDROID 4.03 ICS, CAMERA, 3G, WIFI , Ultra Super Slim & Light , 5 Point Capactive , 2160 p HDMI, 3D Graphic Game Support.
AllWinner A10 proces

sor 1.5GHz (max)

1GB DDR3 RAM, 8GB ROM
(support up to 32GB )
Android

4.03 ICS (Ice Cream Sandwich)




Android Market (unlimited application/games)
Support

2160P HD video

decoding

(note: this model LY-F1 is not IPS Screen Dont have in market !! All lies )

5 point capacitive touch

screen ( dont have IPS as confirm by LY manufacturer)

Ultra Slim (9.9mm only) & Light (323g Only)

Clear Front facing camera

Grade A upgraded battery

(5-6 hours continuous watching Movie)
70% Less power consumption + with PMS (pmu+dvfs) Upto 25days standby
HDMI output: Allows the

DPU to support dual display

HDMI output
Built-in mic and speaker
Wifi & S

upport Huawei 3G Broadband modem

(Clecom, Digi, Maxis, Umobile)

G-sensor (Gravity 4 Dimension)
Working OTG (link to your computer)

1 Year Local Company Warranty
This item comes with 1 year local office warranty !

Standard in Box:
XPAD NETPAD F1 8GB Android 4.03 Tablet (LY-F1) Black
1x 3pin Malaysian Charger

READY STOCK!!
RM 350! (RM 399) Wow !!
( Poslaju or can Self Collect Petaling JAYA ! )




COD Petaling jaya 17/38
Contact: 016-3110962
CALL/SMS for COD at
Petaling jaya
section 17/38 cimb
016-3110962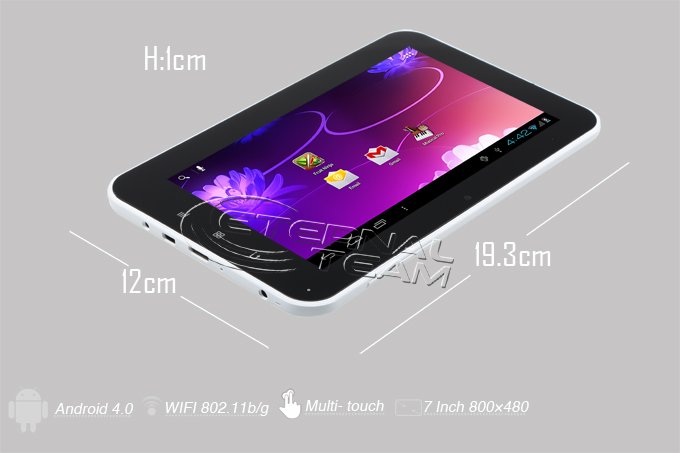 Last Updated @ 9/9/2012 1:10:11 AM

Last Updated @ 9/13/2012 4:08:38 PM