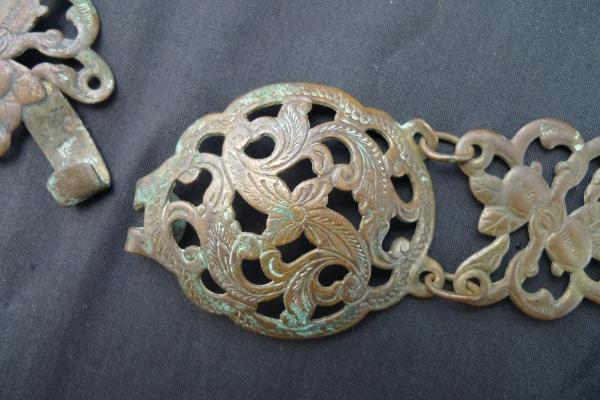 AT 0794

An antique belt casted from pure brass copper, will not rust . The ogival buckle shaped and chased with flora, the belt plates are difficult to translate its pattern, my guess is a type of local fruit. Circa 1900, Sarawak Borneo.

Total length: 90 cm / 35.4 inches
Buckle: 5 x 4.5 cm / 2 x 1.8 inches
Belts size: 3.5 cm / 1.4 inch
Weight: 130 grams.

Please email me at elizagoh@gmail.com for more photos, thanks!
More items at www.borneoartifact.com
view more products here:
Asian home deco - corals and seashells
Asian arts - Door panels & wall deco
Asian Body arts - earweights & body piercing
Asian Antiques - Gongs & cannons
Asian sculpture - Hampatong statues
Asian art - medicine containers
Asian body arts - necklaces & body jewellery
Asian carvings - shields and armours

Last Updated @ 9/18/2014 3:09:26 PM