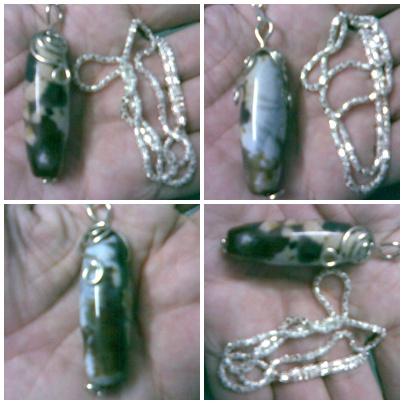 ABPJ-D066 Beautiful Wrapped Dragon Veins Agate Pendant Bead Necklace - 52x13x12mm.

This is suitable for Unisex.

Pendant Material : Silver Metal + Agate
Pendant Size: 52mm x 13mm
Pendant Thickness : 12mm
Free Jewelry Pouch!
Free Silver Chain!.

Agate is a very popular stone in various feng shui cures and carvings.

WHAT IS SPECIAL ABOUT AGATE? -
As a form of chalcedony (type of quartz) agate
exhibits a variety of colors, shapes, as well as
an often present gentle iridescence. Agate
combines the strength and solidity of a stone with
the fluidity of water and translucency of air - a
unique combinations of energies, indeed!

WHAT ARE THE SPECIFIC FENG-SHUI PROPERTIES OF
AGATE?-
Agate has a balancing and healing energy that can
be very soothing; this applies especially to the
blue agate. Katrina Raphaell, the utmost authority
on healing with crystals, considers the blue lace
agate the most powerful healing stone of all the
blue stones.

More healing than chrysocholla, turquoise,
aquamarine, celestite and other powerful blue
healers of the earth, agate is also inexpensive
and easily available. "None of the blue stones,
she writes in her Crystalline Transmission book,
has a more peaceful countenance than the soft
presence of the blue lace agate".

Similar energy can be attributed to other agates,
their energies being expressed further by specific
colors. For example, the fire red agate will have
the same healing energy, but in a more energized
manner, while the green agate will be healing and
very refreshing for one's mind and body.

Agate is also considered to be protective, as well
as grounding, so it is often combined with Dzi
beads to create feng shui bracelets necklace of
various designs.
Free shipping by post Registered within Malaysia.
Any question can contact me. 016-4130986 or email : ydtec@hotmail.com. tq.
If you want, don't wait, just bid it Now.
Just click "Bid Now" button to get it Right NOW...

CIMB Bank.
Account No.:

8004220211

.
Account Name: Yondertech Ent.
1. I'm offer FREE SHIPPING within Malaysia using Registered mail / post service with Tracking No.
2. It normally takes about 4 business days to arrive.
3. Additional charges if required for Poslaju services.
4. Item will be shipped within 48 hours on business days (ex stock) after received payment from buyer.
5. Tracking no will be provided upon ship.
Any question can contact us at 016-413 0986 or email : ydtec@hotmail.com. tq.