SLX-BK-Z09 is a wall switch with built in infrared sensor, installation of the device is very easy with 2 wiring technology. It has three selection modes of operating On, Off and Movement detection (PIR). The device can operate in both day and night situations, with the aid of the adjustability of the PIR sensitivity and the light sensitivity. The duration of the switching ON time can also be adjusted.
It is suitable for automatic smart home control for incandescent lamp and fan control at walkway, staircase, store room at home, hotel, company, factories and etc…
Features:
Power source: 220V ~ 240V/AC

Power frequency: 50Hz

Light-control: 3lux ~ 2000lux (adjustable)

Time-delay: 7sec +/-3sec ~ 7min +/-2min

Rated load: Max 500W (incandescent Lamp)

Detection Distance: 9m base on <22Deg C

Working humidity: <93℅RH

Working temperature: -20~+40℃

Convenient for installation. Suitable to be mounted into circular or square junction box.

Mounting Screw hole Distance : 60mm

Approx Product Size : 80 x 80 x 35mm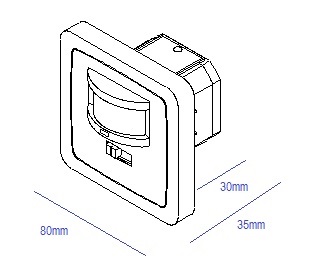 Package Content:
Note 1: The compartment of the electronic is 50 x 50 x 30. Please ensure enough space at your wall casing.
Note 2: This two-lined design power (without neutral) is not suitable to be used at fluorescent lamp alone. It is suitable to incandescent lamp LED, energy saving light and fan. If you really want to connect it into fluorescent lamp, some simple modification perhaps add in an incandescent lamp parallel with the fluorescent lamp. Or, consider other model of sensors with 3-lined design power)