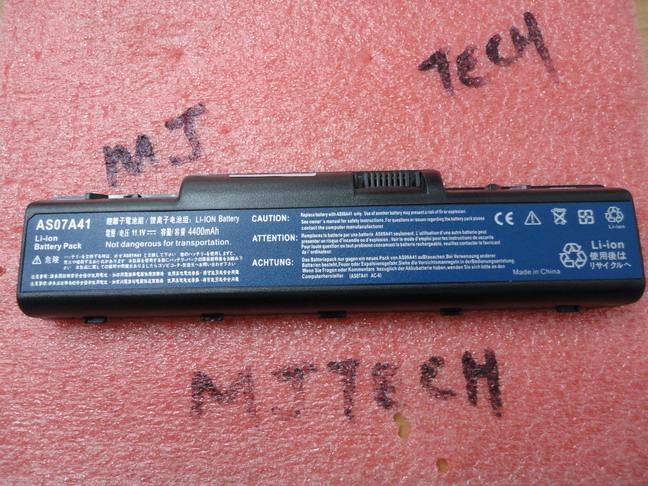 one unit OEM Acer Aspire 4710 4315 4520 4520G 4920 battery new ( black )

warranty : 3 months
Condition : NEW
compatible model :
| | | | | |
| --- | --- | --- | --- | --- |
| Acer Aspire 4710Z, 4715, 4715Z Series | Acer Aspire 4720, 4720G,4720Z,4920,4920G | Acer Aspire 4310 Series | Acer Aspire 4220, 4310G, 4315,4320, | ACER Aspire 4315,4520, 4520G,4710,4710G, |
ACER

Aspire 2930

Aspire 2930G

Aspire 2930Z

Aspire 4220

Aspire 4230

Aspire 4235

Aspire 4240

Aspire 4310

Aspire 4315

Aspire 4320

Aspire 4330

Aspire 4332

Aspire 4336

Aspire 4520

Aspire 4520G

Aspire 4530

Aspire 4535

Aspire 4535G

Aspire 4540

Aspire 4540G

Aspire 4710

Aspire 4710G

Aspire 4710Z

Aspire 4715Z

Aspire 4720

Aspire 4720G

Aspire 4720Z

Aspire 4730

Aspire 4730Z

Aspire 4736

Aspire 4736G

Aspire 4736Z

Aspire 4740

Aspire 4740G

Aspire 4920

Aspire 4920G

Aspire 4925G

Aspire 4930

Aspire 4930G

Aspire 4935

Aspire 4935G

Aspire 4937

Aspire 4937G

Aspire 5236

Aspire 5241

Aspire 5300

Aspire 5332

Aspire 5334

Aspire 5335

Aspire 5335Z

Aspire 5338

Aspire 5516

Aspire 5517

Aspire 5532

Aspire 5536

Aspire 5536G

Aspire 5541

Aspire 5541G

Aspire 5542

Aspire 5542G

Aspire 5734Z

Aspire 5735

Aspire 5735Z

Aspire 5737Z

Aspire 5738

Aspire 5738G

Aspire 5738Z

Aspire 5740

Aspire 5740G

Aspire 7715Z

Aspire AS5740
Please PM / email / press contact seller to provide me any brand and model , we can order many types of laptop accessories , battery , LED , LCD , spare part , processor.
Terms and Conditions :

Image may vary from actual item.
Please close/complete the deal within 3 working days.
No combine shipping for this item ( unless stated in the auction )
Buyer may request combine shipping for certain light weight item,shipping fee will deduct 10% - 50% from all shipping fee.
If not agree with the shipping fee,pls don't bid on it otherwise bad comment will be giving.
Buyer pay the return shipping fee for warranty claiming.  
Goods sold are non-refundable & no warranty given (unless stated in the auction).
Goods will be tested before item is being send.
No refund nor exchange is allowed in terms of hardware compatibility issues.
Posted item will be tested and packed with extra care. However,
l hold no responsibility for damages caused to items during delivery.

No warranty if :
* Products physical damaged due to user abused or improper handling issue.
* Attempt to repair or modify the product without written approval.

Warranty Information:
-Buyer pay postage for returning faulty item. Item returned and found not to be defective will be returned at buyers expenses. Item sold are not refundable.

Warranty only covers manufacturer's defect. Wear and tear, shipping damaged, misused, negligent and compatibility are NOT cover under the warranty.
- Specifications and design are subject to change without notice. We are not responsible for any change of specifications and design by the manufacturer.
 
All trademarks / registered trademarks belongs to their respective owners.
All prices quoted in Ringgit Malaysia (RM) unless otherwise noted.
Images displayed may vary from the actual products.