Hosted @ Lelong Picture Services



Hosted @ Lelong Picture Services



Hosted @ Lelong Picture Services
Apple Genuine Original Certified 8 Pin Lightning To USB Cable Data Sync Cable For iPhone/ipad (1m)
The certified Apple iPhone 6 and iPhone 6s USB charging and data cord is made to plug into any USB charger to charge up your Apple iPhone 6 and iPhone 6s as well as plug into your computer USB port to charge as well as sync your phone. Use the Apple cube or the fast rate charge and this cord will not slow down your phones charging speed. If you need to sync your phone with a computer, this item will synchronize and backup your schedules, contacts and pictures between your computer and Apple iPhone 6 and iPhone 6s as well.
Slim profile charger. The charger tip is a slim design so that the charger fits in the charger port of your cell phone even when your phone is wrapped in a protective case
It is a smaller connector which when compared to Dock connector, has only 8 pins which makes it much smaller in size than Dock which has 30 pins. When comparing with USB, it is little bigger but not that much. Another addition in Lightning, besides being small in size, is it's built in processor. As it can be connected in both directions i.e. right way or upside down, so when connected to a device, the processor detects the direction of the connection and then reroutes the electric signal so that the device works properly in either case.
✔
Certified Apple Cable (No error message appear)
✔
Fully compatible with all Apple operating systems including the most up to date iOS9x
✔
Constructed to support the rapid chargers on the market so that the cord does not slow down the charge rate of your Apple 6 and 6s phone
✔
Slim profile charger. The charger tip is a slim design so that the charger fits in the charger port of your cell phone even when your phone is wrapped in a protective case
✔
Certified Apple - Apple iPhone 6 and iPhone 6
✔
USB Lightning Cable For iPhone.
✔
This USB 2.0 cable connects your iPhone, iPad, or iPod with Lightning connector to your computer's USB port for syncing and charging or to the Apple USB Power Adapter for convenient charging from a wall outlet.
✔
Eight-signal design that s significantly more durable than the 30-pin connector,another brilliant feature of Lightning cable is its reversibility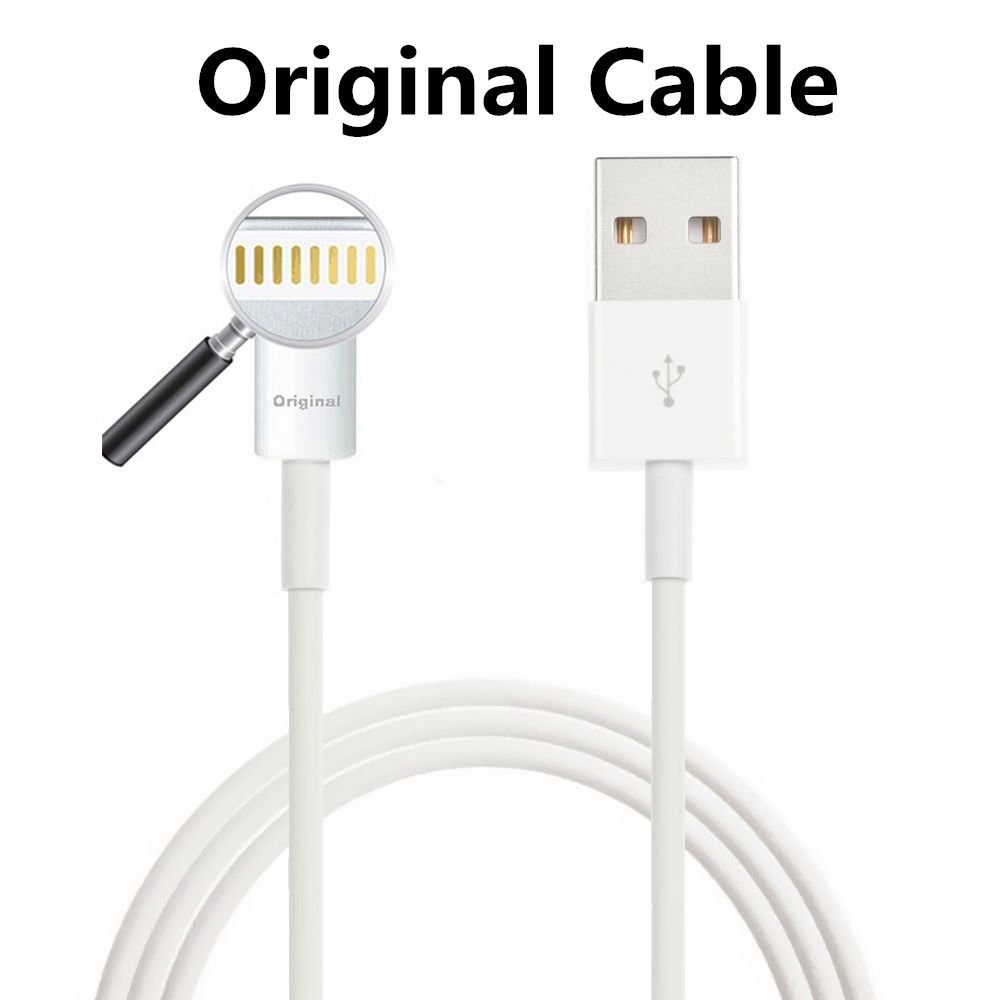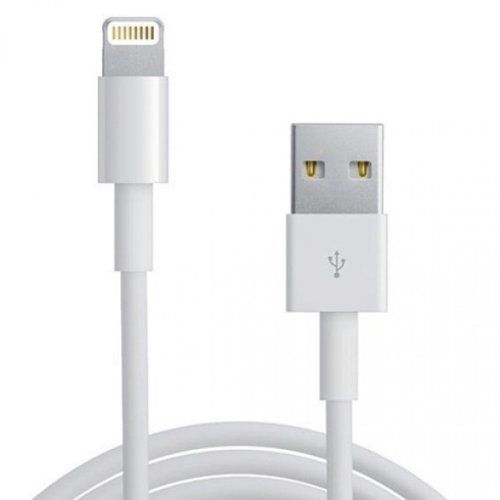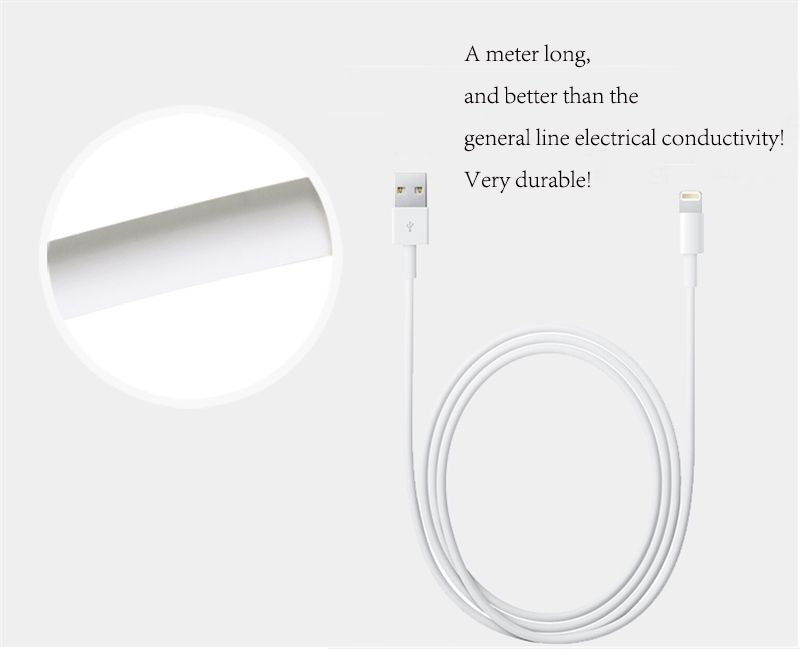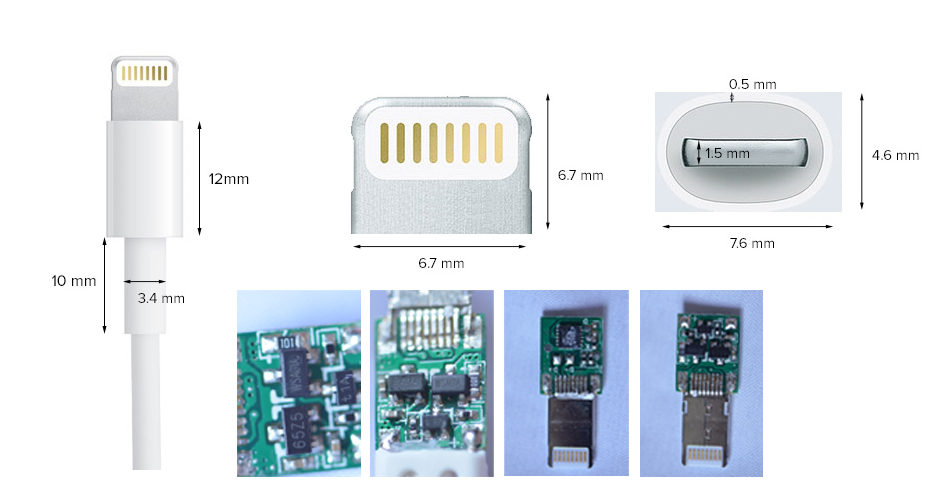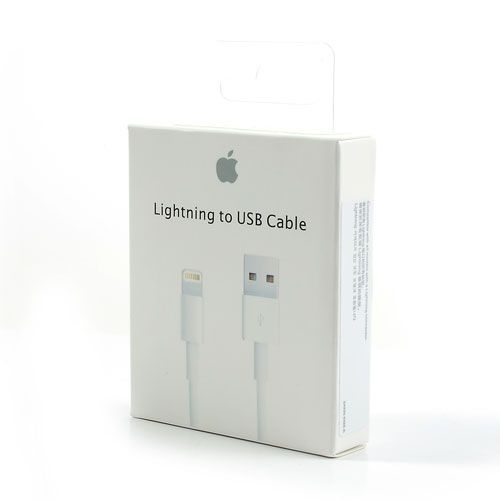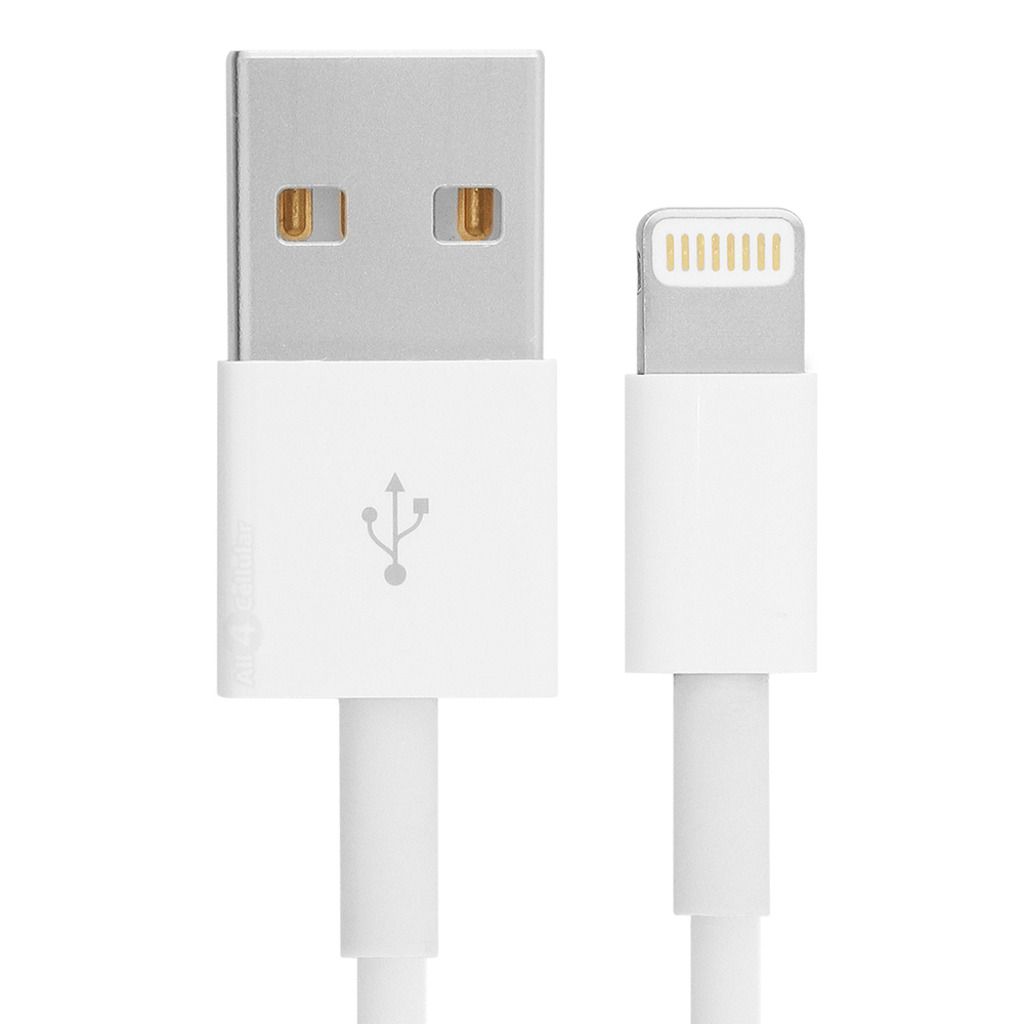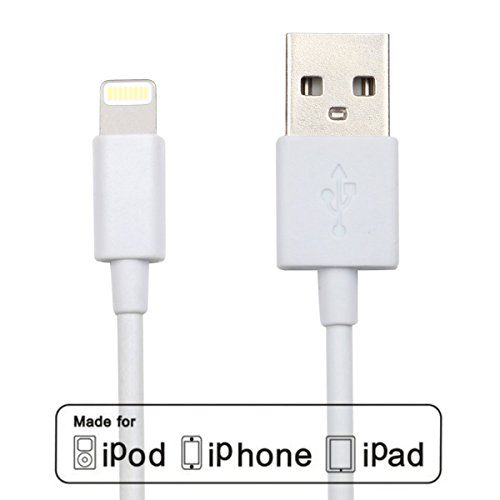 !!!
How To Identify Fake VS genuine Lightning Cable For Iphone, Ipad ?
!!!

This error appears on your iPhone / iPad lock screen because the charging cable adapter (also called as
lightning connector
) you have is not genuine. Let's say you have an iPhone 6 Plus with the original lightning connector that is now damaged.
And you buy a new connector from the local store.
When you plug this connector to your iOS device, it shows this "certified" error.
Your iPhone / iPad will still charge itself as you connect the cable to the power source, but Apple recommends you do avoid such fake cables. That is why it shows you the error message on the lock screen as the cable is fake. What you bought is probably a duplicate charging connector that are sold offline and online at a cheaper price. As an example, see this chart showing the different between the original and fake lightning connectors:
Identify counterfeit or uncertified Lightning connector accessories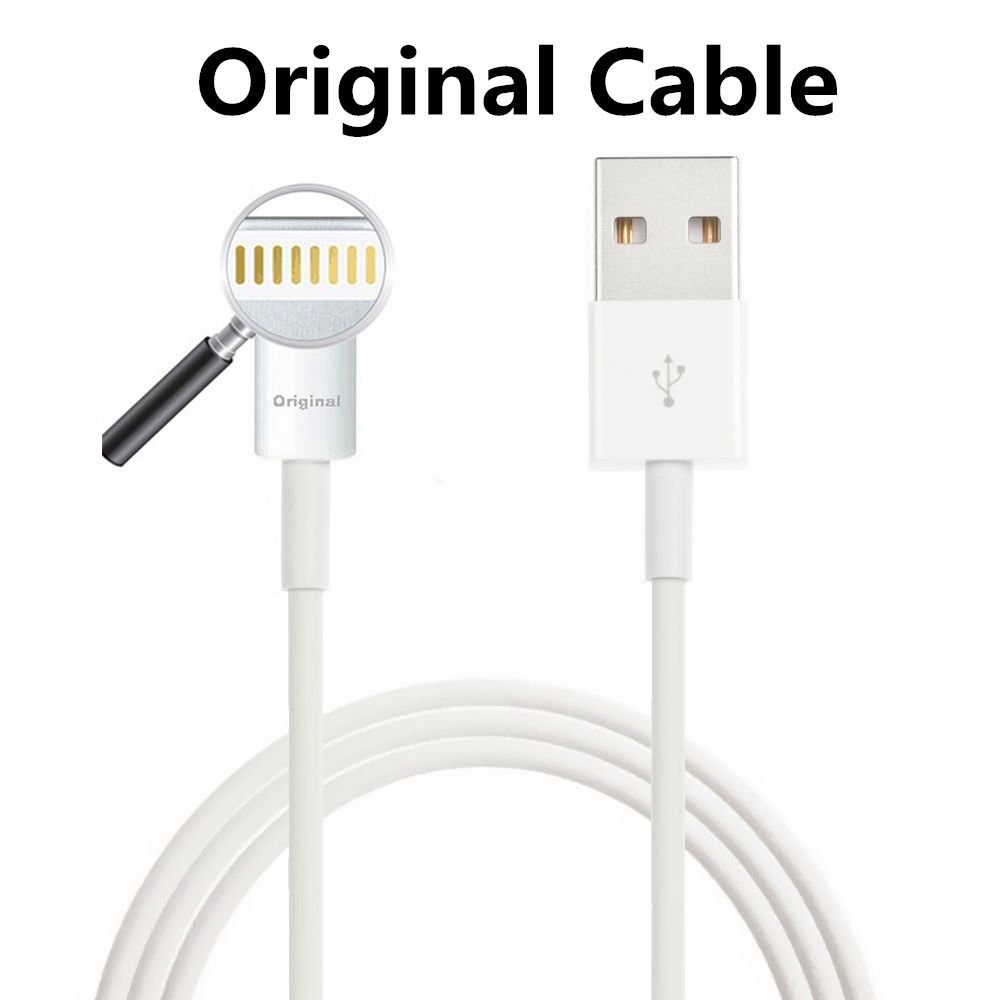 Apple recommends using only accessories that Apple has certified and that come with the "Made for iPod/iPhone/iPad" logo. Learn about the issues that counterfeit or uncertified Lightning accessories can cause and how to identify these accessories.
If you use a counterfeit or uncertified Lightning accessory, you could see these issues:
Your iOS device could become damaged

The cable might be easily damaged

The connector end might fall off, get very hot, or might not fit properly into your device

You might not be able to sync or charge your device
Compare packaging and writing on the cable
To identify counterfeit or uncertified cables and accessories, look carefully at the accessory's packaging and at the accessory itself. Certified third-party accessories have the MFi logo on their packaging. An Apple Lightning to USB cable has "Designed by Apple in California" and either "Assembled in China," "Assembed in Vietnam," or "Indústria Brasileira" on the cable about seven inches from the USB connector. You'll see a 12-digit serial number at the end of this text.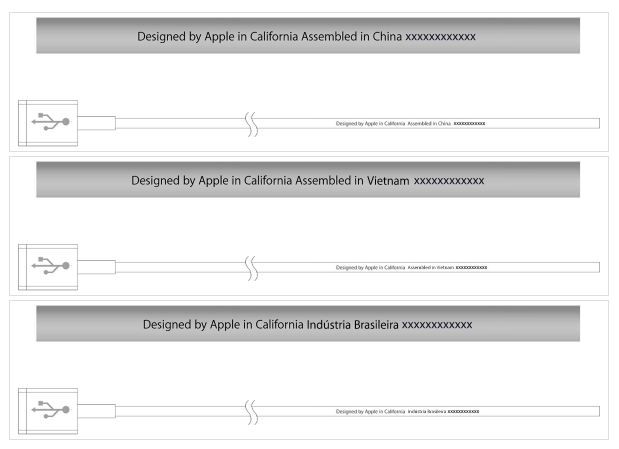 A certified, third-party Lightning to USB cable usually has company branding on the Lightning-connector end.
Compare connectors and laser etchings
You can use the Lightning connector, USB connector, and laser etchings to identify counterfeit or uncertified Lightning accessories. Compare the images below of certified Apple accessories and counterfeit or uncertified Lightning accessories. These are only a few counterfeit products. There are others.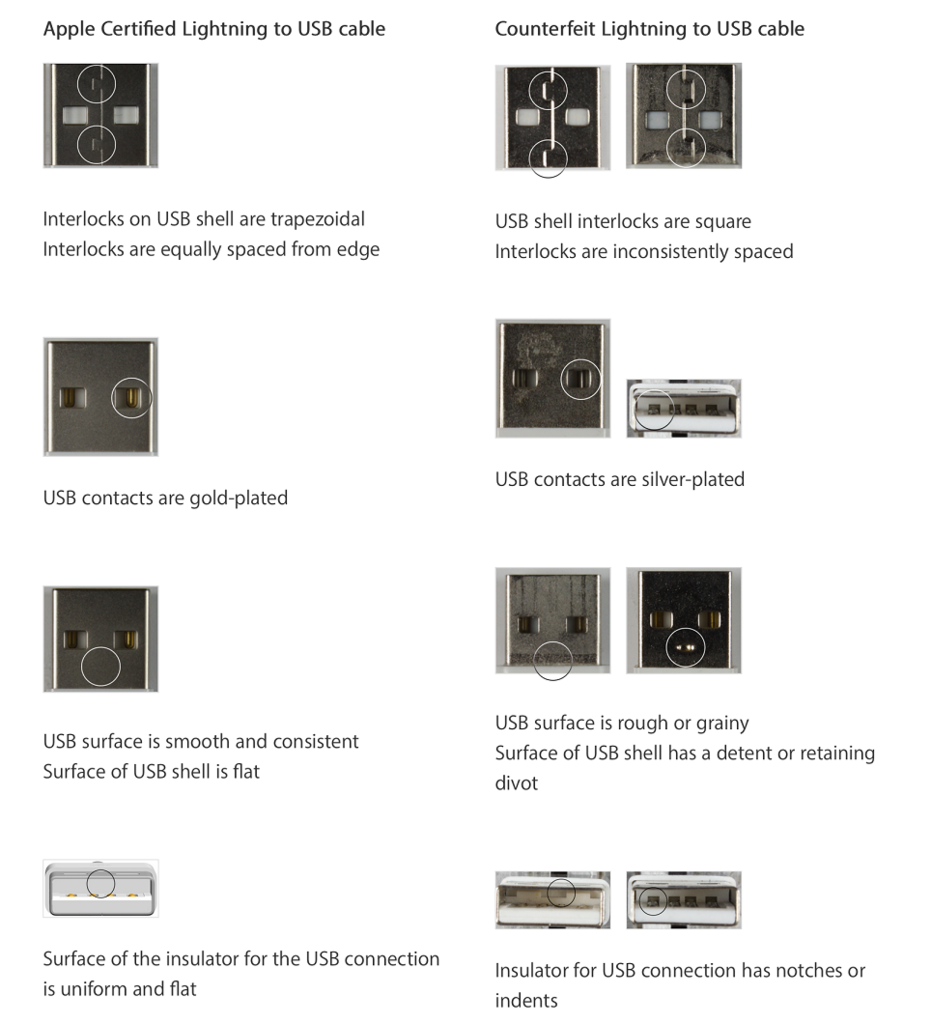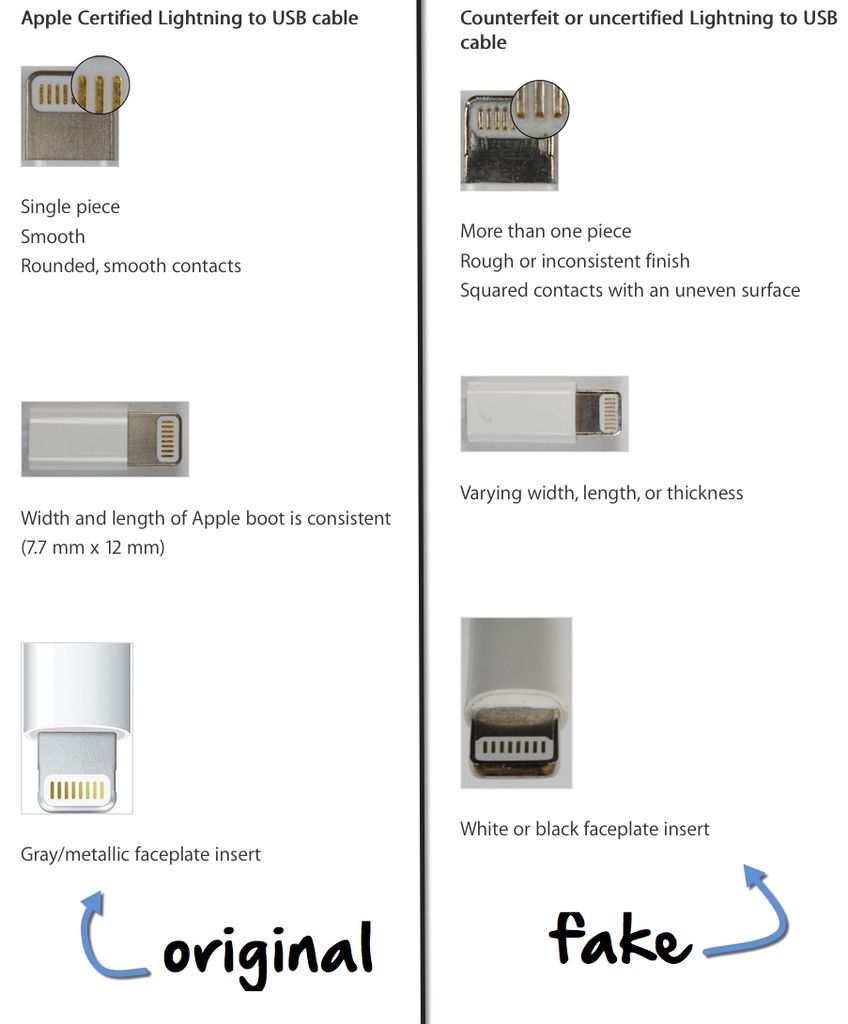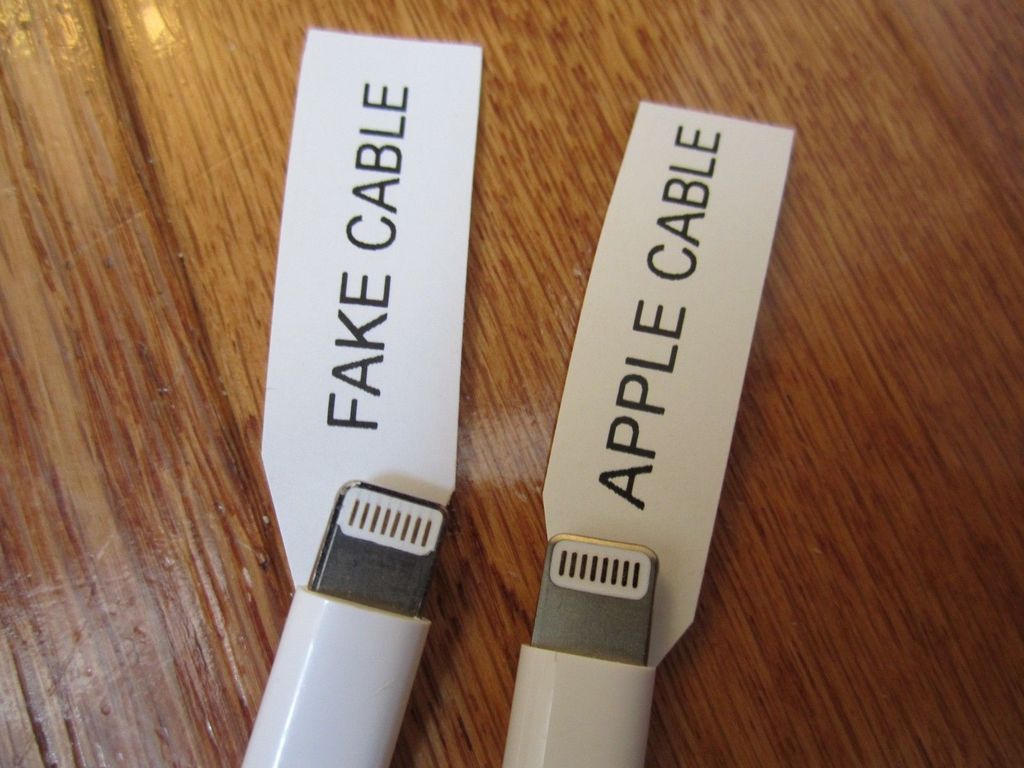 | | |
| --- | --- |
| General Features: | |
| Model | 5/5S/5C/6/6 Plus/6S/6SPlus/iPad |
| Brand Compatibility | Apple |
| Size (L x W x H) | 8 x 6.8 x 1.8 |
| Weight | 0.2 |
| Warranty Period | 1 Month Warranty for both Apple Cable & Apple Adapter |
| Warranty Type | Local Supplier Warranty |