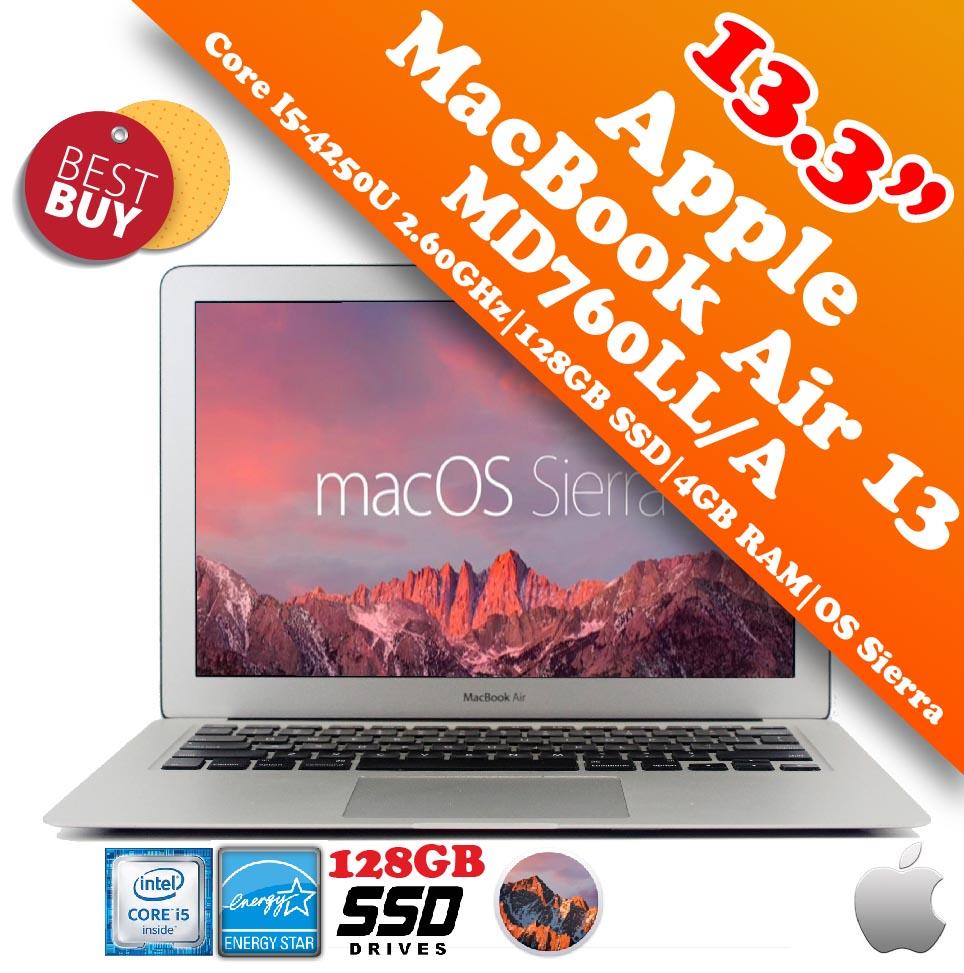 Offer Deal
Market selling RM4299, Now just start bid from RM1!!!
Fast!!! First come first Serve!!!
****1 YEAR Warranty
Product Description
Apple MacBook Air 13'' (Mid-2013) Multimedia Notebook Special Offer
!!
Intel
Core i5-4250U 2.60GHz
| 128GB SSD | 4GB RAM | Intel HD Graphics 5000
|
13.3'' HD+ (1440 x 900) Display | Webcam | WiFi | Bluetooth |
Backlit Keyboard | Mac OS X Sierra
Product Specifications
DEscriptION

APPLE MACBOOK AIR 13 MD760LL/A (Mid-2013)

Processor

Intel Core i5-4250U 1.30GHz (Turbo Boost up to 2.60GHz)

Operating System

Memory

Display

13.3" LED Backlit,HD + Glossy. (1440 x 900)

Hard Disk Drive

Graphics

Webcam

Network & Communication

802.11ac Wi-Fi wireless networking; IEEE 802.11a/b/g/n compatible

Bluetooth 4.0 wireless technology

Ports

1 Headphone/Microphone combo

Battery

Internal 54Wh Lithium Polymer

Color

Dimensions

32.5 x 22.7 x 0.30 to 1.7 cm

Weight

1.35 kg
Features/Additional Information

Slim but durable
Aesthetically, the Air is perfect. The thickest portion of the laptop is the rear, and the chassis tapers from there to an extraordinarily thin front which curves into a flat edge. No angle is unattractive, not even the bottom, which is nearly as smooth as the lid.
Aluminum is everywhere. Use of this metal has defined Apple's products for years now, and some PC manufacturers have begun to use the material in their own laptops. Yet the Air remains a cut above, not only because the entire body is made of aluminum but also because of the finish and build quality.
The seamless uni-body chassis eliminates most gaps in the chassis. The only visible seam is found on the laptop's underbelly, where the removable bottom panel mates with the upper half. Despite its thin profile, this laptop feels more solid than many laptops twice as thick.
One feature new to the refreshed Air is a backlit keyboard. Typing in dark environments is now a cinch, and there's a wide range between the dimmest and brightest settings. That's helpful, as a backlit keyboard can be an annoyance in a pitch-black room if only a few levels of brightness are available.
While the keyboard's excellent layout remains nearly identical to the previous model, there are a few changes. The F5 and F6 keys now control the keyboard's backlight, while the F3 and F4 keys are now dedicated to OS Mavericks's Mission Control and Launchpad, respectively. Key feel also seems to have changed slightly in comparison to the outgoing model. Each stroke is firmer, and the keys themselves are attached more tightly. These small changes further improve the quality of an already pleasant typing experience.
Subtle changes have been made to the touchpad, as well. It's still a large, glass-coated surface, and users still press down on the touchpad itself rather than a dedicated button to replicate a mouse click, but the spring mechanism is lighter than before. Previous models were firm to the point of annoyance, so this is a welcome change.
Our MacBook Air 13.3" review unit had the basic configuration, anchored by a 1.3GHz Intel Core-i5 processor. This is part of Intel's latest second-generation Core product line, which means this laptop has skipped forward two generations from the Core 2 Duo processors found in the previous model.
macbook-air-13-3-display-angleApple claims this provides performance up to 2.5 times quicker than before. While we did not have an older version for a side-by-side comparison, it's true that this new laptop feels snappy. There is no longer an easily noticeable performance gap between the Air and the Pro.
Benchmarking backed this up. Peacekeeper, a browser benchmark that can be used on any operating system, returned a score of 6961 using Safari 5.1. Most Windows laptops with a Core i5 processor will return a similar score. The solid-state drive also provides impressive performance, offering write speeds of 183.5 MB/s and read speeds of 207.9 MB/s. Quicker drives do exist, but these scores are much better most laptop drives.
One aspect of performance that's taken a step back is gaming. Intel's second-gen Core processors include a graphics solution integrated into the processor itself, giving Apple a reason to say goodbye to the Nvidia GPU found in the previous model, which was already far from a powerhouse. Gaming is possible, but users will have to lower their expectations, as most titles won't run well if their detail settings are not kept low and the game's resolution is not reduced.
Package Contents
1 x Apple MacBook Air 13 MD760LL/A (Mid-2013) Multimedia Notebook

1 x Power Adapter

1 x Power Cable
Payment
Credit Card
Both credit card and debit card with VISA / MasterCard brand logo are accepted.

Online Bank Transfer
Major acceptable bank brands :

Offline Bank Transfer
If you prefer to use offline payment, please use our bank account below :

Bank Name : Maybank

Account Number : 5070-3161-6857

Account Holder : Eureka Computer Technology
Bank Name : CIMB Bank

Account Number : 800-4041-824

Account Holder : Eureka Computer Technology
Bank Name : Public Bank

Account Number : 3180-63-5131

Account Holder : Eureka Computer Technology