ASRock Super Alloy

Supports Intel® Core™ i7 and Xeon® 18-Core Processors (Socket 2011-3)

Digi Power, 12 Power Phase design

Supports Quad Channel DDR4 3300+(OC)

3 PCIe 3.0 x16, 2 PCIe 2.0 x1

Supports AMD 3-Way CrossFireX™, NVIDIA® 3-Way SLI™

7.1 CH HD Audio (Realtek ALC1150 Audio Codec), Supports Purity Sound™ 3 & DTS Connect

10 SATA3, 1 SATA Express, 2 Ultra M.2(PCIe Gen3 x4 & SATA3)

2 USB 3.1 10Gb/s (1 Type-A + 1 Type-C), 5 USB 3.0 (2 Front, 3 Rear)

Dual Intel® Gigabit LAN

1 M.2(Key E for WiFi), 802.11a/b/g/n/ac

SLI™ HB Bridge free bundled
"Taichi" represents the philosophical state of undifferentiated absolute and infinite potential. It's ASRock's biggest offering in the easy-to-use, rock-solidly stable line of motherboards that fulfills every task – with style! Specially designed for the all-round PC user who wants a motherboard packed with premium features.
Prepare yourself well to enjoy the impressive world of Virtual Reality. Before that, you have to make sure everything is qualified, including hardware, software and drivers. Motherboard is the key to connect every critical components and ASRock's VR Ready motherboards are definitely the one you're looking for. The premium qualify is assured by rigorous testing during development. The sturdy components and rock-slid performance makes you completely immersive in the VR scenario. Users can be assured to experience VR enjoyments without any compatibility problems.
Bitspower Water Block (Optional)
Specially designed for ASRock X99 Taichi motherboard, Bitspower water block is a high performance water cooling solution that also includes RGB LED lighting, thus players can select the color and lighting effect they like. The kit is able to cool Intel® LGA 2011-v3 socket CPU and power regulation (VRM / MOSFETs) module. Unlike the high-end CPU tower cooler's fans always run at a very high RPM with annoying noise. Users are allowed to choose a quieter fan for their water cooling solution.
*Water block not included in motherboard package. For purchase information, please contact Bitspower.
Designed with a 12 Power Phase design, this motherboard features sturdy components and completely smooth power delivery to the CPU. Plus, it offers unmatched overclocking capabilities and enhanced performance with the lowest temperature for advanced gamers as well.
8 Layer PCB (4 x 2oz Copper) & DDR4 3300+(OC)
The 8 Layer PCB comes with 4 sets of 2 ounce copper inner layers, providing stable signal traces and power shapes and delivering lower temperature and higher energy efficiency for overclocking! Thus, it's able to support the latest DDR4 memory modules with most extreme memory performance!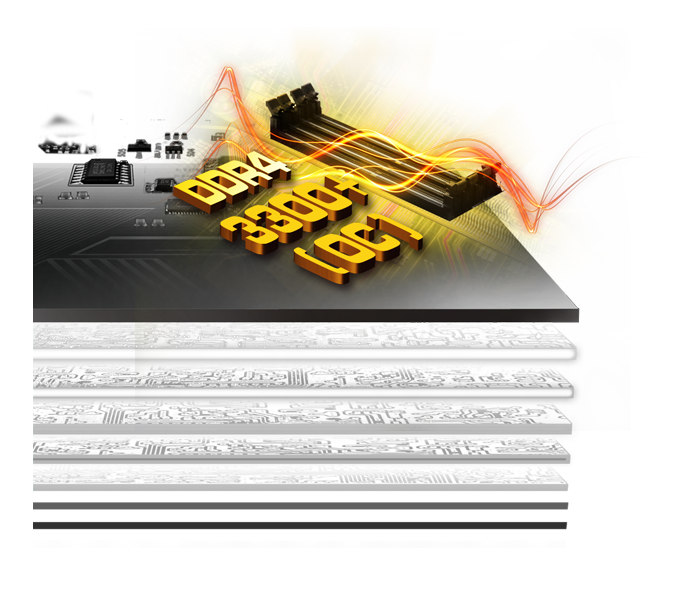 Adopts three PCIe Steel Slots, which are built with more solder points on the PCB for better performance and preventing any signal interference with graphics cards. Allows your graphics cards with enhanced signals and to be well-installed in the PCIe slots.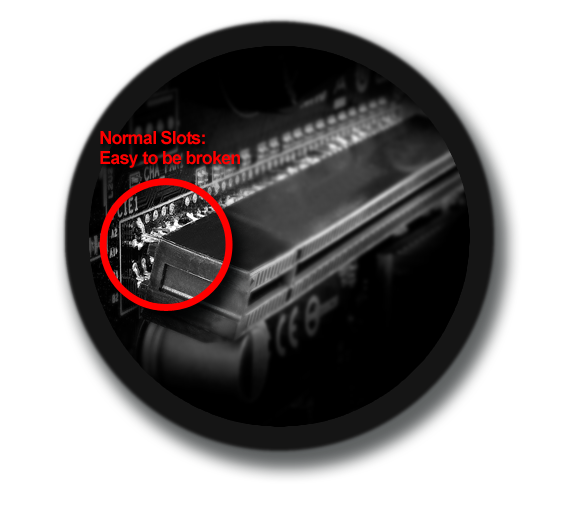 The PCIe Gen3 x4 Ultra M.2 interface pushes data transfer speeds up to 32Gb/s. In addition, it also supports SATA3 6Gb/s M.2 modules, and is compatible with ASRock's U.2 Kit for installing some of the world's fastest U.2 PCIe Gen3 x4 SSDs.
No one has time for weak WiFi signals and sluggish internet! That's why this motherboard comes with a 802.11ac WiFi (2.4G / 5G WiFi) module which supports wireless networks and Bluetooth v4.0.
Users are able to connect two LAN cables to this motherboard's rear I/O. Dual LAN with Teaming function enabled on this motherboard allows two single connections to act as one single connection for twice the transmission bandwidth, making data transmission more effective.
* Teaming is not supported with Windows® 10.
Dual USB 3.1 (Type-A + Type-C)
This motherboard has a pair of onboard Type-A and Type-C USB 3.1 ports built on the rear i/o for supporting next generation USB 3.1 devices and to deliver up to 10 Gbps data transfer rates.
This is not only a standard CPU fan header, but also supports water pumps! This header provides a maximum of 1.5A power for supporting the most popular water pumps. User also can adjust the voltage of water pump to get higher cooling performance with lower noise.
SLI HB Bridge Free Bundled
The free bundled ASRock's new SLI HB Bridge is compatible with the NVIDIA® GeForce GTX 1080 and 1070 graphics cards that doubles the available transfer bandwidth, thus delivering rock stable gameplay and experiencing surround gaming in the best way.
XXL Aluminum Alloy Heatsink
Extra large aluminum alloy heat sinks that effectively take away heat from the MOSFET and chipset so that your whole system may perform more stable.
A new designed protective cover for all of the crucial parts near the motherboard's rear I/O, so that they won't easily be damaged by static electricity.
Compared to traditional chokes, ASRock's premium 60A power chokes effectively make the saturation current up to three times better, thus providing enhanced and improved Vcore voltage to the motherboard.
Nichicon 12K Platinum Caps
A combination of 820uF and 100uF capacitors. Together these capacitors provide clearer, efficient and more responsive CPU Vcore power, and overclockers may achieve higher scores.
Ultra Dual-N MOSFET (UDM)
Combining two silicon dies into one MOSFET, Ultra Dual-N MOSFET provides larger die area and lower Rds(on), so the power supply for the CPU Vcore is more efficient.
Pure black PCB appearance. The new Sapphire Black PCB represents rock-solid quality and gives the motherboard a more mysterious touch.
High Density Glass Fabric PCB
High Density Glass Fabric PCB design that reduces the gaps between the PCB layers to protect the motherboard against electrical shorts caused by humidity.
Unique Feature

ASRock USB 3.1
- ASRock USB 3.1 Type-A Port (10 Gb/s)
- ASRock USB 3.1 Type-C Port (10 Gb/s)
ASRock X Series OC Socket
ASRock Super Alloy
- XXL Aluminum Alloy Heatsink
- Premium 60A Power Choke
- Ultra Dual-N MOSFET (UDM)
- Nichicon 12K Platinum Caps (100% Japan made high quality conductive polymer capacitors)
- I/O Armor
- Sapphire Black PCB
- High Density Glass Fabric PCB
ASRock Steel Slots
ASRock 802.11ac WiFi
ASRock Ultra M.2 (PCIe Gen3 x4 & SATA3)
ASRock Full Spike Protection
ASRock Live Update & APP Shop

CPU

- Supports Intel

®

 Core™ i7 and Xeon

®

 18-Core Processors Family for the LGA 2011-3 Socket

- Digi Power design

- 12 Power Phase design

- Supports Intel

®

 Turbo Boost Max Technology 3.0*

- Supports Untied Overclocking Technology

*Intel® Core™ i7-59xx/58xx processors only support Intel® Turbo Boost Max Technology 2.0.

Chipset

- Intel® X99

Memory

- Quad Channel DDR4 Memory Technology

- 8 x DDR4 DIMM Slots

- Supports DDR4 3300+(OC)*/2933(OC)/2800(OC)/2400(OC)/2133 non-ECC, un-buffered memory

- Supports non-ECC RDIMM (Registered DIMM)

- Supports DDR4 ECC, un-buffered memory/RDIMM with Intel

®

 Xeon

®

 processors E5 series in the LGA 2011-3 Socket

- Max. capacity of system memory: 128GB (with Core™ i7 CPU) or 256GB (With Xeon

®

 CPU)*

- Supports Intel

®

 Extreme Memory Profile (XMP) 2.0

- 15μ Gold Contact in DIMM Slots

*Due to the operating system limitation, the actual memory size may be less than 4GB for the reservation for system usage under Windows® 32-bit OS. For Windows® 64-bit OS with 64-bit CPU, there is no such limitation.
Please refer to Memory Support List on ASRock's website for more information.

BIOS

- 2 x 128Mb AMI UEFI Legal BIOS with multilingual GUI support (1 x Main BIOS and 1 x Backup BIOS)
- Supports Secure Backup UEFI Technology
- ACPI 5.0 Compliant wake up events
- SMBIOS 2.7 Support
- CPU, DRAM, PCH 1.05V, PCH 1.5V, VPPM Voltage Multi-adjustment

Graphics

- n/a

Audio

- 7.1 CH HD Audio with Content Protection (Realtek ALC1150 Audio Codec)
- Premium Blu-ray Audio support
- Supports Surge Protection (ASRock Full Spike Protection)
- Supports Purity Sound™ 3
- Nichicon Fine Gold Series Audio Caps
- 115dB SNR DAC with differential amplifier
- TI® NE5532 Premium Headset Amplifier (Supports up to 600 ohm headsets)
- Pure Power-In
- Direct Drive Technology
- PCB isolate shielding
- Supports DTS Connect

LAN

- Gigabit LAN 10/100/1000 Mb/s

- 1 x Giga PHY Intel

®

 I218V, 1 x GigaLAN Intel

®

 I211AT

- Supports Wake-On-LAN

- Supports Lightning/ESD Protection (ASRock Full Spike Protection)

- Supports Dual LAN with Teaming*

- Supports Energy Efficient Ethernet 802.3az

- Supports PXE

*Windows® 10 is not supported.

Wireless LAN

- Supports IEEE 802.11a/b/g/n/ac
- Supports Dual-Band (2.4/5 GHz)
- Supports high speed wireless connections up to 433Mbps
- Supports Bluetooth 4.0 / 3.0 + High speed class II

Slots

- 3 x PCI Express 3.0 x16 Slots (PCIE2 @ x16 mode; PCIE4 @ x16 mode; PCIE5 @ x0 mode) (PCIE2 @ x16 mode; PCIE4 @ x8 mode; PCIE5 @ x8 mode)*

- 2 x PCI Express 2.0 x1 Slots

- Supports AMD Quad CrossFireX™, 3-Way CrossFireX™ and CrossFireX™

- Supports NVIDIA

®

 Quad SLI™, 3-Way SLI™ and SLI™

- 1 x Vertical M.2 Socket (Key E), supports type 2230 WiFi/BT module

- 15μ Gold Contact in VGA PCIe Slot (PCIE2 and PCIE4)

*If you install CPU with 28 lanes, PCIE2/PCIE4/PCIE5 will run at x16/x0/x8 or x8/x8/x8.
Supports NVMe SSD as boot disks.

Storage

- 10 x SATA3 6.0 Gb/s Connectors, support RAID (RAID 0, RAID 1, RAID 5, RAID 10, Intel

®

 Rapid Storage Technology 13), NCQ, AHCI, Hot Plug*

- 1 x SATA Express 10 Gb/s Connector (shared with SATA3_4 and SATA3_5)**

- 1 x Ultra M.2 Socket (M2_2), support type 2230/2242/2260/2280/22110 M.2 SATA3 6.0 Gb/s module and M.2 PCI Express module up to Gen3 x4 (32 Gb/s)***

- 1 x Ultra M.2 Socket (M2_1), support type 2230/2242/2260/2280 M.2 SATA3 6.0 Gb/s module and M.2 PCI Express module up to Gen3 x4 (32 Gb/s)***

*SSATA3_3 connector is shared with the M2_1; SSATA3_2 connector is shared with the M2_2.
RAID is supported on SATA3_0 ~ SATA3_5 ports only.

**Support to be announced.

***If you install CPU with 28 lanes, the M2_1 only supports SATA type M.2 module.
Supports NVMe SSD as boot disks.
Supports ASRock U.2 Kit.

Connector

- 1 x COM Port Header

- 1 x TPM Header

- 1 x Power LED and Speaker Header

- 1 x CPU Fan Connector (4-pin)* (Smart Fan Speed Control)

- 1 x CPU Optional/Water Pump Fan Connector (4-pin)*

- 3 x Chassis Fan Connectors (4-pin)***

- 1 x 24 pin ATX Power Connector

- 1 x 8 pin 12V Power Connector (Hi-Density Power Connector)

- 1 x Front Panel Audio Connector

- 2 x USB 2.0 Headers (Support 4 USB 2.0 ports) (Supports ESD Protection (ASRock Full Spike Protection))

- 1 x USB 3.0 Headers (Supports 2 USB 3.0 ports) (Supports ESD Protection (ASRock Full Spike Protection))

- 1 x Dr. Debug with LED

- 1 x BIOS Selection Switch

*The CPU Fan Connector supports the CPU fan of maximum 1A (12W) fan power.

**The CPU Optional/Water Pump Fan supports the water cooler fan of maximum 1.5A (18W) fan power.

***CHA_FAN1 and CHA_FAN2 can auto detect if 3-pin or 4-pin fan is in use.

Rear Panel I/O

- 1 x PS/2 Mouse/Keyboard Port
- 1 x Optical SPDIF Out Port
- 3 x USB 2.0 Ports (Supports ESD Protection (ASRock Full Spike Protection))
- 1 x USB 3.1 Type-A Port (10 Gb/s) (ASMedia ASM1142) (Supports ESD Protection (ASRock Full Spike Protection))
- 1 x USB 3.1 Type-C Port (10 Gb/s) (ASMedia ASM1142) (Supports ESD Protection (ASRock Full Spike Protection))
- 3 x USB 3.0 Ports (Intel® X99) (Supports ESD Protection (ASRock Full Spike Protection))
- 2 x RJ-45 LAN Ports with LED (ACT/LINK LED and SPEED LED)
- 1 x Clear CMOS Switch
- HD Audio Jacks: Rear Speaker / Central / Bass / Line in / Front Speaker / Microphone

Software and UEFI

Software

- ASRock A-Tuning

- ASRock Disk Health Report

- ASRock USB Key

- ASRock APP Charger

- ASRock XFast LAN

- ASRock XFast RAM

- ASRock Restart to UEFI

- ASRock Fast Boot (Fast Boot, Restart to UEFI)*

UEFI

- ASRock EZ Mode

- ASRock Full HD UEFI

- ASRock My Favorites in UEFI

- ASRock UEFI Guide

- ASRock Instant Flash

- ASRock Internet Flash

- ASRock Crashless BIOS

- ASRock OMG (Online Management Guard)

- ASRock UEFI System Browser

- ASRock UEFI Tech Service

- ASRock Easy RAID Installer

- ASRock Easy Driver Installer

*These utilities can be downloaded from ASRock Live Update & APP Shop.

Support CD

- Drivers, Utilities, AntiVirus Software (Trial Version), Google Chrome Browser and Toolbar

Accessories

- Quick Installation Guide, Support CD, I/O Shield
- 4 x SATA Data Cables
- 1 x ASRock SLI_HB_Bridge_2S Card
- 1 x ASRock SLI_Bridge_2S Card
- 1 x ASRock 3-Way SLI-2S1S Bridge Card
- 2 x ASRock WiFi 2.4/5 GHz Antennas
- 2 x Screws for Ultra M.2 Socket

Hardware Monitor

- CPU / Chassis / CPU Optional/Water Pump temperature sensing
- CPU / Chassis / CPU Optional/Water Pump Fan Tachometer
- CPU / Chassis / CPU Optional/Water Pump Quiet Fan (Auto adjust chassis fan speed by CPU temperature)
- CPU / Chassis / CPU Optional/Water Pump Fan multi-speed control
- Voltage monitoring: +12V, +5V, +3.3V, CPU Input Voltage, CPU Internal Voltages

Form Factor

- ATX Form Factor: 12.0-in x 9.6-in, 30.5 cm x 24.4 cm
- 8 Layer PCB
- 4 x 2oz Copper

OS

- Microsoft® Windows® 10 64-bit / 8.1 64-bit / 8 64-bit / 7 32-bit / 7 64-bit

Certifications

- FCC, CE, WHQL
- ErP/EuP ready (ErP/EuP ready power supply is required)

Last Updated @ 10/19/2016 6:24:11 PM