Item Specification
Product Description
In 1982, child development experts Linda Acredolo and Susan Goodwyn discovered that babies can communicate with simple signs — even before they're able to talk. The result was
Baby Signs
. Now, with the widespread popularity of signing with hearing babies and new and exciting research findings to report, the authors have completely revised and expanded
Baby Signs
to create this indispensable new edition. Featuring an American Sign Language approach, as well as a set of "baby-friendly" alternatives, this comprehensive new program offers all the information any parent needs to join the hundreds of thousands of families around the world who are using
Baby Signs
to help their children communicate.
What Parents and Grandparents Are Saying About Baby Signs . . .
This book changed our lives.
I cannot emphasize enough how valuable this book is. It was so wonderful to be able to
communicate clearly and specifically with our daughter in the months before her now
incredible verbal abilities blossomed forth. Baby Signs truly provides a window into your
baby's mind. I urge all parents of young babies to put these signs to work for you.
—A reader from Northern California
A must-read for every parent who cares!
We have used this book with both of our sons. Our oldest (now three) has a larger
vocabulary than most five-year-olds. Even our pediatrician commented on his vocabulary
skills. But all of this is secondary to just being able to meet the needs of our kids. We know
if they are hungry, tired, thirsty, or need a diaper change.
—A reader from Cincinnati, Ohio
The most rewarding experience of parenting!
Communicating with your baby or toddler before he or she can speak is so amazing!
My first child learned over fifty signs by age fifteen months. This is a very easy book to read;
it has excellent sign suggestions and illustrations in the back of the book.
—A reader from Chicago, Illinois
This is a very important childcare book!
I'm a language development specialist and an English teacher, and I love to see the way
this method encourages the formation of language concepts in my baby's mind. She's been
"saying" three-word sentences since thirteen months, and the level of bonding and reduction
of what-does-that-baby-need stress has been remarkable.
—A reader from Central California
Best investment for you and your child!
There is no end to my amazement at how much this little guy of mine is capable of.
This book is an incredible tool for any parent interested in opening the lines of
communication with her baby.
—A reader from Holland, Michigan
A great concept, simply presented!
This book was one of the greatest things to happen to me as a parent. Using Baby Signs is
amazing. I gained so much respect for my son and had such a great time using Baby Signs
with him. He could express his needs, his desires, his ideas, and even make a few jokes and
puns. Now my son is two and a half, and he constantly amazes people because he can speak
and think like a four- or five-year-old. I credit Baby Signs.
—A reader from Dallas, Texas
I can talk to my baby before my baby can talk!
I originally had this book with my now five-year-old. By the time he talked, he was using
over forty practical signs. He was talking in sentences by age two. I have a fourteen-monthold
son who also uses many signs—and makes up his own! It is so wonderful to be able to
communicate with my baby. He tells me what he sees, hears, wants, and how he feels—at
—A reader from California
Delivers what it promises!
I started using the signs with my daughter when she was eight months. When she was ten
months, she suddenly started signing. They were right about babies talking sooner and better
with signing. My daughter would combine signs and words by the time she was one year old
and talked in sentences by the time she was two.
—A reader from Poplar Bluff, Missouri
I cannot say enough about this book and all that it has added to our relationship with our
little ones. Both of my children, now two and four, are very verbal and have been able to
express themselves from very early on. This book is well worth the investment—being able to
meet their needs and communicate with our children is priceless!
—A reader from Naperville, Illinois
It works, it works, it works!
I bought this when my baby was just a couple of months old. We started signing a few things
at six months. My son can tell me when he wants a drink, and when he wants a snack, etc.
I love this! Try it. It takes consistency, but it is worth it!
—A reader from Eastern Iowa
The best thing I've done for my child!
I think signing with my baby is the single most important thing I have done to enhance
her development and our relationship. Baby Signs has enriched our lives in so many
—A reader from Dallas, Texas
Baby Signs is a wonderful book! My daughter began doing the signs at eight months and
by thirteen months knew about forty! We did not have the frustration in communicating the
way our friends seemed to. I had so much fun with my daughter that I also used it for my son
with great success. A really fun resource!
Required reading for every parent and grandparent!
This book should be given to every parent before they can leave the hospital. The deceptively
simple approach to nonverbal communication with children in the nine- to twenty-four-month
range presented here is nothing short of magic! My grandchildren can tell us when they are
hungry or thirsty, the water is too hot or cold, and if they want more.
—A reader from Chicago, Illinois
NOTE : ONCE PAYMENT DONE PLEASE EMAIL/UPDATE US YOUR EMAIL ADDRESS OUR IMMEDIATE FOLLOW UP. TQ
ACCOUNT HOLDER NAME: TAN KAIT KEONG
| | |
| --- | --- |
| MAYBANK: | 1051 7603 0572 |
| CIMB: | 1215 0032 7155 28 |
Buy with confidence
| | | | |
| --- | --- | --- | --- |
| Buyer | Item ID | Date | Ratings |
| my**** | 183278064 | 11/8/2016 8:44:00 AM | nice item. |
| ap**** | 174791646 | 11/2/2016 1:38:00 AM | If come with case it will be better.... Very fast shipping..tq |
| 26**** | 179977129 | 11/1/2016 12:45:00 PM | - |
| aj**** | 168148878 | 10/12/2016 1:24:00 PM | All excellent, as usual!! Super easy to deal with!! Thanks!! |
| na**** | 183278533 | 9/29/2016 4:37:00 PM | - |
| te**** | 178307151 | 8/3/2016 4:36:00 PM | - |
| te**** | 178307151 | 8/3/2016 4:35:00 PM | - |
| ar**** | 171813543 | 5/26/2016 8:23:00 AM | - |
Recently Viewed Items
---
NOTE: We Accept CASH DEPOSIT Payment, Bank Transfer/TT/Wire, Online Maybank2u/CIMB/AMBANK and NetPay
MAYBANK : 1051 7603 0572 (TAN KAIT KEONG)
CIMB: 7009 3626 54 (TAN KAIT KEONG)
AMBANK: 147-202-201325-4 (THREE C CONCEPT ENTERPRISE)
Once Payment Done Please Update Us With The Following Details:
Name:
Item Purchase:
Payment Method:
Amount:
Date:
Time:
Shipping Address:
Contact No:
Remarks if Any:
Self Collect /COD
Courier service
Delivery
All item will be ship out within 1-3 business day (not include Saturday, Sunday Public Holiday) by using Poslaju depends on our work convenience after payment confirm received (buyer will receive our Payment Confirmation email our item ship out business days will be start count from next business day).

Once we confirmed ship out the item we will just update the tracking number to our buyers.

Sometime due to our arrangement, technical or item testing before send problem, shipment may be delay some few days and normally will not over 7 business days. If any delay shipment occur, we will inform the buyer.

Combine shipment cost are only available for our dealers/agents, direct order, Buy Now Quick Grab Item, but extra charges should be paid by buyer if the item over the weight.

No combine shipment for Auction item.

We will deliver items every Monday to Friday, and we do not deliver items during Saturday, Sunday and Public Holiday unless at that time we have too many orders and have to overtime.

Any problem occur when delivery that handle by courier services (like item lost or damage), all compensation are responsible by courier services. Liability Clause for courier services are follow their terms conditions. If the case occur, we will try our best discuss with courier service to help our buyers settle and fix this problem.

Before received the parcel from courier services, please make sure the packing of the item are in good packing and no open before that. If the parcel are opened before received, please call us on that time before received or else buyers can be ask them return back or call us.

Once received the items, buyer are responsible to check the item is it in good and working condition.For item that received by buyer family, friends or third party, buyer are responsible to earlier inform them to help check the item whether in good working conditions once received.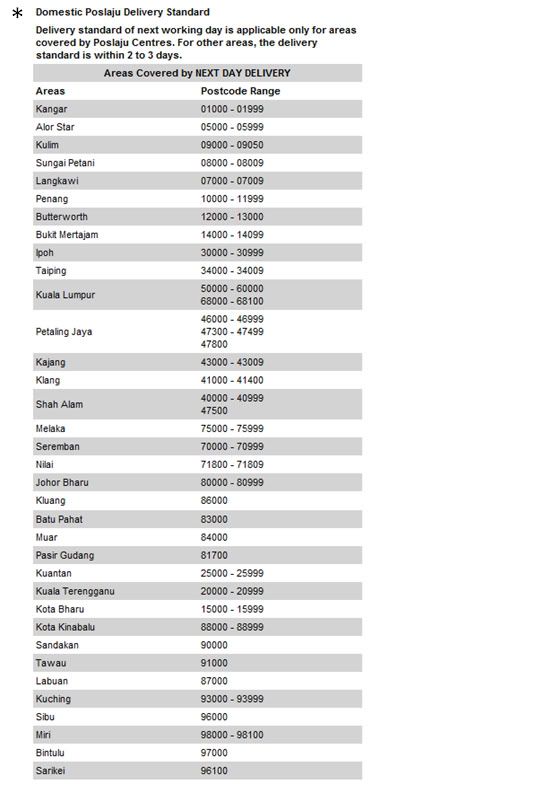 Please understand and agree our Warranty and Return Policy before purchase.
Please do not buy from us if you do not accapt our Terms, Conditions and Warranty and Return Policy
By purchasing from us means you have fully understand our Terms, Conditions and Warranty and Return Policy and agree to it.
All purchase item is not returnable, exchangeable and refundable.
Terms Conditions
Please read carefully and understand with the terms conditions applied before doing the purchase. Please do not bid or order if not agreed our Terms Conditions, Include (Payment, Delivery Policy) Terms.No cancellation of bid is allowed.

Please check and read carefully with the product details list due to we do not accept any change of the items after order or purchase. Any question please email us before place an order.

Product or item specifications stated are from manufacturer specification. Seller will not be responsible for any specifications that might vary from the manufacturer specifications..

All information contained herein is subject to change without prior notice.

Winner or buyer must contact us within 3 days, any inconvenience to make the payment within 3 days after win or order the item, winner or buyer MUST contact us by email about when can be make the payment, so that we can be arrange and decide whether to resell or reserve the item or wait for next batch new order stock. Else the deal will be cancel and the item will be resell without prior notice.

Our stock are selling very fast, sometime may out of stock. Some of our buyers if already done the payment and the current model out of stock. We will re-order the model items and buyers may have to wait for more time for items reach. By the way, if after we re-order the stock but facing delay shipment from our supplier or factory, we will inform our buyers whether to wait for more few days or exchange others model (price follow the current item price) or we will return the payment to our buyers.

We will work and reply your message 7 Days a week. Unless we have any off day that we will inform earlier or sometime our area here the Internet connection problem. So, if you do not receive any reply from us within 24 -48 hours, please re-send your email again due to it might caused by technical error.

Non-Paying Bidder / Joy bidder will be reported to lelong and negative feedback will be left.

Please email us to resolve any dispute prior posting a negative or neutral feedback, we consider the transaction finalized once a negative feedback is posted. Further assistance or facility will automatically withdrawn.

Buyer who has confirm their buying or bidded our item are considered agreed with our terms and conditions and Policy of Warranty as well.
Have A Pleasant Shopping With Us.
If you are happy with your purchase, please tell us and spread the love to your friends!
:)
Please understand and agree our Warranty and Return Policy before purchase.
Please do not buy from us if you do not accapt or Terms Conditions and Warranty and Return Policy
By purchasing from us means you have fully understand our Terms Conditions and Warranty and Return Policy and agree to it.
All purchase item is not returnable, exchangeable and refundable.
Warranty Terms:
Most of the items are origin Made in China. All products are covered by within 1 week to 1 month by manufacturers warranty against manufacturing defects. Durations of 1 week to 1 months warranty periods will be depends on item. Please call/email us pertaining the duration of warranty of item before purchase. During the warranty period, item will be sent back to China Manufacturer Factory and they will repair the item in terms of technical default that is found to be defective, providing that it has no signs of damage or abuse. If the damage is the result of a mis-use, the return item will be repaired, but the cost of repairs will be billed to the user or buyer.

* Earphone, USB cable, battery inclusive of powerbank(unless stated in our advertisement), battery charger and children related item such as console game are not covered by warranty.

Shipping fees for sending item back to the seller and to China Manufacturer is to be paid by the buyer for us to send the product back to China.

Once product been fixed and repaired, shipping fees for sending the product back from China and to Buyer local address will also be paid by buyer.

Please email to get the shipping fee quotation before you decide to send the item back to china for warranty purpose.The shipping fee is vary from time to time.

Warranty does not apply:

(a) to consumable parts, such as

batteries , chips , touch screens or protective coatings that are designed to diminish over time.

(b) to cosmetic damage, including

scratches, dents and broken plastic on ports; broken glasses or such.

(c) to damage cause

by use with another product;

(d) to damage caused by accident,

abuse, misuse, liquid contact, fire, earthquake or other external

cause;

(e) to damage caused by operating the

our company

outside

our company

and published guidelines;

(f) to damage caused by service

(including upgrades and expansions) performed by anyone who is not

a representative of Our company or our company Authorized Service Provider

(g) Product that has been modified to alter

functionality or capability without the written permission of

our company

;

(h) to defects caused by normal wear and tear or otherwise due to

the normal aging of the

our company

Product, or

(i) if any serial number / QC / Mark sticker have

been removed or defaced from the

our company

Product.

(j) to unstable eletric power causing damage to the Jonix Products.

YOUR RESPONSIBILITIES
YOU SHOULD MAKE PERIODIC BACKUP COPIES OF THE INFORMATION CONTAINED ON OUR COMPANY PRODUCT and STORAGE MEDIA TO PROTECT THE CONTENTS AND AS A PRECAUTION AGAINST POSSIBLE OPERATIONAL FAILURES.

Buyer who has confirm their buying or bidded our item are considered agreed with our Terms Conditions and Warranty Policy.
Questions & Answers
Do you have any questions to ask merchant about this product
Ask Seller