Battery Century Marathoner NS70/L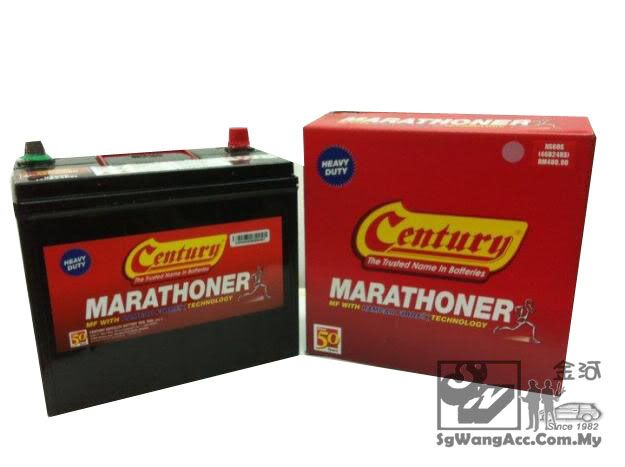 Century Marathoner
Century Marathoner is a heavier duty MF Battery compared to ordinary MF batteries, as a result of the addition of more active material and utilization of thicker grids. The additional active materials enable the plates to produce more power under an optimized material utilization rate while the mechanical properties of the plate is enhanced by the new design and thicker grids; ensuring that plates have a higher corrosion resistance.
Century Marathoner utilizes the tried and tested Expanded Positive and negative Lead-Calcium-Tin Alloy Grids, that allow the grids of the plates to have finer grain structure vs cast grids.

 

The finer grain structure minimizes the sulfuric acid's ability to corrode the "hollow spaces in the grid structure" and the result is a longer testing grid / longer battery service life.

 

Century Marathoner has a very low water consumption rate, thanks to its Lead. Calcium-Tin alloy and Labyrinth design gas liquid recombination cover.
RAMCAR FIBREX TECHNOLOGY
Enhances the cohesiveness of active material components and allow active material compounds to freely expand.

 

Contracts to its maximum during the charging and discharging process (without breaking the bonds holding them together).

 

This will result in a more complete reaction of the active materials and acid; generating higher and consistent power.

 

The Vibration pads act like 'plastic springs" that are placed inside each cells of the battery, ensuring tighter element fit, resulting to higher vibration resistance.

 

The strap protectors serves as "shields" in the event that the plates experience vertical grid growth and preventing the grid and other battery parts to short circuit.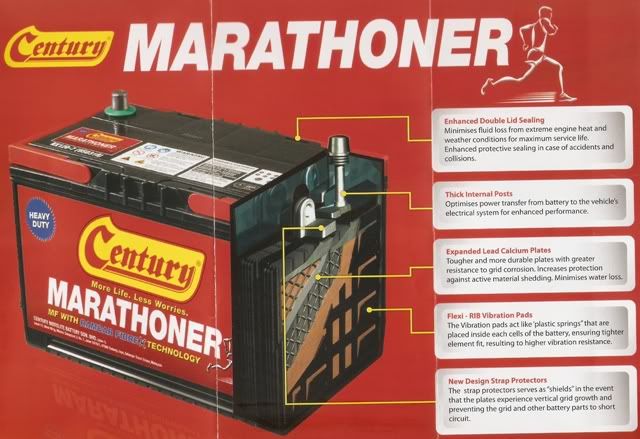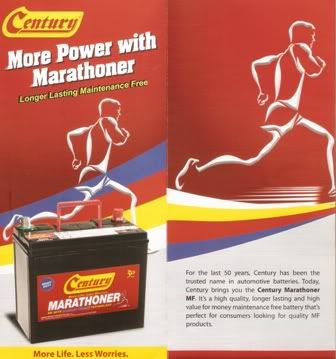 Battery Century Marathoner NS70
- Suitable for: Proton Wira, Perdana, Toyota Unser, ... etc.
- FREE installation & battery check in our outlet 
Same Series Available:
NS40ZL - Selling at RM178
NS60 - Selling at RM198
NS70 - Selling at RM250
DIN55 - Selling at RM250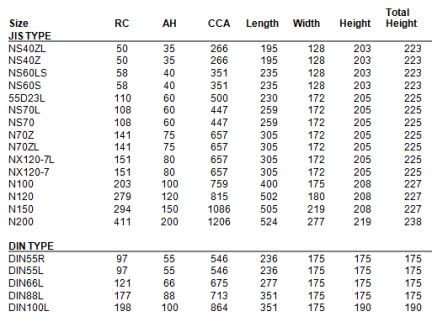 Warranty period (from the date of purchase):
1. Petrol vehicles: 12 months or 25,000 km whichever comes first
2. Diesel vehicles: 6 months or 22,000km whichever comes first
3. Taxi/Bus/Truck/Commercial Vehicles: 6 months or 20,000 km whichever comes first
Note: The warranty period of the replacement battery will be computed as the warranty period of the original battery purchased, less the consumed service life of the original battery.
Click PAYMENT / DELIVERY for respective details or CONTACT US

Last Updated @ 4/6/2012 5:24:23 PM