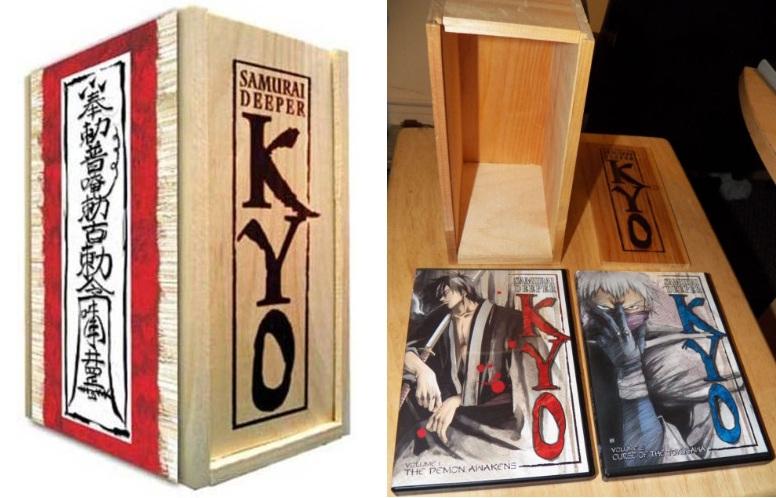 You're bidding for this nice ORIGINAL DVD SAMURAI DEEPER KYO (w- Limited Edition Wood ArtBox), VOL 1 AND 2 (collecting Episode 1- 10). Was retailing close to RM 250.00. (IMPORTED FROM US)
DVD DETAILS
Subtitle:English Dubbed, Japanese with English subtitles
Run Time: 125 Minutes X 2
Samurai Deeper?
You heard it too, didn't you? The voice of the wind.
"During Tokugawa Ieyasu's epic battle of Sekigahara, two samurai face off outside of history. In the heat of the duel between Kyoshiro and Demon Eyes Kyo, a shooting star slams into the plains, shattering the ground and engulfing both of them.
Four years later, the bounty hunter Yuya finds the good natured Kyoshiro, now a traveling medicine man. Hidden deep inside Kyoshiro is the soul of his old opponent, the merciless samurai Kyo. When Yuya and Kyoshiro are thrown into battle, the medicine man's friendly personality will recede, and the whole world will learn why Kyo is called a demon!"
Please view the picture to have an idea of what you will be getting. What you see is what you get.
NOTE:

NO COD. DON'T BID IF CANNOT ACCEPT TERMS
Cannot be held responsible for lost mail if UNREGISTERED. Will combine shipping for multiple wins. Payment expected within 3 days unless prior arrangements are made.