商品简述 Product Details
---
Bedside Caddy Pocket Storage Bag
While sitting laying or sleeping in your dorm bed the last thing you'll want to do is jump out of bed for a tissue the remote or any other small item. Our Bedside Storage Caddy (Black) does it right!
This bedside organizer hangs over your bed and holds just about everything you need within arm's reach.
Great for holding:
- Eye Glasses
- TV Remote
- Cell Phone
- MP3 Player
- Tissues
- Books (not textbooks)
- Pens/Highlighters Equipped
with 3 deep pockets and 3 mesh pockets to hold it all! With heavy weight 600 Denier Polyester it is plenty durable to be your bedside organizer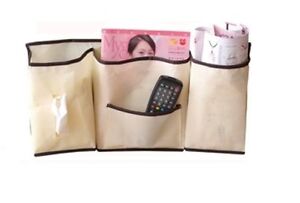 Highlight
· Keeping your bedroom neat and organized
· Keeping all your essentials items such as magazines, phones, glasses, remotes, tissues and more within arm's reach in your room
· Polyester material in 4 colors: Brown, White, Blue and Pink
· Rigid board fits neatly between a mattress and box spring to securely hold the bedside organizer
· 3 deep storage pockets holding magazines
· 2 outer mesh pockets are ideal for a cell phone or other small accessories
· Keep your reading materials and other personal gear right by your side
· Keep your bedroom neat and organized with the Bedside Caddy Organizer and keep all your essential items such magazines,
phones, glasses, remotes, tissues and more within arm's reach.
· This versatile bedside organizer fits securely between mattress and box spring, offering deep storage pockets for books,
magazines and a box of tissues.
Features
· Name: Bedside Storage Caddy, Bedside Organizer - Cream Color
· Size: 23" x 10" x 2"
· Color: Ship the colors randomly