Feature available to Store Members
Biolyn Spirulina plus Calcium 3000's
Made in Taiwan (DEHP Free)
◆ Calcium – Basic of Healthy body ◆
Calcium is the most abundant and needed mineral in the human body, but your body does not produce it. Calcium is an essential nutrient for human body and no other combination of any nutrients can substitute or replace it. It is indispensable for every movement of life. 99 percent of Calcium stored in bones and teeth, and the remaining 1% is found in the blood and other tissues. There is roughly 1000 g of calcium in a 70 kg adult.

◎ Calcium & bone density
Bones store 99% of the body's calcium. A low level of calcium in the blood is related to brittle and porous bone. Most of the calcium in the body is stored in the bones. When blood calcium levels drop too low, the vital mineral is "borrowed" from the bones to regulate body functions. The drainage of calcium from bone leads to porous and brittle bones and it is a condition that can cause osteoporosis. Osteoporosis is more common in women than in men. Why does osteoporosis affect women more than men? Women have small body frames and their calcium intake is lower if compared to men. As such, they tend to have higher risk because they may have less bone mass to draw as they age. Besides, dieting is more common in women than men. Pregnant and breastfeeding also contribute to calcium depletion in women.
★ Why added calcium into spirulina tablets?★

Spirulina contains vitamin D aids in calcium absorption

Calcium deficiency is a common problem in eastern countries, especially women. The calcium intake levels of eastern are the lowest in the world. It is essential that we eat 2-4 servings of fruit and 3-5 servings of vegetables everyday. Unfortunately, we don't have the best eating habits. Factors that contribute to calcium deficiency included lack of exercise, lack of sun exposure, imbalanced diet and low intake of fruits and vegetables which are rich in minerals. These factors will make our bones become fragile and brittle. As such, we've selected the best calcium source with high absorption rate added into spirulina tablet. According to scientific studies, Vitamin D is needed to absorb calcium in small intestines. Without vitamin D, calcium may be not fully utilized and our bodies may excrete it. Spirulina offers vitamin D which promotes calcium absorption.
★ Calcium Absorption ★
Factors that facilitate the absorption of calcium include:
● vitamin D and Vitamin K
● sufficient hydrochloric acid in the stomach
● exercise
● magnesium(Spirulina contains magnesium)
● hormones including the parathyroid and estrogen hormone

★ Symptoms of Calcium Deficiency ★
● porous and fragile bones
● insomnia, poor sleep quality
● depressed, nervousness
● tooth decay
● muscle aches, leg cramps

★ What Affects Calcium Loss From The Human Body? ★
● Coffee, tea and carbonated drinks
● High sodium or salty foods
● Alcohol
● Processed food contains high amount of phosphorus
● Lack of exercise

★ Do you know that?
Pregnant and menopausal women, especially, are very vulnerable to calcium deficiencies and bone loss unless they take calcium supplementation.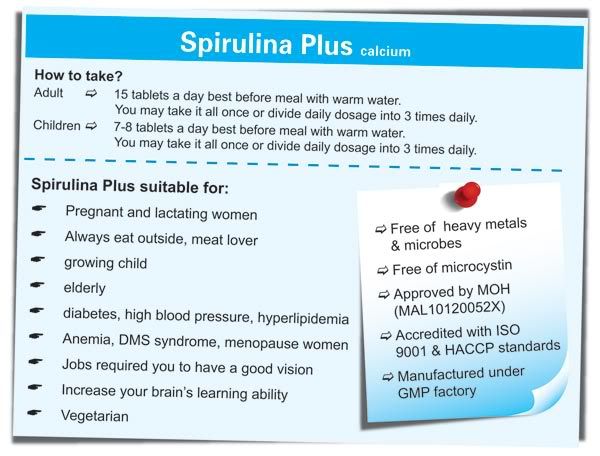 Biolyn spirulina is grown in pollution free environment and away from commercial, agricultural or industrial land. The cultivation plant is located at Changhwa Hsien,Taiwan which is an area enjoys plenty of sunshine, fresh air and pure alkaline water. It is cultivated without using pesticides or herbicides. We've applied the cultivation technology from Japan and spirulina is monitored under strict quality control to ensure it is free of toxin and others pollution. By using advanced technology, we are able to dry spirulina in 3 seconds to preserve its nutrients.
Free Delivery