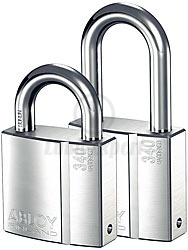 Selling 100% Genuine Abloy Padlock, the most expensive padlock in the world.
Model: PL340/25N, comes with Protec Keys x3 ( The Most expensive of Abloy Key Profile=Protec)
Features:
Maximum resistance against corrosion
·
HEAVY DUTY STEEL PADLOCK
·
The best products for the naval environments and coastal locations.
·
Reliable function in all conditions
·
Widely used as all the component parts are highly resistant to wear, dirt, moisture, corrosion and freezing.
·
Do not contain springs or parts which could jam.
·
Designed and manufactured to not only meet the requirements of the EN12320 padlock standard
·
Highly durable, continued to operate smoothly throughout exhaustive durability tests such as the acetic acid saltspray test
Actual item: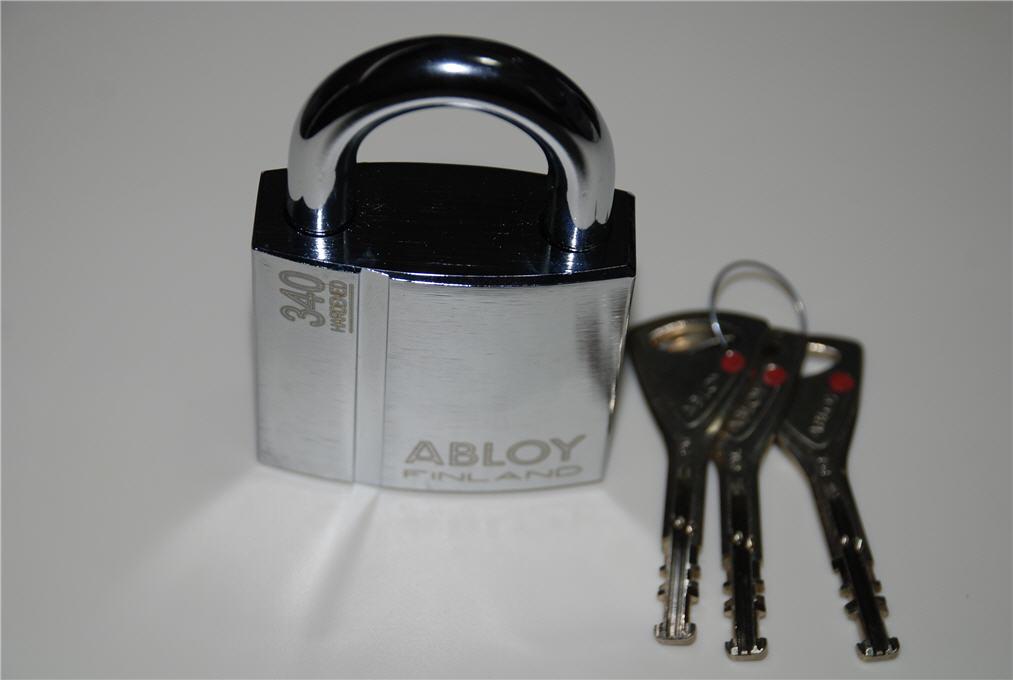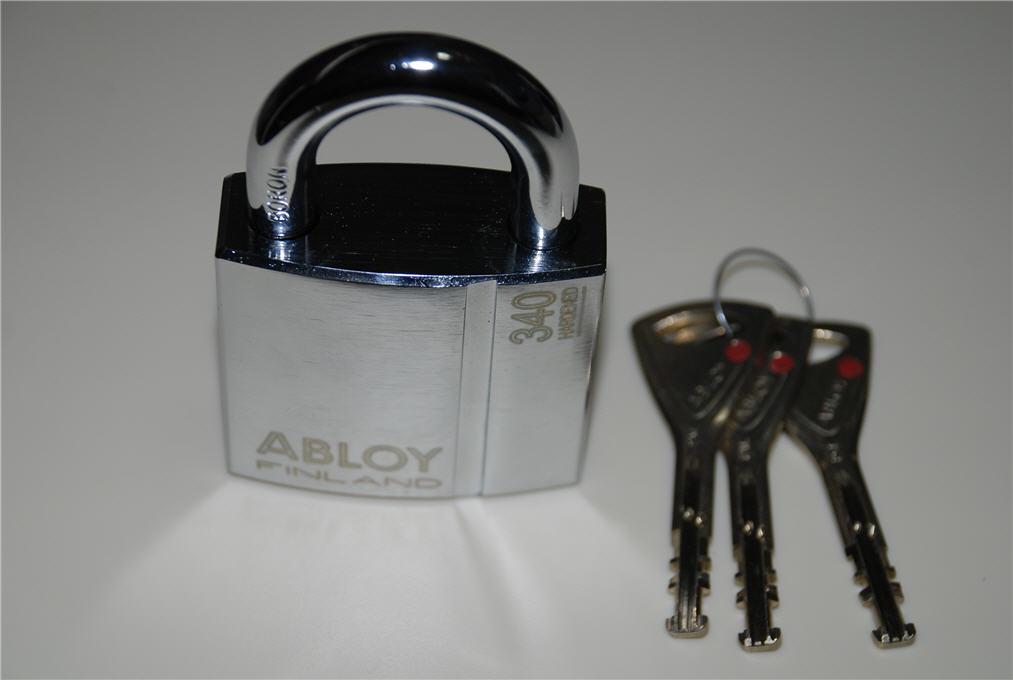 PL340 with iphone 3GS  (Selling padlock only, phone not included)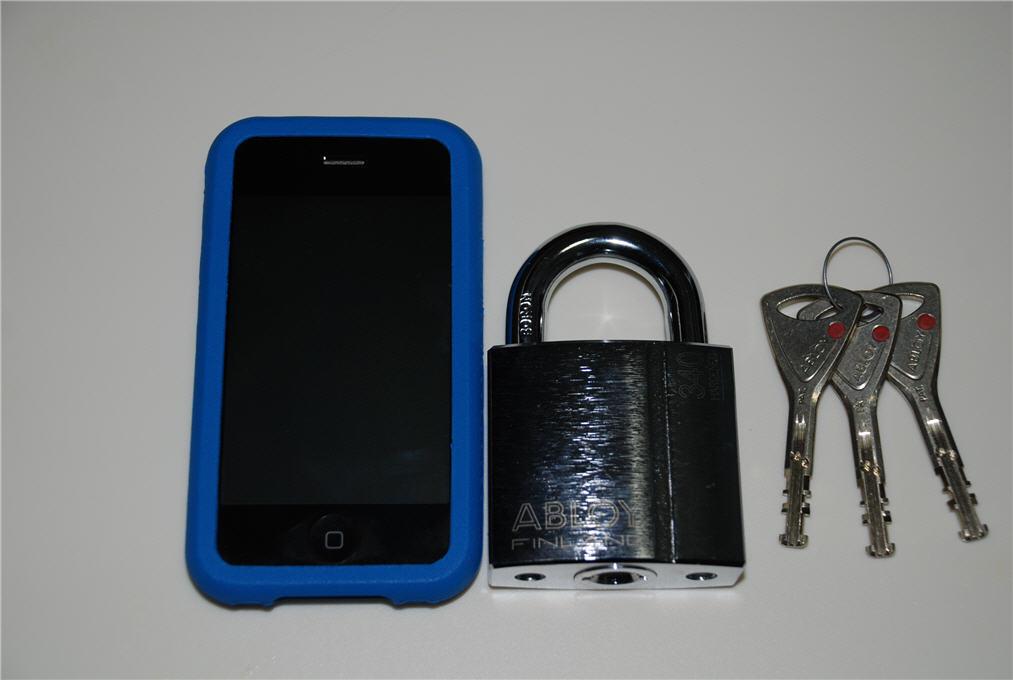 Extra-strong padlock for applications where high security is required.
Cylinder: ABLOY® PROTEC.
Standard EN12320 grade 4.
Ideal for construction equipment, tractor trailers and remote storage areas, trucks, storage bins, roller-shutter doors and warehouses.
The case-hardened steel body is highly resistant to all types of physical attack.
Equipped with 25 mm hardened boron steel shackle, diameter 10 mm.
The PL340/25 contains 11 discs and is rekeyable, key is removable in locked position only.
3 keys included.

- The unique, patented construction of the ABLOY® PROTEC rotating disc cylinder makes it virtually pickproof.
- Keys and discs use a new principle where cuts are made on two different radii. In addition, the return bars block the discs at 90° if the key and cylinder combinations are not identical.
- The ABLOY® PROTEC cylinder not only meets but exceeds international standards for high security including UL 437 and EN 1303.
- No springs, pins or other parts to wear out.
- Smooth, durable and reliable operation that is resistant to both dirt and freezing.
- Strict key control: duplicate keys only with the key card.
- 1.97 billion different key combinations per keyway make it possible to create extensive master-key systems that fulfil your precise specifications
Abloy, Jenama Padlock yang terunggul di dunia, produck paling berkualiti, harga paling mahal.
Siapakah yang pakai Padlock mahal-mahal ini?
Cubalah anda perhatikan TNB, TNB guna padlock Abloy utk mengunci stationnya, berkesan mencegah kes-kes kecurian yang sering berlaku sebelum ini.
Adakah ia semahal ini? Kurang pasti harga jualan, sila telefon Distributor bagi ASSA Abloy di Malaysia dan tanyalah harganya, Abloy Msia Distributor iaitu
Abloy Msia Ditributor: Security Marketing Sdn Bhd 
Untuk spec & size yang sebenar, sila download brochure di laman web di atas.
Abloy padlocks have been the market leaders for decades. Independent test results have confirmed that Abloy padlocks continue to operate smoothly after the toughest corrosion tests. They are therefore recommended as the best possible choice for unprotected use in severe conditions. Durable materials such as hardened boron steel provide effective protection against drilling, sawing, cutting, twisting or shimming.

Abloy is the strongest padlock on the market. It is a product that has passed the most demanding Scandinavian break-in tests and is classed as Scandinavian Grade 5, the highest grade. The unique locking construction makes it extremely difficult to attack. All grades of Abloy padlocks employ similar technical solutions to provide superior performance in a wide range of security applications.

The Abloy Padlock range is used extensively by defence forces, heavy industrial operators, and high security government departments worldwide. Abloy padlocks feature chrome plated-brass or case-hardened steel bodies, with shackles made of durable, chrome-plated hardened boron steel. Both the toe and the heel of the shackle are locked in by stainless steel ball bearings.
The padlock body is chrome plated inside and out, for further resistance to corrosion.

Abloy padlocks operate reliably in the most severe environments such as coastal locations, polluted atmosphere, and freezing conditions as they do not contain parts such as springs or pins that can jam.
Abloy padlocks provide maximum resistance against physical attack. The hardened, free-spinning protection plate prevents drill bits from penetrating the lock. Further security is provided by the hardened stainless ball bearings locking the shackle at both ends.
The highest security can be provided by non-rekeyable construction.
The unique rotating disc cylinder system employed in Abloy padlocks is effectively pick-proof and enables an extraordinarily wide range of comprehensive master keying options. 
Thanks for viewing. Interested please send email hcting8@yahoo.com to close deal
Please visit my other auction: http://www.lelong.com.my/Auc/List/List.asp?DataAction=Apply&UserID=hcting
Also selling PL342B at RM338/each, comes with 3 x Sentry Keys. See picture below: