Feature available to Store Members
PROFESSIONAL RF SIGNAL TRACERSPY CAMERA LOCATORBUG DETECTOR
This new mini RF bug detector can detect analog or digital devices using radio frequencies from 50Mhz to 6Ghz. Without any professional training you can easily detect hidden wireless spy cameras and miniature bugs in your house, office, bathroom, hotel room or any where you need privacy.
Now you can protect your privacy and confidential conversations from hidden bugs transmitting Radio Frequency waves as low as 50Mhz up to 6Ghz with this miniature high frequency RF bug detector.  It has a digital amplifier for improved signal detection of Bluetooth, WLAN, Wi-FI, cellular phone and digital spread spectrum wireless devices.
Virtually any hidden wireless camera can be found with the RF bug detector with its multi-channel scanning and advanced sensitivity tuner features and it can also detect VHF, UHF & FM band waves. The RF signal detector has a sensitivity tuner, 3 LED's and three detection modes to alert you when you are getting closer to a device emitting RF waves.  With dimensions of 87mm(L) x 55mm(W) x 14mm(H) and weight of approximately 70 grams it is a compact small lightweight device.

Sound Mode: The LED's will light from LEVEL 1 to LEVEL 2 to LEVEL 3 and a beeping sound will gradually become more rapid to indicate you are getting closer to an hidden RF device
Silent Mode: You can turn off the beeping sound when don't want anyone to know you are using an RF bug detector.  When in the silent mode the 3 LED's will light and the RF signal detector will vibrate.
Earpiece Mode:  You can use the bug detector with the supplied earpiece, when in silent mode the device will vibrate, the LED lights will illuminate and the beeping sound can be heard in the earpiece, when in sound mode the device's LED lights will illuminate and the beeping sound can be heard in the earpiece.

Features & Specifications:
Model: RF-200 
Analog or digital device detection 
Advanced sensitivity tuner
Multi-channel scanning
Silent detection with earpiece
Low battery warning
Audible and LED alarm
Detecting range: 50MHz to 6.0GHz
Detection distance: Wireless camera: 5-10ft, Mobile phone: 20-30ft
Power: 2 x AAA Battery (not included)
Size (LxWxH): 87x55x14mm

Package Content:
1 x High Frequency RF Detector
1 x Earpiece
Operating Instructions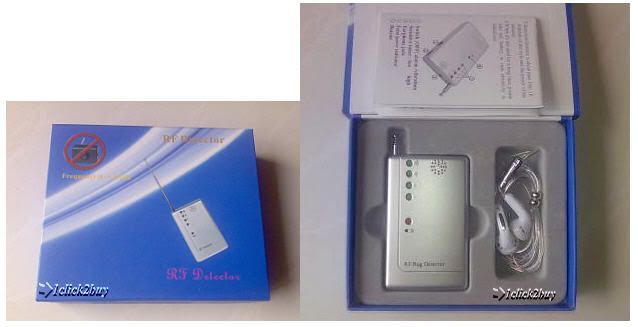 Buy at wholesale price with no minimum order!
We provide surveillance equipment to dealers, installers and retail outlets. For dealer price list, send email to: 1click2buy@gmail.com

Hi-Tech Gadgets


Click on any image for details



Wired CCTV Cameras / Accessories
Click on any image for details



Wireless Cameras / IP Cameras
Click on any image for details

Stand-alone DVR / USB DVR / DVR card / Quad Processor

Click on any image for details
Have a question? For a free list of 'FREQUENTLY ASKED QUESTIONS' about wired/wireless cameras and DVR cards, send email to: 1click2buy@gmail.com Many satisfied customers, buy with confidence.
Click here to check out our other products
WHOLESALE INQUIRIES WELCOME
For more details,contact:1click2buy@gmail.com
PH: 019-2241838
Thank you

Last Updated @ 1/25/2011 6:48:39 PM