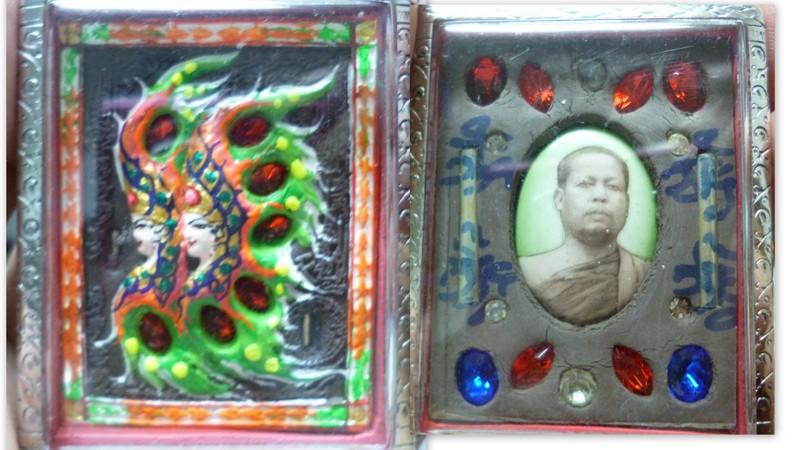 XL SIZE ,2549 ORIGINAL KRUBA KRITSANA BUTTERFLY KING AMULET , CLOSEUP OF 150X - 300 X ON YOUTUBE , CHECK IT OUT.ON FACEBOOK , SOMDEJKING KING
LOVELY HANDMADE , PAINTED BY MASTER , ORIGINAL 100% GAURANTEE , MY THAI FRIEND PERSONALLY RENT FROM SIFU.
DONT BE FOOLED BY FAKE ONES, VERY IMPORTANTLY LOOK AT THE YANT WRITING BY MASTER ON THE LEFT AND RIGHT SIDES AND BOTTOM , THERE MUST BE VERY CLEAR , THICK , BOLD WRITTEN YANTS. .
ANY YANT WRITING THATS IS BADLY DONE , NOT CLEAR LOOKS VERY AMATUERISH , SHAKY IS NOT DONE BY THE MASTER KRITSANA.EVEN WORSE SOME YANTS ARE TOTALLY MISSING , THOSE ARE THE CHEAPEST FORM OF FAKES , PASAR MALAM STALLS QUALITY, PLEASE CHECK WITH A FINE COMB AND ASK
AROMATIC NICE HERBS SMELL PIM
EXCELLENT FOR BUSINESS , FRIENDSHIP , RELATIONSHIPS, GOOD FORTUNE , PREVENT MISHAPS AND ACCIDENTS , PROTECTION FROM EVIL SPIRITS
ALL GEMSTONES ARE CLEAN AND BLESSED  B Y MASTER .
Image of Buddha Creation Methodology รายละเอียด
Image of Buddha Creation Methodology Sacred objects can be divide into 2 main categories, depend on its materials, as 'Phra Kroeng' (small image of Buddha) and 'Kroeng Rang' (other sacred objects)
Phra Kroeng can be divide into several types, namely: 1. Phra Noe Din (Image of Buddha made from soil) 2. Phra Noe Chin (Image of Buddha made from Chin, metallic substance which will be later describe in detail) 3. Phra Noe Pong (Image of Buddha made from sacred object's powder) 4. Phra Noe Loha (Image of Buddha made from metallic substances), this type of image is creat by founding, pumping and injection methods. 5. Phra Noe Warn (Image of Buddha made from herbal sedges) 6. Image of Buddha made from other substances.
1. The creation of Phra Noe Din (Soil image of Buddha) Phra Noe Din is the oldest image of Buddha's type ever made. This type usually made from soil; abundant, easily found every where and durable material. Moreover, some culture believe that earth is the most merciful god called 'Gaia' and pay their respect and worshiping her. Soil that will be use to create image of Buddha must come from some important religious places or auspicious ground. Every time the maker going to use the soil, they must made some sacrificial ceremony to the Gaia, the holy spirits that own that land and any other holy entities. They'll also have to pray from those holy entities to endow their power into the image of Buddha or other sacred objects they're going to build. Beside other components that had been through verification of its merit and power, another important factor is their carefulness in every procedure, from raw materials collection to the component preparation. All makers were following these principles as they believe that any sacred objects must possess both inner and outer merit.
Inner merit means all materials must come from only the top, good quality and auspicious material.
Outer merit means all sacred objects must pass well-extreme incantation by vigorous masters in magic and prestigious participants in the incantations. Only do so can truly bestow holy power and might to the sacred object.
These are a classic, inherit from ancient time to the present, that "Real and potent sacred objects or images of Buddha must possess both inner and outer merit; namely, it must create from high quality materials by the hand of high skill and mighty people in magical science and pass a good and potent incantation." Right now, we're understanding why image of Buddha and sacred objects possess such might and power as all of them must follow these solid building's restriction.
After collect all required materials, the maker will mix all materials by using soil as the main component that holds other material together. Then bring the compositions into a model that carves in shape of the required image of Buddha. After finish the molding process, the maker will remove the image of Buddha from model frame and push it through dehydration process, either by baking or exposing to the sun.
1.1 Soil image of Buddha made by baking A Dehydration and preservation method that will transform the material into 'cooked soil' and has a color like new clay pot. The method is the same methodology for making ancient pottery products. In the past, how long will the image of Buddha be bake is depend on the maker's decision as they're lack of thermometer or other temperature's measure and stabilizer. Thus, ancient baked image of Buddha are come under various colors as how long they were expose to the heat.
Moreover, our research revealed that baked image of Buddha can be distinguish into 2 categories, namely, baked image of Buddha under a long time and high temperature and baked image of Buddha under moderately amount of time and temperature. The later can be describe as moderate dehydrated image of Buddha which cause the composition to cast out most of the humidity and strengthen its structure, that method also cause the image of Buddha to come in various colors as many materials still intact and can be clearly seen in the image's context, otherwise it would be burn and disintegrate into the whole context.
The examples of baked image of Buddha by those 2 methods are, as follow: Baked image of Buddha that went through long and high heat, such as 'Phra Rod', 'Phra Nang Phaya', 'Phra Kru Toong Setti', 'Phra Luang Por Pan' of Bang Nonlo Temple etc.
Moderate baked image of Buddha, such as 'Phra Pong Supun' and 'Phra Sum Gor Dun' etc.
1.2 Soil image of Buddha made by exposing to the sun. So call 'Phra Din Dip' ('raw soil' image of Buddha) which mean the image of Buddha that exposed to the sun to dehydrate. This type will be less solid compare to the baked one. Also, its context (mainly: soil) can be dissolve in the water. Examples of this type are the image of Buddha made in the art of Sri-wichai Capital City which mainly found in the Southern region of Thailand, such as 'Phra Med Kradum' etc.
We also found that there other 2 main categories of soil image of Buddha, which distinguish by its content, namely:
a. Fine content-image of Buddha, which came from filtering the raw materials and chooses only finely-small material's grain. The outcome is clean and smooth skin image of Buddha, for examples, 'Phra Kumpang Klib Bua', 'Phra Kum Pang Sumyor', 'Phra Kumpang Toong Setti' etc.
b. Rough content-image of Buddha, which came from using raw materials as they were, might filter a bit but not much enough which result in form of rough sand, grit or ore's pill in the content that can be clearly seen by bare eyes. The example of this type is 'Phra Khunpan Ban Grang' etc.
2. The Creation of Phra Noe Chin (Chin Image of Buddha) Chin Image of Buddha is a kind of metallic image of Buddha; 'Chin' is a composition of two metallic ores: tin and lead. Such composition comes into new metallic material call 'Noe Chin' which possess positive characteristics of both ores.
Namely:
Tin is one of the most easily found ore in Thailand. Extracting tin can be done by gravitational method, ore sifting, which is easy method to extract ore. If the makers require more pure tin, they can burn them to cast out Sulphide or other adulterated elements.
Tin is an element with low melting point, at 231.9 degree, can be easily reform and adulterate with many other metallic ores. The new composition will durable to decadence and has low electrical conductivity.
Lead is one of the oldest ore that mankind had known and had been use from ancient time, since 4,000 years B.C. Also, the extraction and smelting can be easily done with simple heating procedure.
Lead is an element with low melting point, at 327 degree; it is soft metal with low tension or bearing force. Thus, lead is not suitable to sustain heavy structure. But its soft characteristic made it capable for various use as it can be easily reform, whether spread into thin plate or use to lead mixing metals into model's grove which can create graceful handiwork, it also has low electrical conductivity.
From both metal's characteristic, we found that they're suitable for melting into new metal, with low melting point and content of the composition are well harmony. It also possessed soft characteristic that can draw all detail from the model. Even with flatten model this composite ore can form a fine mold. It also durable to decadence and has low electrical conductivity, the later characteristic made it safe for carrying.
Noe Chin is special metal with unique characteristic which suitable for making image of Buddha. This is the one of the best local wisdom of our ancestors to made image of Buddha from this versatile material, to inherit the Buddhism and greatest art and culture to later generations in form of images of Buddha.
There are 3 types of Chin Image of Buddha
2.1 'Phra Noe Chin Ngerng' (Silver Chin Image of Buddha) The main ingredient of this composition is tin which made the image of Buddha possessed a beautiful glowing silver. This Chin Image of Buddha can be naturally found in form of fish scale or 'Sanim Tin Ga' (Rust Cross) on the image of Buddha, such as 'Phra Hu Yarn' from Lopburi Province or 'Phra Nak Prok' of Wat Poen etc.
2.2 'Phra Noe Chin Sanim Dang' (Red Rust - Chin Image of Buddha) The main ingredient of this composition is lead which made the image of Buddha possessed similar characteristic as Silver Chin Image of Buddha but has rust adulterated in its content, examples of this type were 'Phra Mahesuan', 'Phra Supun Lung Parn' , 'Phra Lila Kumpangkhao' etc.
2.3 'Phra Noe Takua Sanim Dang' (Red Rust – Chin Image of Buddha) This is one of the Chin Image of Buddha with contain lead as 90% of its content. Such composition made this image of Buddha has clear red rust insert in its content. This type also called 'Dang Luk Wa' (Red Java Plum), example of this type were 'Phra Ruang Lung Lai Pa' and 'Phra Ruang Lung Rang Poen', 'Phra Ta Gradarn' and various molds of Phra Ruang etc.
Chin Image of Buddha's making procedure is involves melting those 2 ores. Such metallic composition can be easily carved into any shape, as most beautiful as the maker's wish and imagination. Most of Chin image of Buddha that had been found usually make by the artistry of royal makers. Although Chin image of Buddha's making procedure is not too difficult to accomplish, but in ancient time, such activity require carefully preparation and large amount of labors.
Thus, if anyone would capable to make Chin image of Buddha, they must at least occupied high royal position or other leading position that can gather such abundant resources. Therefore, Chin image of Buddha was regarded as high royal image of Buddha since ancient time. Also, Chin image of Buddha usually can be found in dungeon of important places, such place is not open for ordinary people to deposit their belonging.
Chin image of Buddha, thus, is regard as one of the most important Thailand's image of Buddha. This type were preserved its special place in the mind of Thai worshiper since ancient time until now. There are many evidences and tales about its miracle - performing power. Chin image of Buddha is 'Immortally – highly popular image of Buddha's type of all time'
3. The Creation of Phra Noe Pong (Sacred Powder Image of Buddha)
This image of Buddha's making is regarded as one of the highest plastic sculpture artistry. Usually the main ingredients of plasticity mortar were wood oil, skin glue, cane juice or high quality bee's wax. This art were used by ancient Greek, Roman and Indian Artists to created sculptures, more specifically speaking, used to make sculpture of Buddha, before later applied to make image of Buddha.
Thailand's oldest sacred powder image of Buddha is 'Phra Gru Wat Tup Khao' (Image of Buddha from dungeon of Tup Khao Tmple) from Sukhothai Province.
Second oldest is 'Phra Somdet Orrahung of Mahatart Temple' made by The Fourth Somdet Phra Yahn Sangwarn Somdet Phra Sunkkarajjao (The Fourth Thai Buddhist Pope), as known as 'Phra Sukkaraj Suk Kaitoen'. And this sacred powder image of Buddha was became a prototype of Sacred Powder Image of Buddha in shape of Gourd's Square Piece which first made in the year 2360 of Buddhist Era.
Moreover, Somdet Phra Sukkaraj Suk (Kaitoen) was a respectfully master of Somdet Phra Puttajarn Toa Proamrungsi and Somdet Phra Puttajarn Toa had followed his procedures in making one of the most famous image of Buddha of Thailand: 'Phra Somdet Wat Rakung', 'Phra Somdet Bang Khunprom' and 'Phra Somdet Gedchaiyo', all of these are all time famous and popular sacred powder image of Buddha of Thailand.
Therefore, all later making of sacred powder image of Buddha in Thailand will follow the making procedure of Somdet Phra Puttajarn (Toa Phroamrungsi), from raw materials preparation to the incantation, his making procedures can be divide into 3 main steps, namely: raw material preparation, model sculpturing and carving; and incantation.
3.1 Raw material preparation
It is well known that main component of sacred powder image of Buddha is lime powder. In ancient making procedure, they'll burn sea shell and grind it into powder called 'Pong Pun Ploek Hoi' (Sea Shell - Lime Powder) which possessed the same characteristics as ordinary lime powder. After preparing main component, then they'll collect other sacred materials such as flowery sedge, ore of gold sand and silver sand, sacred objects etc. and bring all of these materials to grind into sacred powder.
Additionally there are other components that will hold all these sacred powder together, in ancient time the maker usually use 'Kluay Num' and 'Num Mun Tung Eaw' ('Kluay Num' is a kind of banana and 'Num Mun Tung Eaw' is a composition of wood oil with oil which become a sticky substance)
From the recipe of Grand Master Phraputtajarn Toa Proamrungsi in making sacred powder image of Buddha (whose had been praised as the founding father of 'Sutr Niyom' or 'Sutr Kru' [a popular or mastery recipe for making something] for the making of sacred powder image of Buddha) and in the content of sacred powder image of Buddha which building by his recipe. We've seen that his Excellency had given so much important to the sacred powder, which is the vital kernel of this image of Buddha type. By his recipe, there are 5 sacred powders exist, namely, 'Patamung', 'Ittajae', 'Maharaja', 'Puttakhun' and 'Tri Nisihing' powder. These names doesn't imply to 5 different and separate powders that will be just mixing together in the making process. These powders are substantially the same substance which had been through 5 different processes to create one complete sacred powder. The procedure start by creating the 'Patamung' powder, then use it as base material to create 'Ittajai' powder and so on until the final output came out from 5 times transformation. It is this complexity that made sacred powder image of Buddha become so intense in its might and power.
The processes of the creating these 5 sacred powders, followed the recipe of Grand Master Toa Proamrungsi, are describe as follow:
1) The worshiping to ancestral principals
It is an ordinary Buddhist culture since the old time that the practitioners in any activities must held a worshiping ceremony, to bestow prosperity and cabalistic science upon themselves. To do so, the practitioners must clean their body and mind. If they're laymen, then they should wear white cloth and made an acceptance of the Buddhist commandments. And then set up a worshiping offerings which usually comprise of 9 colors-flowers, 9 candles and joss sticks, 'Bai Sri Pak Cham' (a kind of offerings by put food into a bowl), 'Kanom Tom Dang – Kanom Tom Kao', green coconuts, banana, 9 kinds of fruits, pork's head, duck and chicken, non sacrping scale - steamed snake-head fish, roast bean and sesame seeds, popped rice, milk and dairy products, face washing bowl, red cloth – white cloth and 6 Bath for master's gratuity fee.
Then chant the Three Gems worshiping spell and incant the divine prescription. (Chant the Three Gems worshiping spell, divine summoning spell, principal summoning spell, master praising spell) after complete the principle worshiping, we'll proceed to the cabalistic character inscription.
2) Cabalistic characters inscription
This step involves practice writing of various cabalistic and magical characters, also those magical character's incantation which require while writing them. To write the cabalistic characters, the writer will need 'sacred chalk pencil'
'Sacred Chalk Pencil' made from many ingredients, namely:
- Salty soil from 7 places (soil that contained earth salt, easily can be found in The Northeastern Thailand) - Port soil from 7 places (soil from river or sea port) - City center soil from 7 places (soil from shrine of the city center) - Ash and leftovers of candle and joss stick that were lit to worship the principle image of Buddha in the temple) - 'Kalong' flowers (genus Bauhinia) - Top of 'Yod Sawat' plants (Caesalpinia crista) - Top of 'Ruk sorn' plants (Dahlia) - Scurf of 'Sema Leaf' (term 'scurf' here mean crust of earth soil that deposit on various place, Sema is a symbolic place state the temple's perimeter) - Scurf of Royal Palace's door - Scurf from White Elephant's 'Talung' Stake (Talung is a kind of double-pole stake use in tying elephants) - Golden Flower's wood (dehydrated by exposed to sunlight and pound into powder) - Laburnum's wood - 'Plu Ruam jai'(a kind of betel pepper plant, usually grow in a large clump, the word 'ruam jai' mean 'stand together') - 'Plu Song Hang' (Betel pepper's twin leaf, hardly found and believe to be sacred object) - 'Krajae Tanow' (name of small thorny plant usually found in unassorted forest, gray – rough bark, small – clustering white flowers with soft fragrant, its wood can use to scrub with water to create skin nourishing potion) - 7 taste oils (oil from 7 kind plant or animal, the harder it can be found, the better it will be) - Soft prepare chalk.
Bring these entire ingredients together, pound into powder, put in water and mold into a chalk pencil.
3) Making of sacred powder After completing all above requirements, then we're going to create the sacred powder, those 5 sacred powders are having interesting creating methods, namely:
3.3.1) the making of 'Patamung' powder
Starting sacred powder for the practitioners in magical science, this powder use for every kind of 'Na' inscription in the 'Patom Pintu Sutra' (a high magical incantation regarding birth of things) This sutra describe the earth as its original time as an empty – lifeless world, the water just run dried and land is appearing, 'Thao Sahabordi Mahaphroam' had seen 5 lotuses in his holy vision and realized that there will be 5 Buddhas travel to the earth. His Excellency had shower down cogon to the earth, thus water are decreased and fresh – fragrant land appears. Some celestial being had come down to eat this fragrant earth soil which made them lost their way back to heaven; hence they start to breed and live as human on earth until these day. Therefore, we regard 'Thao Sahabordi' as the founding father of elemental world.
'Na' inscription mean the method to filled magical power into the require substance or thing, its regard as first and cunningly step which lead to other incantation.
The making of 'Patamung' powder is bringing power from above mentioned ingredients and mold into chalk pencil and use it to write down the inscription while chant the 'Na', 'Patom', 'Pintu' sutra and erase it after that, repeat the same step from chant the incantation, write the inscription and erase it until run out of molding chalk pencil then you'll have 'Patamung' or 'primary' powder. The overall processes to making this powder usually takes few months.
3.3.2) the making of 'Ittajae' powder After we have 'Patamung' powder, we mold it again into chalk pencil and write the inscription with 'Mulgudjai' Sutra and erase with 'Ittajae' Powder's Erasing Sutra. Ancient treatise describe that Grand Master Gudjai, ancestral principal was founded the making method and incantation sutra of this sacred powder. Later generation use his name to call this sutra as 'Mukgudjai' which also the foundation of Cambodian character, consonant and vowel. The making of 'Ittajae' powder involve incantation and inscription of character and consonant into 'Ittajadeso Talaha Kanahahi Tamsa' form, so called 'Lop Kad Tua' (Ultimately minus). Powder create from this method call 'Ittajae' powder, the making process usually take 3 days and also require the maker to use all prepared chalk pencils.
3.3.3) the making of 'Maharaja' powder Repeat the same procedure, use 'Ittajae' powder to mold chalk pencils and use them to write 'Maharaja' Sutra and erase it with The Five Name Sutra. Repeat the write – erase step until all prepared pencils are no more. The whole process consume equally length of time of 'Patamung' Powder's making, the output is call 'Maharaja' powder.
3.3.4) the making of 'Puttakhun' powder Use 'Maharaja' powder to mold another chalk pencils and then chant the incantation and write the inscription about various Buddha's merit: from the first time he born, enlightened to his passed away. Write and erase as above making procedure until run out of pencil, the output call 'Puttakhun' powder which regarded as one of the mightiest sacred powder as its create from the Buddha's merit itself.
3.3.5) the making of 'Tri Nisihing' powder The last sacred powder involves Thai ancient number and character, made by molding chalk pencil from above sacred powder and use to chant and write the 'Attawat Watod Mongkol 12' Sutra until finish as 'Attra Tri Nisihing' then write the '12 Atrra Yahn' which conclude at writing 'Yahn Narai Todrup' (Narayana's image), the last image also comprise of 'Yahn Tri Nisihing', 'Yahn Phra KwamBordi' and 'Yahn Tra Phra Si'
Master Tep SarikButr, an highbrow in Buddhist Magical Science, had told "there are many recipes in making sacred powder, beside the four mentioned above, 'Patamung', 'Ittajae', 'Maharaja' and 'Tri Nisihing', which were regard as master recipe. There are also many branch of recipes stem from these masters, such as 'Puttakhun' powder, even the 'Puttakhun' powder also had many methods to make. However, all of those recipes can create similar cared powder with equal might; sacred powder's might is depend on the power of the maker's wish. Beside, every powder image of Buddha that built in ancient time usually made from these sacred powders"
After the makes have acquire sacred powder, they'll bring them to mix with other pounded sacred substances, lime, shell and pour in 'Kluay Num' and 'Tung Eaw' oil which will made the a half solid – half plastic – sticky powder.
4.Model sculpturing and carving
There are various types of model sculpturing, whether by ordinary artists or royal artists, such variation result in the different image of Buddha, in term of its beauty, graceful, fineness, balance etc.
When finish sculpturing required model, the maker will bring above composition and press then into the model and then put in other sacred substance. To prevent the composition to stick to the model, they'll use lime powder as first layer before put in the composition. After that they'll cut and trim and pry the half finish image of Buddha out of the model. By the way, the lime powder which prevent the composition to get stick with the model also possessed unique characteristic which can be use in identifying real or fake image of Buddha, we'll discuss about this matter later. After above step, the output image of Buddha still contain some humidity which require to be expose to the sun before put through other step. In the present day, some makers usually put it into oven and hence regard as final step of sacred powder image of Buddha's making procedures, however, for our ancestor's regard, this image of Buddha still not finish and still need to be put through the ordaining process.
5. Incantations After the sacred powder image of Buddha had been made, one last process is the incantation. The incantation will invite power and might of The Buddhist Three Gems (Buddha, his truth and his monks) to fill in the image of Buddha. There are various kinds of incantations, namely:
5.1) Group Incantation – By invited more than 1 monk to join in the incantation ceremony
5.2) Lone Incantation – Contra to the above one, this type of image of Buddha were put through incantation ceremony which done by one monk.
5.3) Vowing – Informal Incantation – Refer to any image of Buddha that didn't fill in magical power by two above method, neither group or lone incantation ceremony, but the incantation was done by one monk's vow to bestow Buddhist might into it, only a powerful and possessor of intense magical power can do such things.
Sacred powder image of Buddha that create by these method were regard as complete sacred powder image of Buddha, there are many of them nowadays, around Thailand, that you can study and take it in custody. However, how powerful those image of Buddha will be or how carefully and thoroughly the making procedure were taken, you simply need to use your judgment in consideration.
4. The Creation of Phra Noe Loha (Metallic Image of Buddha) by molding, pressing and injection.
There are 3 kind of making metallic image of Buddha: molding, pressing and injection. But first of all, the author wishes to clarify to you why we'd separate chin image of Buddha from other metallic image of Buddha. Chin image of Buddha is a kind of metallic image of Buddha, but the reasons why ancestral collectors and principals usually separate it from other metallic image of Buddha are:
1) All Chin image of Buddha were come from old dungeons and usually older than hundred years. The collectors regard them as ancient image of Buddha as there are no people interesting to make this kind of Buddha's image anymore.
2) Main ingredients of Chin image of Buddha are lead and tin; either more or less is depends the maker's wish. However, nowadays the image of Buddha's makers had found more suitable, better, durable and convenient forming metals to use to create image of Buddha instead of Chin.
3) Almost every collector believed that Chin image of Buddha must be antique, that's the main reason why this type of Buddha gains so much popularity from them. Beside, the collector believe the later made image of Buddha will look unnatural and unattractive, as most collector, either amateur or professional, believe that Chin image of Buddha need to look old and contaminated with natural stain. If they're found any Chin image of Buddha that look too new, they'll hastily assume that it was fake.
Various kind of Metallic image of Buddha that spread inside Thai image of Buddha's circle are:
1. Gold Image of Buddha 2. Silver Image of Buddha 3. Copper Image of Buddha 4. Mixed Metallic Image of Buddha
For the first three type of Metallic image of Buddha, their names clearly state its main component or content, namely gold, silver and copper. But for mixed metallic image of Buddha there are various metallic substances that can be use. Moreover, such complexity also add up with plenty making recipes, some exactly specify what and how many ingredients it will need, some are merely specify the main component and let the rest up to maker's mind. Thus, metallic image of Buddha usually possess unique and distinguishable characteristic between different crucibles, even within the same crucible but different time.
There are many popularly used metallic ores for making image of Buddha, namely:
1) 'Nawa Loha' (The Nine Metals) By bringing 9 different metals to melt together, the ratios of each metal are depend on the maker's recipe. However, there is an official recipe that described ratio of each metal which used in making the image of Buddha of 'Phra Gring Chaiwut'. Such recipe had Somdet Phrasunkkaraj (Pae) of Sutat Temple, Bangkok, as a founding father. The Sutat Temple's master recipe had described that 'Phra Gring Nawa Loha' (The Nine Metals Ringing Image of Buddha) must contain these ingredients at these specific ratios:
(1 Bath weight is equal to 15.2 grams) Chin weigh 1 Bath Jao Num Ngerng weigh 2 Bath (a kind of blue – green metallic ore) Melt iron weigh 3 Bath Borisutr weigh 4 Bath (a pure copper) Mercury weigh 5 Bath Zinc weigh 6 Bath Copper weigh 7 Bath Silver weigh 8 Bath Gold weigh 9 Bath
By melting all these ores together, you'll get the graceful, yet potent in its power, Nawa Loha.
2) 'Sutta Loha' (The Seven Metals) 'Sutta Loha' is a composition ores of seven metallic ores, namely: iron, mercury, copper, silver, gold, 'Jao Num Ngerng' and 'Borisutr'. Ratio of the composition is various among each recipes and depend on what the maker intend to create, for example, if the maker wish to create weaponry from 'Sutta Loha' then the ratio of iron will be more than other metallic ore.
3) 'Benja Loha' (The Five Metals) 'Benja Loha' is a composition ores of five metallic ores, namely: iron, mercury, copper, silver and gold. Ratio of the composition is depends on the recipe and things that they intend to create but major ingredient would be iron.
4) Brass Quite a popular metallic ore in the recent times, by combining copper with zinc and small ratio of other substance such as lead, tin, aluminum, iron, manganese, nickel etc.
5) Bronze Originally, it's a name of composition between tin and copper, nowadays it's mean a composition of copper with other metallic ores, except the composition of copper and zinc which is Brass.
6) 'Mekkapad' (Mixed Metals) It is a kind of mixed metallic ores from various substances whether iron, copper, tin, lead, silver and gold. What is the ratio and how many metallic ores will be use is depend on various recipes and maker's wish. Its unique characteristics and name came from its making method, namely: while the maker melts the ore he will cast sulfur into the melting ores which will make the composition possess unique metallic white with shining of blue.
7) 'Mekkasit' (Mixed Metals) This metal is similarity and alike twin of 'Mekkapad', their making method are also similar, too. The past generation makers would call the making method of 'Mekkapad' and 'Mekkasit' as 'alchemy'. This metal is regard as sacred metal as the maker must chant the spell while melt the ores. The composition of 'Mekkasit' is comprised of silver, zinc, copper and copper.
8) Golden Bronze This mixed metal is usually use for making large image of Buddha and other worshiping statues. It was one of the first metallic ores human know how to use. Its composition is comprised of copper, tin, silver and gold.
9) 'Kun Loang Hin' (Alloy Bronze) One another anciently known substance and it's a kind of mixed metal called 'bronze' but this composition will specific to only between copper and tin. As bronze are include every metallic ores that comprised of copper and other metals except zinc, thus, bronze will come into many shade of color such as silver bronze, golden bronze etc.
However, there are other metallic image of Buddha that made from main metallic ores such as gold, silver and lead; and small ratio of other metals. This composition is aim for convenient in shape forming, more beautiful and durable image of Buddha.
Metallic Image of Buddha – The Making Method After we'd learn about mixed metallic ores use for making metallic image of Buddha, now we shall discuss about the making methods which are molding, pressing and injection. The making method we're discussing can be regard as the methodology of middle age which is the past few hundred years that evolved into modern methodology that we'd known. In this article, we separated making methodology into two main aspects: ancient molding and modern molding.
Ancient molding This method was used for making image of Buddha and other sacred object such as molding coin. Sacred objects created by this method are all national renowned sacred objects, whether "The 1st generation image and coin of Grand Master Ngerng" from Bangklan Temple, Phichit Province; image of Grand Master Derm etc.
Ancient molding methodology are comprised of these step, namely 1) Soil kernel forming – By forming model's kernel from soil which will be later use for molding image of Buddha, rough image of Buddha create in this state called 'soil kernel'.
2) Wax covering – After finish making of soil kernel, the maker will cover that kernel model with bee wax and carving specific details with 'Saniad' (brass – flat stick). The output is wax image of Buddha with details and movement as maker's intention.
3) Dung soil covering – Then the maker will covering wax model with 'dung soil' (made from bull's dung mix with soil, sand and water) and punch a hole for let the wax to melt off when pouring in the composition.
4) Composition molding – Pouring metallic composition into the molding model, hot – melt composition will take place as bee wax will melt and let off through the hole that had been pre-punch. This step also called 'wax disgorging', the replacing of wax with metallic composition will forming required image of Buddha.
5) Model breaking – The last finishing step, after the composition has cool down and forming solid form then the maker will break sold model that still cover the image of Buddha. Therefore, ancient molding image of Buddha also called 'Model Breaking – Molding Image of Buddha'.
Most ancient molding image of Buddha will lack of face and body detailing, as insufficient of tools and man power and out-of-date local wisdom. Moreover, the metallic composition are made with improper measurement and lack of temperature control, all these reasons cause ancient image of Buddha lack of some sharp detail. However, natural characteristic of sol model and unique composition of mixed metals is a real attractiveness of ancient molding image of Buddha that can't be easy to reproduce or replicate. Moreover, soil model that melt into the metallic composition from high heat is regarded as a stratagem for considering real old image of Buddha from the new, fake one, too.
Modern Molding As technology keeps evolving, many new suitable and more convenient tools had emerged. Such development allowed the image of Buddha to be made in a large quantity with more gracefully shape.
1) Forming model with bee wax – By using plaster instead of dung soil and then cast wax off. Originally this step will perform while the model (wax) still hot but modern method will be 'cold molding' which mean let the model cast wax off and cool down then pour in the composition. This method can use to make multiple image of Buddha at the same time.
2) Making of Image of Buddha by injection method – This modern technique can be use to create gracefully and high detail image of Buddha, this method use gravitational hurling the composition which will drive it into every groove of the model. The making procedure of pressing method is start by forming model with wax and covering it with rubber, which is a most suitable substance that can collect all detail of the wax model. Then inject plaster into the rubber which will create a finish model. Later, composition will be inject into the model and bring to the rotational tube which will press the composition into every groove of the model. As we said earlier, this method can create gracefully and high detail model at large quantity at a time.
3) Making of Image of Buddha by pressing method – Other modern method for making image of Buddha, quit similar to the injection method. The different is in the step of create the model which will be two types of them, namely 'male model' and 'female model', both will be assemble together. Moreover, the maker needs to create additional cutting-piece (in case of making a sacred coin) with the suitable size to the model.
Model of the pressing method can perform the 'remodeling' which will create endlessly number of new model and the replicated model will exactly the same as it's original. Therefore, this method became a popular one among the modern makers as it can use to create vast number of Buddha's image with exactly the same detailing. For the mixed metals use to pressing the image of Buddha, in this method the maker usually use cold composition and put it into pressing machine to create coin or image of Buddha as them want.
5. The Creation of Phra Noe Warn (Herbal Sedges Image of Buddha) From ancient time, Thai people collect and develop their knowledge about herbal sedges, vastly usable for either medical objective or use as charms for indestructibility or prosperity of the holder. Therefore, when someone is going to make image of Buddha such herbal sedges and flowers, which possessed unique characteristic and ability, are a necessary ingredient. Many evidence suggest that "herbal" sedges is a vital ingredients for making soil and powder image of Buddha from ancient time, such as a translation of golden plate's inscription which founded in the dungeon of Phra Sri Ruttana Mahatat Temple, Suphan Buri Province, said:
"Supmusdu 1265 Sittigariya told that once there were 4 ascetics which lead by Phra Roesri Pimpilalai (Pimpilalai The Ascetic). We will complete it with our might and made it with 'Kroeng Pradit Miwuwan' etc. Supreme Phraya Sritum Sokkaraj King, one who pledges his absolute respect to the 4 ascetics, the king had brough various herbal sedges as the ascetics invite all the angels to the creating ceremony to make image of Buddha's model…"
Also, when we inspect the ingredients of Buddha's image, we'll found herbal sedges as a part of many famous image of Buddha, whether 'Phra Rord Mahawun', 'Phra Gru Tung Setti', 'Phra Pong Suphan', 'Phra Ngang Paya' and 'Phra Somdet Wat rakung' etc. However those images of Buddha are just merely mix with small ratio of herbal sedges. Thus, such image of Buddha that contain only little herbal sedges cannot be regard as 'Herbal Sedges Image of Buddha'
However, there are some image of Buddha that use herbal sedges as its major ingredient that can be clearly seen and distinguish from other mixed substances. An examples of this image of Buddha's type is 'Phra Noe Wan – Luang Poo Tuad Wat Chnag Hai' (Sadges Image of Buddha made by Grand Master Tim of Chang Hai Temple) from Pattani Province. This model use powder of 'Din Kak Ya Yuk'(Giant's medicine refuse soil – a kind of soil) as its main ingredient. We also found that image of Buddha made by Grand Master Boon of Glang Bangkaew Temple, Nakhon Pathom Province, this is a mix of powder and herbal sedges image of Buddha called 'Phra Noe Pong Wassana Jindamani'
The Making Methodology of Ancient Sedges Image of Buddha Start by pounding various herbal – sacred sedges by rock mortar. In the making of 'Phra Luang Poo Tuad Noe Wan' back in the year 2497BE, historical document had described its methodology, as follow:
The pressing ceremony for making Phra Noe Wat of Chang Hai Temple was done by local villagers and monks join together to pounding the sedges by hand, also while pound the sedges they must chant the spell that Grand Master Tim had prescribe (moreover, different spell will be use for different day). In that time models for pressing image of Buddha were made from black lacquer's rubber, various historical document said there should be more than 16 model but the specific number were still unknown. The reason for this is because Grand Master Tim had order the makers to created additional model to archive achieve the target amount at 84,000 images of Buddha, however they'd fail and only completed 64,000 images of Buddha as limited ceremonial time. The incantation ceremony was performed on 17th April 2497BE, The Day 15th of Waxing Moon in the 5th Month, at 12.00 Hours. After finished the incantation, those image of Buddha were put into bowls and let people to lease for their worshiping without any pre-specified cost, the amount of that lease is depend on their faith.
The Ingredients of Herbal Sedges Image of Buddha, 1. 108 Herbal – sacred sedges 2. Lime 3. Wild bananas 4. Ash from joss stick 5. Scurf from pagoda that holding the ash of Grand Master Tuad 6. Various ores 7. 'Din Kak Ya Yuk' 8. Dried flowers 9. Holy water 10. etc.
The pounding procedure will require many mortars, first pound sedges with earth soil, then put in a little bit of lime and wild banana (whole piece included its seed). Keep pounding then put in joss stick's ash, dried flowers, ores and other substances. Early image of Buddha in this model had fine pounded content but later will be rougher as the makers must hurry to finish it within the auspicious time for incantation. Thus, the later model will be vary, some came in a dark image of Buddha as putting in so much soil, some come in a grey as putting in so much lime and the fine – pounded model, which made in the trial pressing stage, are found only in a small amount.
Pressing this image of Buddha also varying, some pieces easily came out of the model but most of them became to sticky, the makers had to put a wood stick under the image of Buddha to punch it out of the mold. Such action leave a mark under image of Buddha which covered by sacred powder.
Other distinguish characteristics is the content, which usually contain seed of white, black, white-yellow, brown, sand or sacred ores in the back of the Buddha's image.
From the example of sedges image of Buddha's making method, some of you might now understand what step it will take to make this kind of sacred objects. Nowadays there are still some making of this type of Buddha's image, but only s few makers will intend to do so. Because this image of Buddha's raw material preparation is a trouble some stage, as it will require large quantity of herbal sedges but those herbal sedges are become rarely can be found.
6. The Creation of Sacred Objects.
Sacred objects or charms is a universal believe that root into may cultures around the world, their power can encourage people and stimulate them to perform some specific action from an ancient time.
In Thailand, the sacred objects history can be trace back to the time of Sukothai Capital City, but the real prosperity will be in the time of Ayudthaya Capital City which vanished with the end of it. But it redeems and still takes it place in people heart until now.
Ancient principles that possessed intense magical power preferred to create and bestow sacred objects to his followers. Thus, the creation of sacred object is a unique artistry that can be distinguishes between various principles. Sacred objects were regard as a dynamic art, there is no official uniform, no limit model or shape, but the characteristic emerge in any pieces would inherit to the later generation which can be use to identify their makers and history.
All substances can be use as sacred objects, if only it had been put through intense vowing, magical enchantment and intense incantation from the real practitioners in wizardry.
Therefore, the studying about sacred objects is requires particularly carefulness as sacred objects was regard as prosperous objects that people worship and pledge their respect, also, some collection are cost a huge amount of money, too.
The author wish to continue our discussion later, goodbye, for now. Copy from www.web-pra.com Generously favor from the book: 'Land Legacy'
Translator Saint, ASE
Product ID (TransID) Title Reminder Winning Bid Ending Winner Status 111542790 (3312404) 'kao' barang PHRA NGUNG AJ KOM KHMER MASTER Send Reminder(0) Report Non-Paying Bid RM 288 26-Jul-2012 20:39 MOHAMED ZAKHIR HUSSIEN(mzhussien) Selangor mzhussien@yahoo.com 016-6699607 (SMS Buyer)
Trans Completed 111542818 (3312398) SUPERB OLD TIBETAN 9 EYE DZI NO 8 Send Reminder(0) Report Non-Paying Bid RM 80 26-Jul-2012 20:37 CHIN WENG MING (33788733) Penang wm_chin@streamyx.com 016-4914382 (SMS Buyer)
Item Sent 111221108 (3301174) MOUNTAIN CAVE RAINBOW COLORS LEKLAI PENDANT Send Reminder(0) Report Non-Paying Bid RM 150 21-Jul-2012 15:07 CHAN KIAN SIANG (Acm4856) Kelantan eric_chan007@hotmail.com 09-9550368 (SMS Buyer)
Item Sent 111034231 (3293964) CARNELIAN DZI BEADS TIBETAN KUAN YIN , HOOK , ONE EYE Send Reminder(0) Report Non-Paying Bid RM 50 18-Jul-2012 09:40 CHIN WENG MING (33788733) Penang wm_chin@streamyx.com 016-4914382 (SMS Buyer)
Item Sent 111034232 (3293967) CARNELIAN DZI BEADS TIBETAN MOON STAR , HEAVEN EARTH , CHOY SAN Send Reminder(0) Report Non-Paying Bid RM 50 18-Jul-2012 09:41 CHIN WENG MING (33788733) Penang wm_chin@streamyx.com 016-4914382 (SMS Buyer)
Item Sent 111034233 (3293972) BEAUTIFULL RED COLORED GANESHA YANT Send Reminder(0) Report Non-Paying Bid RM 50 18-Jul-2012 09:42 KOBI SUBRAMANIAM(kobe79) Johor simon_corsby@yahoo.com 012-7632285 (SMS Buyer)
Item Sent 111034263 (3293973) LP IN MEED MOR Send Reminder(0) Report Non-Paying Bid RM 100 18-Jul-2012 09:42 RAMESH SINGH (adisakti) Perak adisakti@yahoo.com 05-5337026 (SMS Buyer)
Item Sent 110910208 (3290156) NATURAL CZECH MOLDAVITE PENDANT 54CTS Send Reminder(0) Report Non-Paying Bid RM 210 16-Jul-2012 10:17 RAMESH SINGH (adisakti) Perak adisakti@yahoo.com 05-5337026 (SMS Buyer)
Item Sent 110811269 (3287868) LAXMI NARAYAN SALIGRAM Send Reminder(0) Report Non-Paying Bid RM 110 14-Jul-2012 19:38 RAMESH SINGH (adisakti) Perak adisakti@yahoo.com 05-5337026 (SMS Buyer) Item Sent 110704196 (3284103) BEAUTIFULL NATURAL SHARP STAR RUBY CABOCHON 12CTS Send Reminder(0) Report Non-Paying Bid RM 80 12-Jul-2012 22:15 RAMESH SINGH (adisakti) Perak adisakti@yahoo.com 05-5337026 (SMS Buyer)
Item Sent 110704201 (3284106) CARNELIAN /AGATE DZI BEADS TIBETAN S HOOK , 9 EYE, RUYI Send Reminder(0) Report Non-Paying Bid RM 50 12-Jul-2012 22:20 CHIN WENG MING (33788733) Penang
wm_chin@streamyx.com 016-4914382 (SMS Buyer)
Item Sent 110675809 (3282842) BIG PIECE SUDERSHAN SALIGRAM Send Reminder(0) Report Non-Paying Bid RM 150 12-Jul-2012 12:38 RAMESH SINGH (adisakti) Perak adisakti@yahoo.com 05-5337026 (SMS Buyer)
Item Sent 110675763 (3282851) LOVELY SUDERSHAN SALIGRAM Send Reminder(0) Report Non-Paying Bid RM 120 12-Jul-2012 12:42 RAMESH SINGH (adisakti) Perak adisakti@yahoo.com 05-5337026 (SMS Buyer)
Item Sent 110397684 (3273926) LEELA WALKING BUDDHA AMULET Send Reminder(0) Report Non-Paying Bid RM 87 07-Jul-2012 21:13 TANKOKSENG(tankokseng58) Penang tankokseng58@gmail.com 012-4013636 (SMS Buyer)
Item Sent 110266222 (3269671) PHRA PIDTA BUDDHA YOD LEKLAI LP DEE Send Reminder(1) Report Non-Paying Bid RM 90 05-Jul-2012 16:21 Vicky Roy (candyboy360) Selangor candyboy36@ymail.com 016-2912910 (SMS Buyer) 
Item Sent 110101915 (3263925) LP KOON ORIGINAL WAT BANRAI 2536 Send Reminder(2) Report Non-Paying Bid RM 90 02-Jul-2012 20:14 Liau Tze Loong (Liau99) Sarawak miri@majorole.com.my 013-8300927 (SMS Buyer)
Trans Completed 110044462 (3262056) SHIVLING SALIGRAM Send Reminder(1) Report Non-Paying Bid RM 100 01-Jul-2012 21:01 RAMESH SINGH (adisakti) Perak adisakti@yahoo.com 05-5337026 (SMS Buyer)
Item Sent 109944837 (3259128) RARE OLD LP KOON AMULET Send Reminder(0) Report Non-Paying Bid RM 150 30-Jun-2012 08:26 Liau Tze Loong (Liau99) Sarawak liautzeloong@yahoo.com 085-435867 (SMS Buyer)
Trans Completed