Item Specification
Product Description
BYLT
INTRAWORKOUT
During exercise and intense training your body produces lactic acid which causes pH levels to drop, resulting in an acidic environment. This can quickly lead to cramping, fatigue, and tissue damage. BYLT™ contains a scientifically formulated blend of key ingredients designed to help you reduce muscle fatigue & soreness, rehydrate the body and sustain energy levels during exertion allowing your body to go beyond your limits.*
CarnoSyn® Beta-Alanine
Beta-alanine is a non-essential amino acid. Beta-Alanine can be found as a component of a dipeptide in chicken and fish. In the body, beta-alanine is combined with the amino acid histidine to form carnosine. Muscle carnosine buffers the hydronium ions that lead to muscle fatigue and failure. Tested on a wide range of athletic performance, including sprinting, cycling, rowing, and weight lifting, CarnoSyn® beta-alanine is clinically suggested to:
Increase muscle carnosine for prolonged periods*
Increase muscle buffering capacity*
Decrease acidosis*
Improve endurance*
Delay fatigue*
Increase strength*
Speed recovery from intense exercise*
CarnoSyn® is the #1 selling patented brand of beta-alanine in the world. More than 20 published studies support its use.
What is Sustamine?
A combination of L-Glutamine (the most important amino acid for stimulating muscle protein synthesis) and L-Alanine (an amino acid needed for rebuilding glycogen stores), Sustamine is the result of a patented fermentation process that creates a true dipeptide for the efficient absorption of these amino acids in the body.* Suitable for use in dietary supplements, energy/sport and electrolyte beverages, meal replacements, nutritional bars and more - Sustamine is the only dipeptide backed by oral human clinical results, and the only self-affirmed GRAS dipeptide of L-Alanyl-L-Glutamine for foods and beverages.
How do dipeptides speed absorption and recovery?
A dipeptide is a bonded chain of two amino acids, in this case, L-Glutamine and L-Alanine. Smaller than a complete protein, the dipeptide Sustamine is absorbed faster than individual amino acids. To get into cells, dipeptides and amino acids must wait for a "transporter". A transporter can carry either a single amino acid or a dipeptide through the cell barrier at once. Through coupling for transport, dipeptides reduce the time and energy needed for cellular recovery.*
Why a dipeptide?
Dipeptides are absorbed more efficiently than protein
Dipeptides do not require additional energy to break down bulky protein molecules
Dipeptides increase amino acid transport into cells for faster recovery*
Dipeptides supply two amino acids for the energy costs of one*
Dipeptides might be more stable and effective than single amino acids
Why combine L-Glutamine with L-Alanine?
Combined into a single dipeptide, L-Alanyl-L-Glutamine, Sustamine helps the body restore better than L-Glutamine or L-Alanine alone. Sustamine:
• Supplies vital nutrients.
Sustamine supplies the body with the protein precursors needed to rebuild muscle tissues after moderate and intense exertion.*
• Replenishes energy stores.*
Sustamine helps refill depleted glycogen stores.* In fact, studies show that L-Alanine may contribute up to 45% of the glucose released from the liver during prolonged exercise.*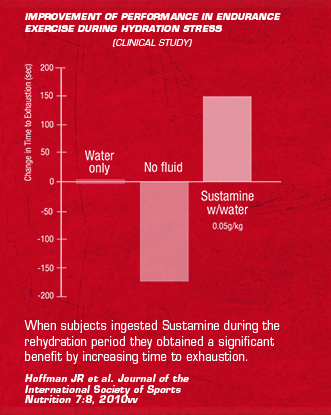 • Increases electrolyte and water absorption.*
Studies suggest that a combination of L-Alanine with L-Glutamine may be more effective than L-Glutamine alone for increasing electrolyte and water absorption lost during exercise.*
• Modulates immune response.*
L-Glutamine has been shown to effectively modulate the body's immune response to exercise.*
• Fights free radicals.*
The combination of L-Glutamine and L-Alanine has been shown to support the body's natural antioxidant defense against the oxidative stress produced by free radicals.*
• Increases product stability and quality.
Research indicates that combining L-Glutamine with another amino acid to form a substrate is more stable and less subject to degradation at high temperatures than L-Glutamine alone. This prolongs shelf life and enhances quality.*
• Increases Strength & Power

• Reduces Muscle Fatigue & Soreness

• Enhances Performance & Accelerates Recovery
Questions & Comments
Recently Viewed Items
---
Payment Method
Maybank Account : 5084 3010 8315
Name :Nutrition Pro Fitness Sdn Bhd
Public Bank Account : 31783 08314
Name : Nutrition Pro Fitness Sdn Bhd
CIMB Account : 80050 57847
Name: Nutrition Pro Fitness Sdn Bhd

Once payment made, SMS name, addresss, order item, payment to which bank to 010-2112 430
City-link Express (1-2 working days)
-CALL 03-5565 8399 or check tracking at this website. http://www.citylinkexpress.com/
Speedline Logistic (1-3 working days)
check tracking by calling this no. 605 312 1975
Copyright

All Web site design, text, graphics, the selection and arrangement thereof, and all software Copyright, nutritionpro.com.my ALL RIGHTS RESERVED. Permission is granted to electronically copy and to print in hard copy portions of this Web site for the sole purpose of placing an order with nutritionpro.com or using this Web site as a shopping resource. Any other use of materials on this Web without the permission of nutritionpro.com.my is strictly prohibited. We will not hesitate to take legal action on it.


Disclaimer:

Products' pictures, labeling, and descriptions are subject to change by the manufacturers without notice. www.nutritionpro.com.my is not responsible for any incorrect or outdated product descriptions and/or images; as they do not necessarily reflect the latest information available from the manufacturer. Please consult the manufacturer's website for the latest product(s) information. None of the statements in this website have been evaluated by the Drug Control Authority (DCA) or National Pharmaceutical Control Bureau (BPFK) of Malaysia. All products on this site are not intended to diagnose, treat, cure, or prevent any disease.

Price and availability information on this site is subject to change without prior notice.

Quality of our Products

Quality of all our products are guaranteed and original! MONEY BACK GUARANTEED! We ensure that our products are in good condition and not nearing an expiry date (a min. of 6 months) before it reaches your hands. There are lots of fraud and fake supplements on the market. Always buy from a reputable seller like nutritonpro!
Questions & Answers
Do you have any questions to ask merchant about this product
Ask Seller
| | | |
| --- | --- | --- |
| 5 stars | | (0) |
| 4 stars | | (0) |
| 3 stars | | (0) |
| 2 stars | | (0) |
| 1 star | | (0) |
Share your thoughts with others
Write a review
---
&nbsp &nbsp &nbsp &nbsp &nbsp &nbsp
Filter by
Sort by