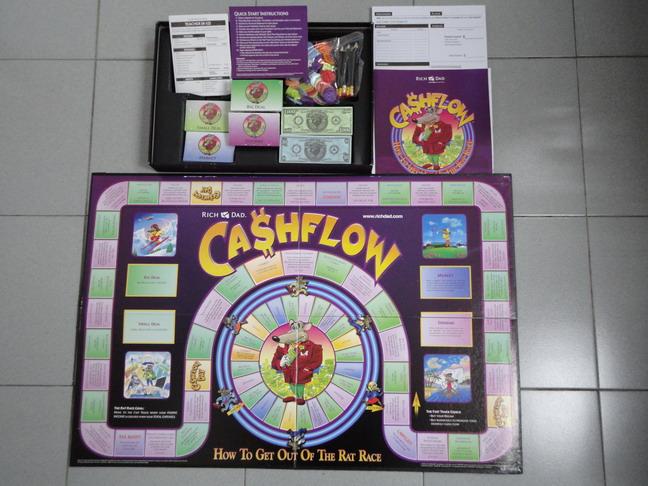 One unit New board game for bid
*** TEMP out of stock *** will update here once restock , tq
Are you ready to move past your money problems and create lasting wealth?
Are you tired of being in the same financial situation year after year?
Robert calls it "Being in the Rat Race."
If you want to find a way out of the rat race, then you are in the right place. Robert Kiyosaki has been teaching people how to create real wealth for more than 16 years.
Now YOU Can Get Out of the Rat Race
By playing Robert Kiyosaki's popular CASHFLOW 101 game!
Learn why the idea of creating wealth by building assets (by having a home, car, clothes and jewelry) is a myth and how one simple shift in your thinking can change your financial life. Learn the secrets of cash flow and how to never worry about money again. Learn how to achieve your dreams, how to stop the financial "bleeding", how to become financially secure, and how to get out of the rat race forever.
This board game will transform the "money mind-set" of anyone who plays, whether they are new to financial information, or seasoned investors.
This is a Brand New & Sealed Cashflow 101 Boardgame
The content of this game :
1) One game board
2) all package include CDs files
3) 6 cashflow pencils
4) Instructions manual (english)
5) A stack of financial statement worksheet
6) 6 rats, 6 cheeses & cashflow coins in black, green, purple, red, orange & blue
7) Cashflow money notes (shrink wrapped)
8) Playing cards ie Big deal, Small Deal, The Market , Doodads & Profession cards (shrink wrapped)
Specification:

Box Size : 39 cm x 26.5 cm x 5 cm
Weight : approximately 2.5kg
Terms and Conditions :
Image may vary from actual item.
Please close/complete the deal within 3 working days.
No combine shipping for this item ( unless stated in the auction )
Buyer may request combine shipping for certain light weight item,shipping fee will deduct 10% - 50% from all shipping fee.
If not agree with the shipping fee,pls don't bid on it otherwise bad comment will be giving.
Buyer pay the return shipping fee for warranty claiming.
Goods sold are non-refundable & no warranty given (unless stated in the auction).
Goods will be tested before item is being send.
No refund nor exchange is allowed in terms of hardware compatibility issues.
Posted item will be tested and packed with extra care. However,
l hold no responsibility for damages caused to items during delivery.
No warranty if :
* Products physical damaged due to user abused or improper handling issue.
* Attempt to repair or modify the product without written approval.
Warranty Information:
-Buyer pay postage for returning faulty item. Item returned and found not to be defective will be returned at buyers expenses. Item sold are not refundable.
Warranty only covers manufacturer's defect. Wear and tear, shipping damaged, misused, negligent and compatibility are NOT cover under the warranty.
- Specifications and design are subject to change without notice. We are not responsible for any change of specifications and design by the manufacturer.
All trademarks / registered trademarks belongs to their respective owners.
All prices quoted in Ringgit Malaysia (RM) unless otherwise noted.
Images displayed may vary from the actual products.
Please PM / email / press contact seller to provide me any brand and model , we can order many types of laptop accessories , battery , LED , LCD , spare part , processor.