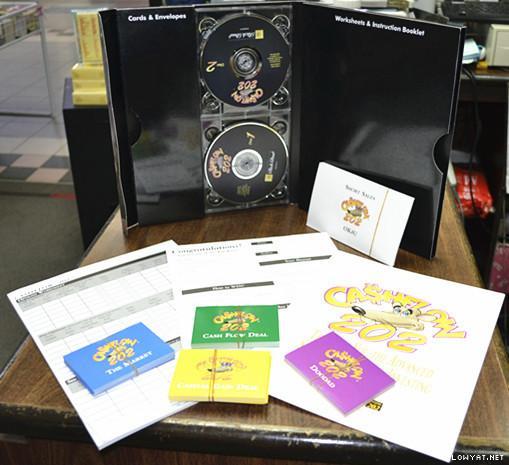 Cash flow 202 RICH Poor Dad Board Game + CD in NEW unit.
*** Temp out of Stock *** kindly take noted , will update again

*This game is suitable for adults & children age >10

GREAT GIFT FOR FAMILY GATHERING!!
Cashflow is a serious game designed by investor, businessman, and self-help author Robert Kiyosaki to serve as a tool for learning basic financial strategies and accounting principles.



It is an educational game that teaches:

"Accounting"
"Finance"
"Investing"



Package Contents:
- Instruction book
- New Game Sheets
- New Playing Cards
- 5 CDs that reinforce the valuable financial lessons


********* You must have Cashflow 101 in order to play Cashflow 202.
10 Important Reasons Why You Must Play RICH DAD CASHFLOW :

1. Have fun while learning about money management

2. Build up your financial intelligence

3. Learn to work smart instead of just work hard

4. Spend quality time with your family learning about financial freedom

5. Break the back of poverty by developing a habit of financial breakthrough

6. Succeed by making your money work fast for you

7. Apply in real life all that you have learned in this boardgame

8. Get out of the Rat Race by learning the appropriate principles

9. Retire rich and comfortably

10. Become the Master of Money




AWAKEN YOUR FINANCIAL GENIUS!
This interactive and fun-filled Board Game will change your life! The more you play this game the richer you become!

"What's your dream? Freedom of time? Unlimited resources to travel the world? Whatever it may be, CASHFLOW® 101 BOARD GAME teaches you how to get out of the Rat Race and onto the Fast Track, where your money works for you instead of you working hard for your money" - Robert Kiyosaki

A must-have for all! Put money management theory into practice. Learn how to get out of the rat race fast.

Know how to 'Fast Track' and make your money work faster for you. Use money to grow money. In Robert Kiyosaki's own words, "By playing the game over and over, you begin to break up the core conditioning most people learn at home and at school – the conditioning of working hard for money."Learn, instead, how to work smart for your money!

This is indeed the MBA program for people want to have fun, learn fast and get rich!

Money is a very powerful force in our world today.
It has the power to make you a slave by driving you to work hard, pay
taxes and pay off debts all your life. Money also has the power to set
you free. But that freedom requires you to become a MASTER OF MONEY.

CASHFLOW IS CREATED TO TEACH YOU HOW TO BECOME A MASTER OF MONEY!

"Board games for the upwardly mobile"
- CNN/Money

"On a recent evening I bought into a limited partnership, flipped a bed and breakfast for a quick profit, tripled my money on "OK4U" pharmaceutical stock. I also got downsized from my teaching job,bought a duplex and had a baby. After all that, I managed to get out of the proverbial rat race."
- Sarah Max, CNN/Money Senior Writer


Most people think that CASHFLOW is played on the big, colorful board. In reality, the game is played on your income statement and balance sheet. What you learn in CASHFLOW, you apply in real life. People who do not know how to control their cash-flow often struggle financially – regardless of how much money they make.
CASHFLOW enables its players to actively participate in a game that mirrors life along with all the financial opportunities and challenges life presents.
Use this game to educate yourself in planning your financial strategy.
Learn how to seize good business opportunities and practice how to invest wisely.
Play and learn! In real life, the ROI (Return On Investment) is phenomenal.
Remember the big secret of the rich:they do not work for money because
they know how to have money work for them.
PLAY CASHFLOW OFTEN AND YOU WILL BECOME THE MASTER OF YOUR MONEY!

WHO SHOULD PLAY CASHFLOW?

o People who are afraid of financial bondage!
o People who are tired of being employees!
o People who want to get out of the Rat Race!
o People who are ready for the Fast Track!