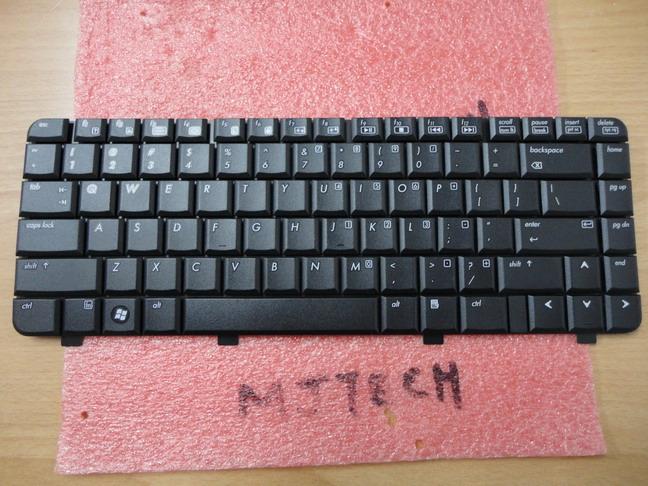 one unit Compaq V3000 DV2000 keyboard
Layout: US
Color: Black
Content: Ribbon cable comes with keyboard
Condition: Brand NEW Compaq/HP Keyboard.
come with 3 months warranty.
Compatibility
Compaq Presario V3000 Series Notebook PC:
EQ787AV, EQ969AVR, EQ969AV, ES826AV, ES827AV, ES892AVR, ES892AV, EZ672UAR,
EZ672UA, EZ674UAR, EZ674UA, EZ675UAR, EZ675UA, EZ676UAR, EZ676UA, EZ677UAR,
EZ677UA, EZ678UAR, EZ678UA, EZ680UAR, EZ680UA, EZ681UAR, EZ681UA, EZ752UAR,
EZ752UA, EZ754UAR, EZ754UA, EZ755UAR, EZ755UA, EZ757UAR, EZ757UA, RA702AS,
RB709PA, RB710PA, RB711PA, RB712PA, RB713PA, RB714PA, RB748PA, RB751PAR,
RB751PA, RB767PAR, RB767PA, RB768PAR, RB768PA, RB771PAR, RB771PA, RB772PA,
RD153AVR, RD153AV, RD461PA, RD462PA, RD473PA, RD481PA, RD482PA, RD483PAR,
RD483PA, RD545PAR, RD545PA, RD546PAR, RD546PA, RD548PA, RD555PA
Compaq Presario V3100 Notebook PC:
RE085PA, RE085PAR, RE089PAR, RE089PA, RE117PA, RE118PA, RE119PA, RE120PA,
RE125PA, RE134PAR, RE134PA, RE139PAR, RE139PA, RJ417AS, RJ418AS, RL557PAR,
RL557PA, RL671PA, RM553PAR, RM553PA, RM589PAR, RM589PA, RM607PA, RM609PAR,
RM609PA, RM613PA, RM678LA, RM679LA, RM680LAR, RM680LA, RG518UAR, RG518UA,
RJ430AS, RL377PAR, RL377PA, RM666AVR, RM666AV
Compaq Presario V3120TU Notebook PC:
RE126PA
Compaq Presario V3122TU Notebook PC:
RE145PA
Compaq Presario V3172TU Notebook PC:
RM557PA
Compaq Presario V3174TU Notebook PC:
RM559PA
Compaq Presario V3400 Series Notebook PC:
GJ179PA, GJ180PA, GM185PAR, GM185PA, GM186PAR, GM186PA, GM187PA, GM195PAR,
GM195PA, GM196PAR, GM196PA, GM197PAR, GM197PA, GM198PA, GM199PAR, GM199PA,
GM200PAR, GM200PA, GM220PAR, GM220PA, GM236PAR, GM236PA
HP Pavilion dv2000 Series Notebook PC:
EQ784AVR, EQ784AV, EQ785AVR, EQ785AV, EQ883AVR, EQ883AV, ES745AVR, ES745AV,
ES746AVR, ES746AV, ES817AVR, ES817AV, EX101PAR, EX101PA, EZ643UAR, EZ643UA,
EZ644UAR, EZ644UA, EZ648UAR, EZ648UA, EZ649UAR, EZ649UA, EZ717UAR, EZ717UA,
EZ718UAR, EZ718UA, EZ723UAR, EZ723UA, EZ725UAR, EZ725UA, EZ726UAR, EZ726UA,
EZ728UAR, EZ728UA, RA698ASR, RA698AS, RA700AS, RB590ASR, RB590AS, RB705PA,
RB706PA, RB707PAR, RB707PA, RB708PAR, RB708PA, RB754PA, RC281ASR, RC281AS,
RC445AS, RD261LAR, RD261LA, RD262LA, RD263LAR, RD263LA, RD264LA, RD443PA,
RD444PA, RD446PA, RD456PAR, RD456PA, RD494PA, RD495PA, RD496PA, RD499PA,
RD500PA, RD501PA, RD502PA, RD522PAR, RD522PA, RD523PAR, RD523PA, RD526PAR,
RD526PA, RD579PAR, RD579PA, RD602PAR, RD602PA, RD647EAR, RD647EA, RD670EAR,
RD670EA, RD675EAR, RD675EA, RE161PA, RE266EAR, RE266EA, RE267EAR, RE267EA,
RE268EAR, RE268EA, RE269EAR, RE269EA, RE270EAR, RE270EA, RE271EAR, RE271EA,
RE272EAR, RE272EA, RE273EAR, RE273EA, RE274EAR, RE274EA, RE275EAR, RE275EA,
RE276EAR, RE276EA, RE277EAR, RE277EA, RE278EAR, RE278EA, RE279EAR, RE279EA,
RE280EAR, RE280EA, RE281EAR, RE281EA, RE282EAR, RE282EA, RF926AS, RH222ASR,
RH222AS, RM668AVR, RM668AV, RP871PC
Terms and Conditions :

Image may vary from actual item.
Please close/complete the deal within 3 working days.
No combine shipping for this item ( unless stated in the auction )
Buyer may request combine shipping for certain light weight item,shipping fee will deduct 10% - 50% from all shipping fee.
If not agree with the shipping fee,pls don't bid on it otherwise bad comment will be giving.
Buyer pay the return shipping fee for warranty claiming.  
Goods sold are non-refundable & no warranty given (unless stated in the auction).
Goods will be tested before item is being send.
No refund nor exchange is allowed in terms of hardware compatibility issues.
Posted item will be tested and packed with extra care. However,
l hold no responsibility for damages caused to items during delivery.

No warranty if :
* Products physical damaged due to user abused or improper handling issue.
* Attempt to repair or modify the product without written approval.

Warranty Information:
-Buyer pay postage for returning faulty item. Item returned and found not to be defective will be returned at buyers expenses. Item sold are not refundable.

Warranty only covers manufacturer's defect. Wear and tear, shipping damaged, misused, negligent and compatibility are NOT cover under the warranty.
- Specifications and design are subject to change without notice. We are not responsible for any change of specifications and design by the manufacturer.
 
All trademarks / registered trademarks belongs to their respective owners.
All prices quoted in Ringgit Malaysia (RM) unless otherwise noted.
Images displayed may vary from the actual products.