Be prepared to protect yourself, your loved ones, and your personal belongings from assault by carrying the XA Pepper Spray Keychain. You can attach it to your mobile phone, wallet, bag, or belt loop. So, when you are feeling like you are in danger, you can quickly access this spray for self-defense.

Just aim the spray valve of the XA Pepper Spray Keychain onto your attackers face and press down. You will be releasing a high concentration of natural hot pepper that will irritate the skin and eyes of your assailant. You can do so up close (being sure to close your own eyes and mouth to prevent getting the spray on yourself) or as far away as a three feet. Then, while your attacker is down, you can run to safety and call the authorities.

Each bottle of XA Pepper Spray Keychain is good for three to six uses. It isnt a toy, so be sure to use it only in an emergency situation. Keep it out of reach of children as well.
Features:
Protects you with this proven stopping power

Delivers a strong potent blast 10-12 feet

Quick and simple to operate, easy to take around

Perfect to carry for personal protection from being attacked

Enables you to defend yourself and keeps a safe distance from an attacker

The pepper spray on the face will cause temporary blindness, choking, coughing and nausea- bringing an attacker to his knees

Light weight with keychain, easy to take around

Colour : Silver, Pink, Green (Color to be sent randomly)

Approx Size : 20ml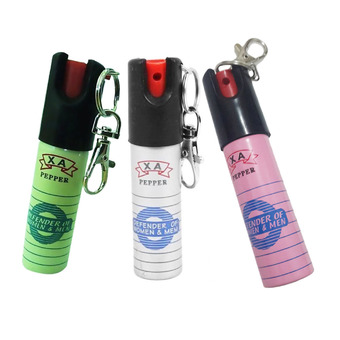 Package Content :
Note : Strictly forbidden to joke around people, only used in danger, if got on face, please rinse with plenty of water