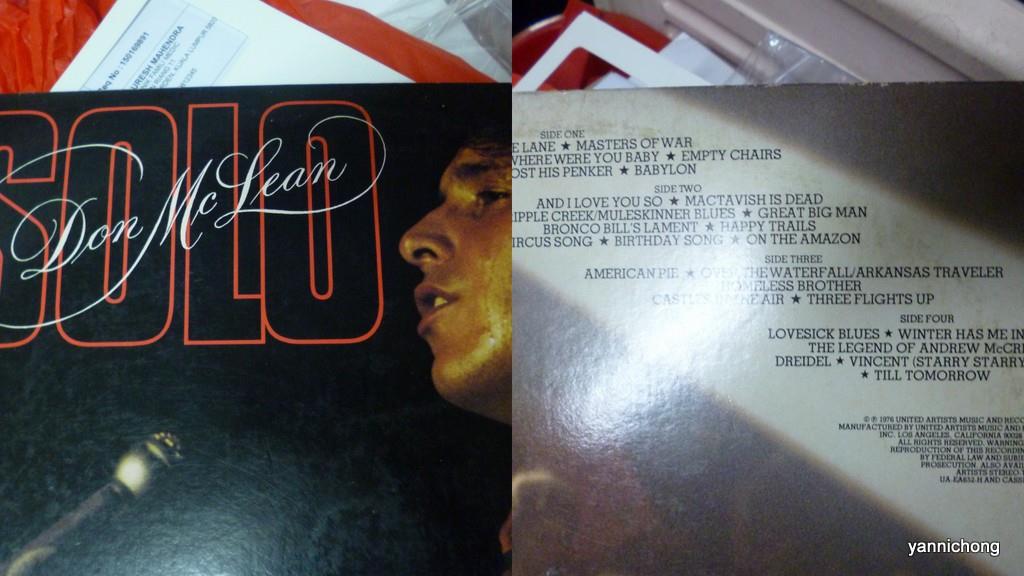 DON MACLEAN VINYL 2 RECORDS
PLAYS EXCELLENT
McLean's other well-known songs include:
The American Pie album features a version of Psalm 137, entitled "Babylon". The song is based on a canon by Philip Hayes[15] and was arranged by McLean and Lee Hays (of The Weavers).[16] "Babylon" was performed in the Mad Men episode of the same name despite the fact that the song would not be released until 10 years after the time in which the episode is set.
In 1981, McLean had an international number one hit with a cover of the Roy Orbison classic, "Crying". It was only after the record became a success overseas that it was released in the U.S. The single hit No. 5 on the Billboard Hot 100 in 1981.[13]Orbison himself once described McLean as "the voice of the century",[17] and a subsequent re-recording of the song saw Orbison incorporate elements of McLean's version.
For the 1982 animated cult-movie The Flight of Dragons, produced by Jules Bass and Arthur Rankin, Jr., McLean sang the opening theme. However, no soundtrack has ever been released. Another hit song associated with McLean (though never recorded by him) is "Killing Me Softly with His Song", which was claimed by Lori Lieberman to have been written about McLean after she, also a singer/songwriter, saw him singing his composition "Empty Chairs" in concert.[18] Afterwards (according to Lieberman) she wrote a poem about the experience and shared it with Norman Gimbel, who had long been searching for a way to use a phrase he had copied from a novel badly translated from Spanish to English, "killing me softly with his blues".[19] Allegedly, Gimbel and Charles Fox reworked the poem and the phrase into the song "Killing Me Softly with His Song",[20] originally recorded by Lieberman and covered by Roberta Flack (and later covered by The Fugees). This claim was disputed, notably by Fox. Subsequently, however, the matter reached an unequivocal conclusion when contemporaneous articles from the early 1970s were exhumed, all of them vindicating Lieberman.
In an April 5, 1973 article in the New York Daily News, Norman Gimbel was quoted as follows: "She [Lori Lieberman] told us about this strong experience she had listening to McLean ("I felt all flushed with fever / Embarrassed by the crowd / I felt he had found my letters / And read each one out loud / I prayed that he would finish / But he just kept right on…"). I had a notion this might make a good song so the three of us discussed it. We talked it over several times, just as we did for the rest of the numbers we wrote for this album and we all felt it had possibilities."[18]