HAVE QUESTIONS? PLEASE READ OUR FAQ.

EDUP EP-PLC5506 200Mbps Powerline HomePlug 
AV IPTV Ethernet Bridge Adapter - 2-Piece Set

---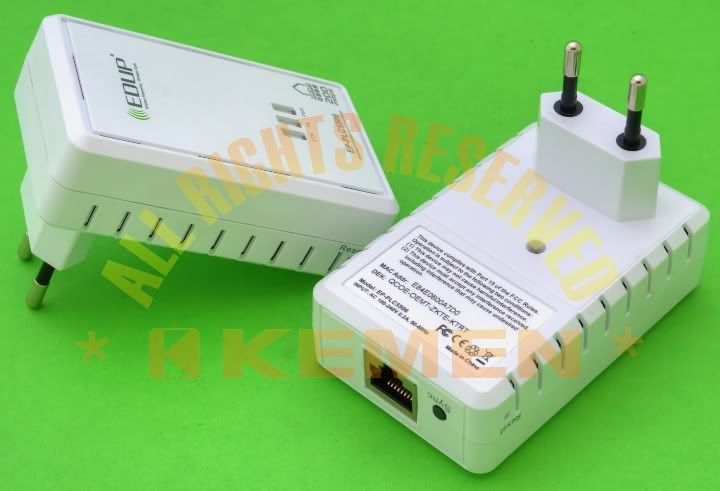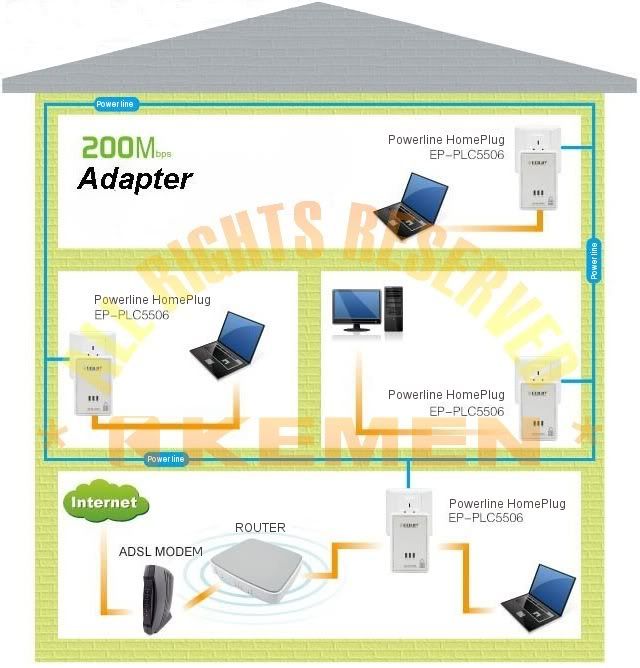 ---
The EDUP EP-PLC5506 200Mbps Portable Powerline HomePlug AV IPTV Ethernet Bridge Adapteroperates on the HomePlug Powerline AV Specification standard, providing up to 200Mbps bandwidth over home AC wiring. EP-PLC5506 is one of the smallest HomePlug AV Ethernet Bridge in the market. Combined with a broadband DSL/Cable connection, every room with electrical power outlets will have easy access to high-speed Internet connection. With the 200Mbps high bandwidth, this EP-PLC5506 can provide fast streaming HD movies, online multi-player games, other data intensive activities for today's HD Entertainment Center demand. With a plug and play installation, you can easily combine all of your AV electronics together and instantly enjoy your Entertainment Center from virtually any room in your home.

Like all of our HomePlug AV products, this EP-PLC5506 is equipped with 128-bit AES security encryption. Combining the private home power grid and the 128-bit AES security encryption, this EP-PLC5506 is extremely secure compared to other technologies such as WiFi network.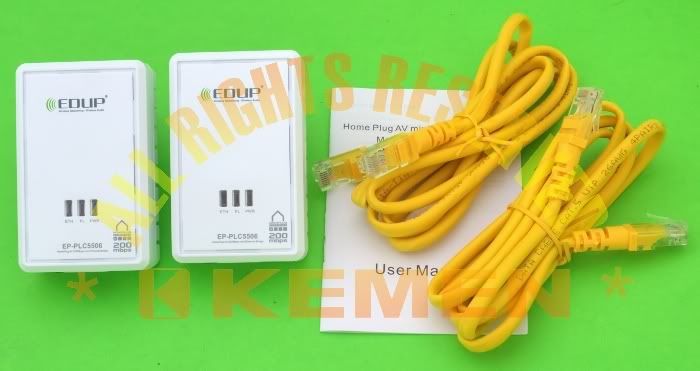 EDUP EP-PLC5506 Features:
200Mbps Powerline Ethernet Adapter
HomePlug AV Powerline standard
Ultra small casing
Co-exists with HomePlug 1.0 (14/85mbps)
Stand-lone unit attaches directly to Broadband device and home power line network for seamless integration
Optimized for HD/SD cable, satellite and IPTV installations, home multimedia content and storage, multi-room DVR networking, online or networked console and PC video game connections, and much more
Security push button for software free configuration
EDUP EP-PLC5506 Specifications:
Main Chipset
Atheros AR6405
Computer Interface
IEEE802.3
IEEE802.3u
Standards
HomePlug AV
Network Interface
One RJ-45 (10/100Base-T Ethernet)
One 200Mbps power line port supporting co-existence with HomePlug 1.0 (14/85Mbps)
Security
128-bit AES link encryption with key management
Data PHY Rate
200 Mbps over Powerline and 10/100Mbps over Ethernet
Modulation Schemes
OFDM symbol modulation on line synchronization 1024/256/64/16/8 – QAM, QPSK, BPSK, ROBO carrier modulation
Frequency Band
2 ~ 28 Mhz
Additional Protocols
Mix of TDMA and CSMA/CA channel access scheme
CO device generates a periodic beacon carrier for channel access scheme
Operation Range
Estimated range of 300 meters in wall power lines
Cabling 100Base-T
Cat. 5 UTP cable
Operating Temperature
0°C to 40°C ambient temperature
Storage Temperature
-20°C to 70°C ambient temperature
Humidity
10 to 90% maximum (non-condensing)
Power Input
100 ~ 240V @ 50/60Hz internal
Power Connector
Embedded US / EU / UK / AU specifications
Housing
Plastic (87mm x 55mm x 27mm)
Software
Utility Device detect/diagnostic, NEK password setup for local and remote device Windows 98 SE, ME, 2000, NT, XP, Vista, and 7 for initial setup (optional)
Status Lights Power
on / off
PLC link
red / orange / green / off
Ethernet link
solid / blinking / off
Certifications
HomePlug AV Powerline certification
FCC Class B / CE mark
Package Contents :
2 x EDUP EP-PLC5506 200Mbps Powerline Ethernet Adapter
2 x Network Cable
1 x User Manual
---
Buyer to pay the Shipping and Handling as the following options:




West Malaysia: RM7.00
East Malaysia: RM10.00

*Handling charge for additional unit or combined shipping with other items: RM3.00

*

NOTE: The charges mainly for QC procedure and packing works. The highest Shipping & Handling charges in the assortment applied as base, total assortment should not exceed 2Kg in weight and should not form odd-shaped parcels that normally not acceptable to courier. We reserve the rights to decline the combined-shipment request without further explanation
---
Seller Mobile Phone: 016-2335423 (No SMS please, TQ)
Seller Bank Details:
A/C Name: KEMEN MARKETING
MAYBANK A/C#: 514226220991
CIMB A/C#: 12230012246058
RHB BANK A/C#: 21405300073496
Kindly 3rd Party notify choongkt@gmail.com after fund transfer, should you bank in cash or fund transfer with other means, kindly email me the date, time, to which of our account and the total amount for verification, also, don't forget your delivery address too.