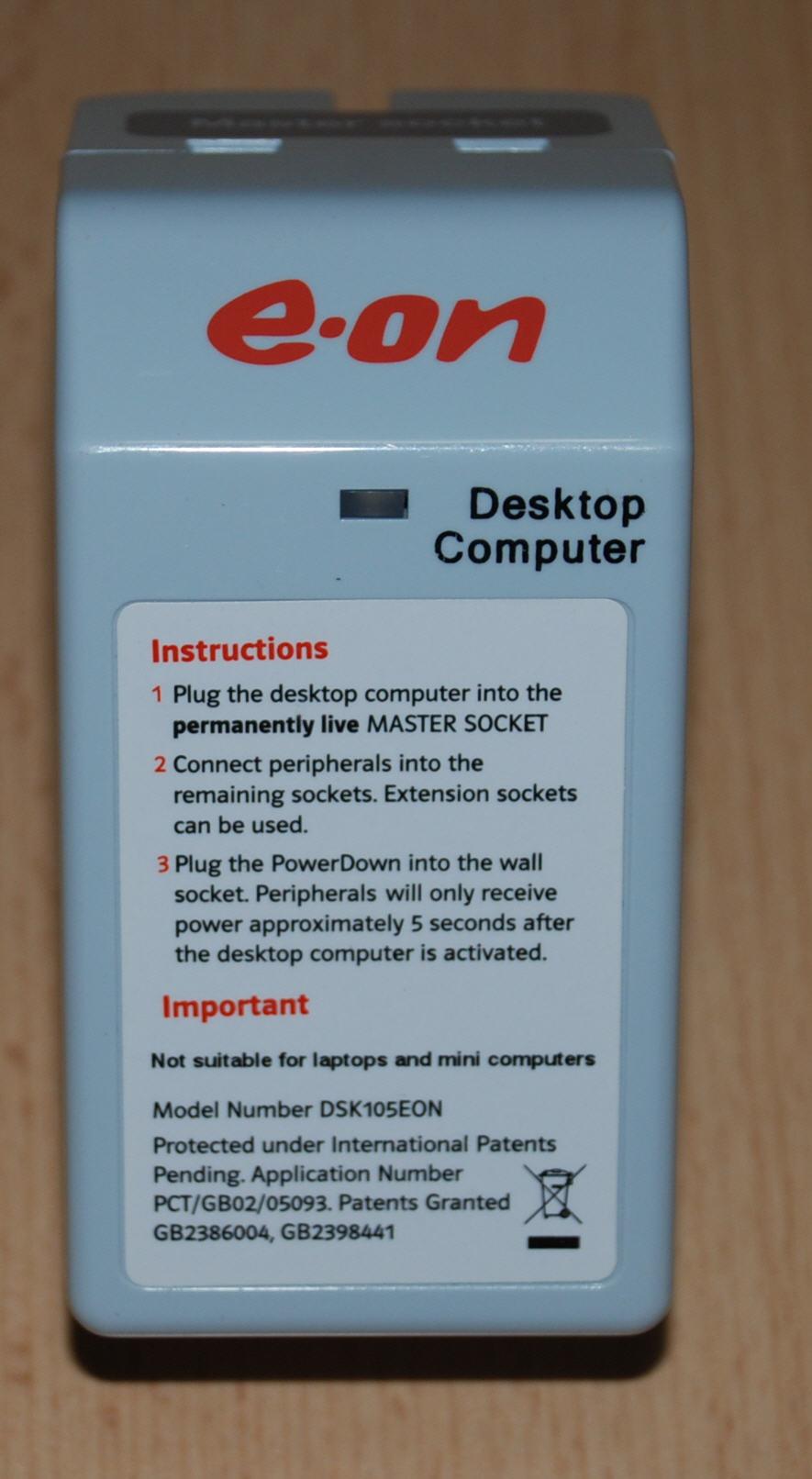 EON Socket for Desktop PC
EON POWER DOWN ADAPTER SAVE MONEY SAVE ENERGY
This clever computer multi plug will save you money and hassle, automatically switching off any equipment linked to your desktop computer, such as a printer, scanner or speakers, when you shut down. PowerDown also helps to protect your sensitive computer equipment from power surges. Please note that PowerDowns are suitable for desktop computers only.
EON POWER DOWN AUTOMATICALLY SWITCHES OFF YOUR PERIPHERALS WHEN YOUR COMPUTER IS SWITCHED ON,POWER DOWN AUTOMAYICALLY PROVIDES POWER TO PERIPHERALS VIA ITS PATENTED AUTO-CALIBRATION SYSTEM. WHEN YOUR COMPUTER IS TURNED OFF, POWEER DOWN AUTOMATICALLY SWITCHES OFF POWER FROM THE PERIPHERALS.
Product Website: https://www.eonshop.co.uk/ProductDetails.aspx?ProductCode=PDOWNPACKB&Category=LatestProduct
Market Price: £16= RM80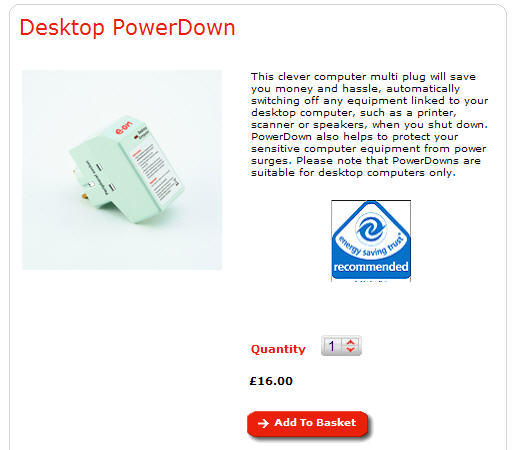 An Eon power down device which fits to your computer peripherals to turn them off in one go.
"Leaving electrical equipment on standby wastes energy, costs money and can reduce its lifespan. But it can also be time consuming turning off all your peripherals one by one. PowerDown from EON can help you save time and energy by automatically calibrating your perhipherals to your computer. So when your computer is turned off, so are your perhiperhals - with just one click."
You can connect to:
monitor
broadband modem
printer
speakers/sub-woofer
scanner
mobile phone charger
desktop mamp
games console
"When your computer is switched on, PowerDown automatically provides power to peripherals via its patented Auto-Callibration system. When your computer is turned off, PowerDown automatically sw5iches off power from the peripherals."
"As well as providing an optimum level of power to your system, creating the least amount of stress to components, PowerDown gives your whole system surge protection. It also reduces electrical intereference to your TV and radio."
*NB. not suitable for laptops.
Actual item: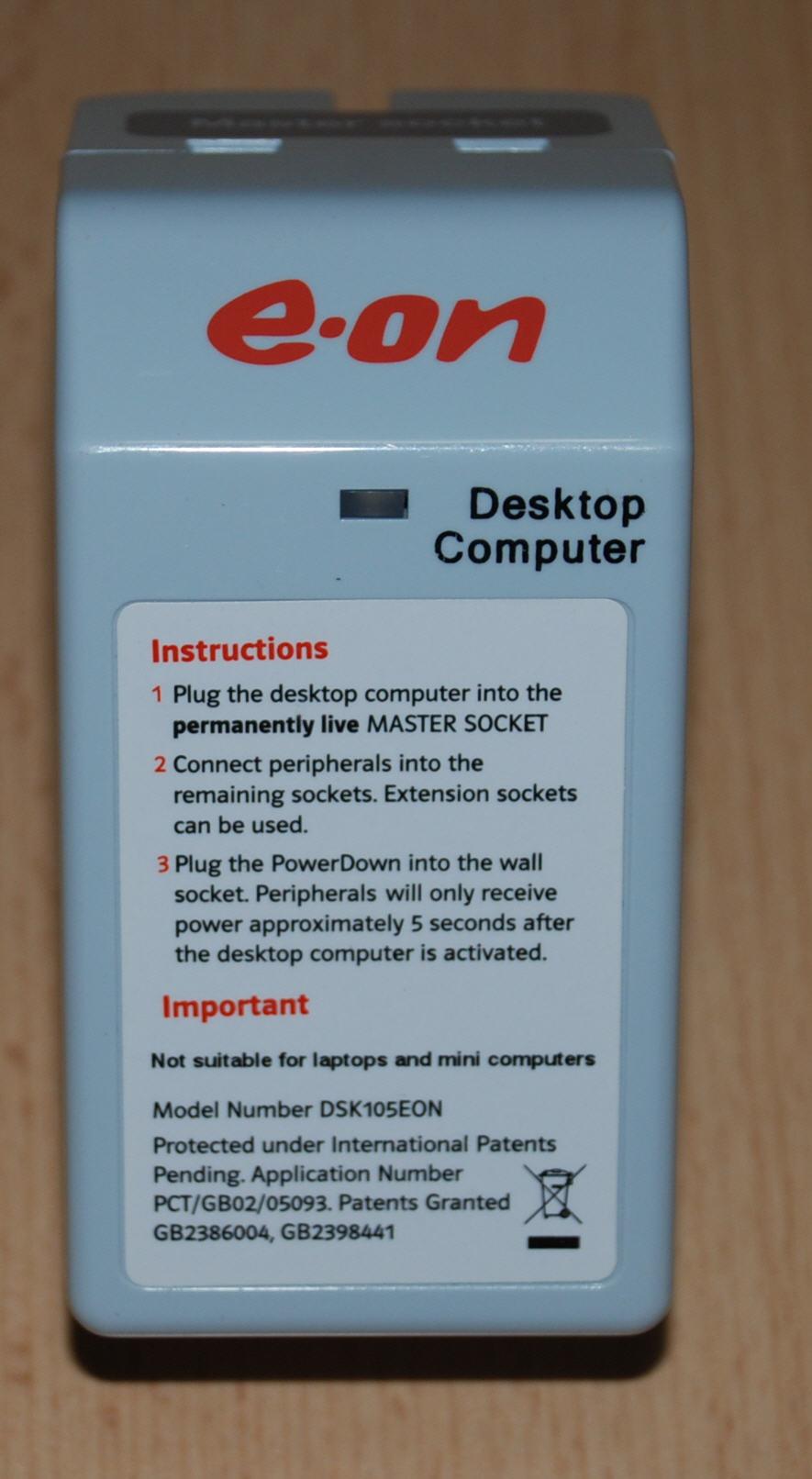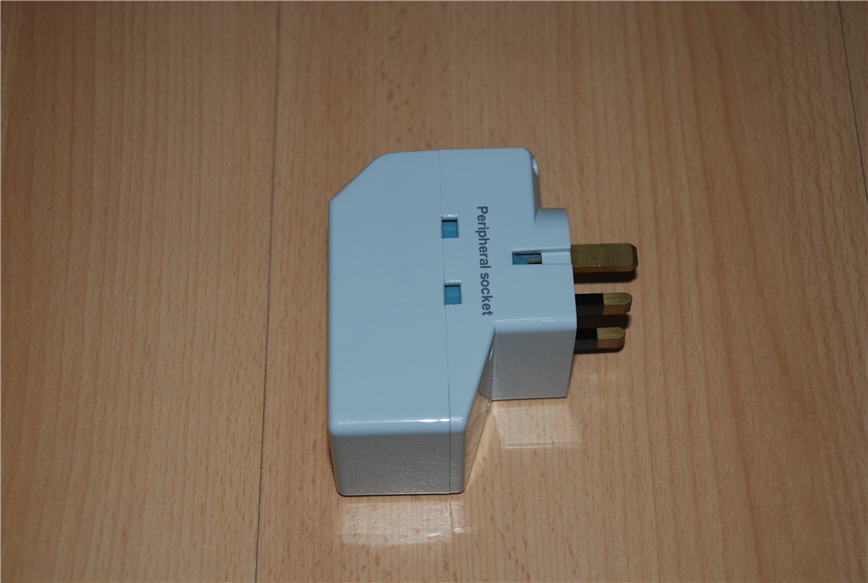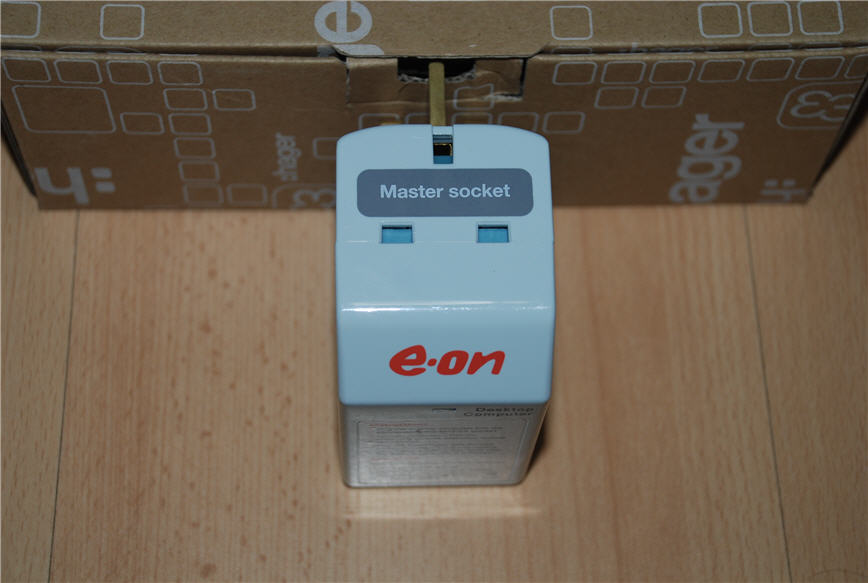 Thanks for viewing





Last Updated @ 1/19/2011 7:46:15 AM