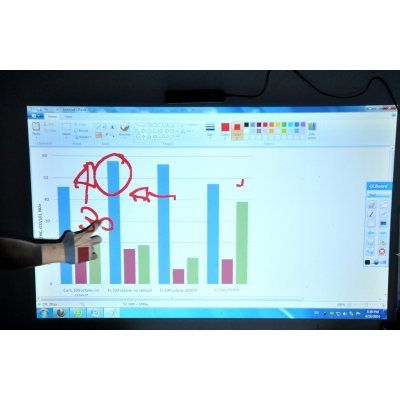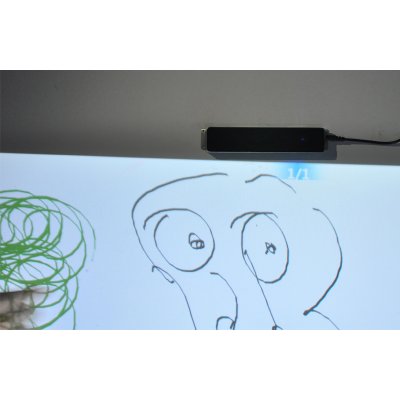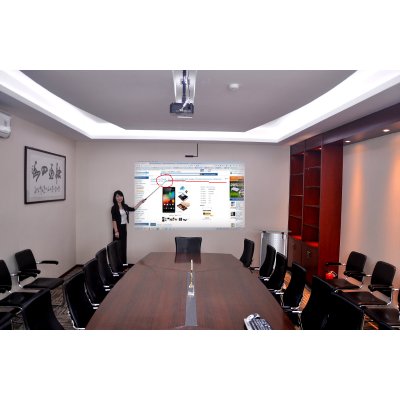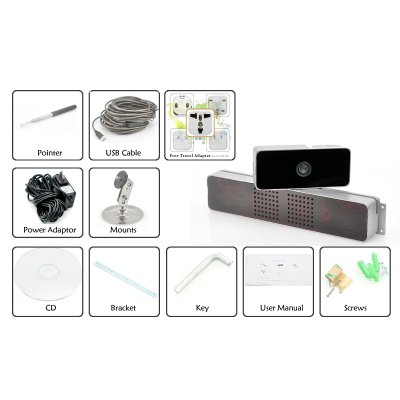 Finger Touch Portable Interactive Whiteboard - Gesture Recognition
Finger Touch Portable Interactive Whiteboard has Gesture Recognition for ultimate control and navigation whether you are in the office or classroom.

Interactive Whiteboard, Perfect For Presensations
Eliminate the need for dirty chalk or black marker pens with this easy to use and modern designed interactive whiteboard. Portable when it comes to design therefore you can take it on business trips and set up when in offices or classrooms; the interactive whiteboard is the next step of showing how presentations can be easier. Connect the projector emitter unit to your Windows OS PC and then use the sensor to detect your hand movements to have full control and navigation.
Gesture Recognition For Full Control

Using gesture recognition you can write, move, zoom in and out, scroll up and down as well as erase with simple hand and finger movements. There is several choice of aspect ratio to use and a maximum active size of up to 120 inches if there is no sunshine present so it will be big and clear for the whole room to see. The sensor and computer are connected by USB cable while the emitter and sensor are wireless with only the emitter requiring power.


At a Glance...
Finger Touch Portable Interactive Whiteboard
Gesture Recognition
The sensor and computer are connected by USB Cable; Emitter and Sensor are wireless; Emitter
just need power
Manufacturer Specifications
General
Calibration Automatic(5s) / Manual (25/36 points)/Semi Automatic (4 points)
Gesture Recognition
Multi-touch Ten Points Touch
Filter Software Auto-Control, Enhance Stability
Minimum Active Size: 40 Inches
Max Active Size: 120 Inches (Non-Bright Room); 100 Inches (Bright Room)
Technology Laser Image Calibration Technology
Positional Accuracy: +/-1 Pixel (Resolution: 4096x4096)
Aspect Ratio: 4:3; 16:9; 16:10
Ultra Short Throw: 0.19, XC-FP3ENGLD4, Installation Distance: 0.30 to 0.40 Meters; Short Throw: 0.34,
XC-FP3ENGLA4, Installation Distance: 0.54 to 1.1 Meters; Long throw: 3.0
XC-FP3ENGLE4, Installation Distance: 2.15 to 3.2 Meters
Laser Beam Short Throw/Long Throw: 3 Units; Ultra Short Throw: 4 Units
Laser Safety: CLASS I
Wave of the laser: 808nm
Power: 5W
Power of Laser Beam: 150mW/3x unit
Power Requirements: 5V/1.5A
Signal Refresh Rate: 120FPS
OS Requirement: Windows XP, Vista, Windows 7, Windows 8 Software Calibration Software (Driver) and GLboard (Education Software)

Product Notes
Gesture Recognition: Single finger is for "Write", Two fingers for "move", "zoom in or out" and "scroll bar", Palm for "Erase" , Palm stay 2s for Spot, Palm two clicks for back to desktop
Package Contents
Sensor + Emitter
Mounts
USB Cable
Pointer
Power Adaptor
User Manual
CD
Screws
Bracket
Key