Feature available to Store Members
Fuji Xerox DocuPrint CM205b Multifunction Colour S-LED Printer
(PRINT, COPY, SCAN)

~ just replace toner, no need to replace DRUM, low operational cost

~ the best colour printout quality at 1200 x 2400 dpi

~ cheapest colour multifunction laser printer in town !!!

comes in Original Seal Packaging with Genuine Toner (NEW) !!!
FREE DELIVERY for Peninsular Malaysia !!!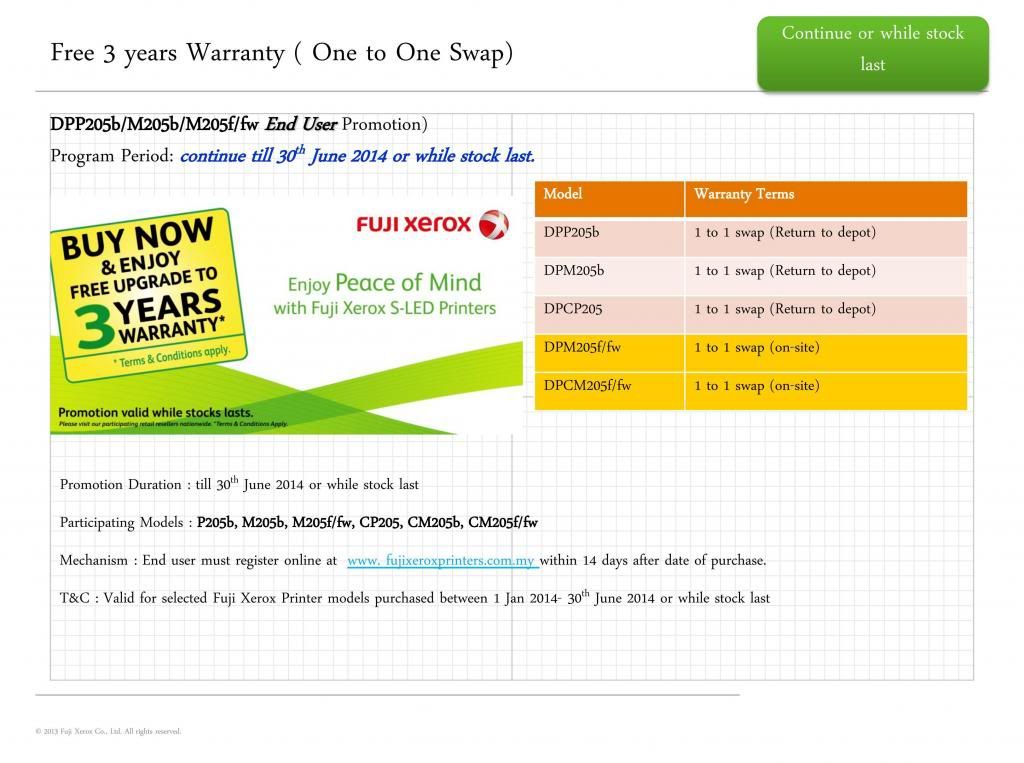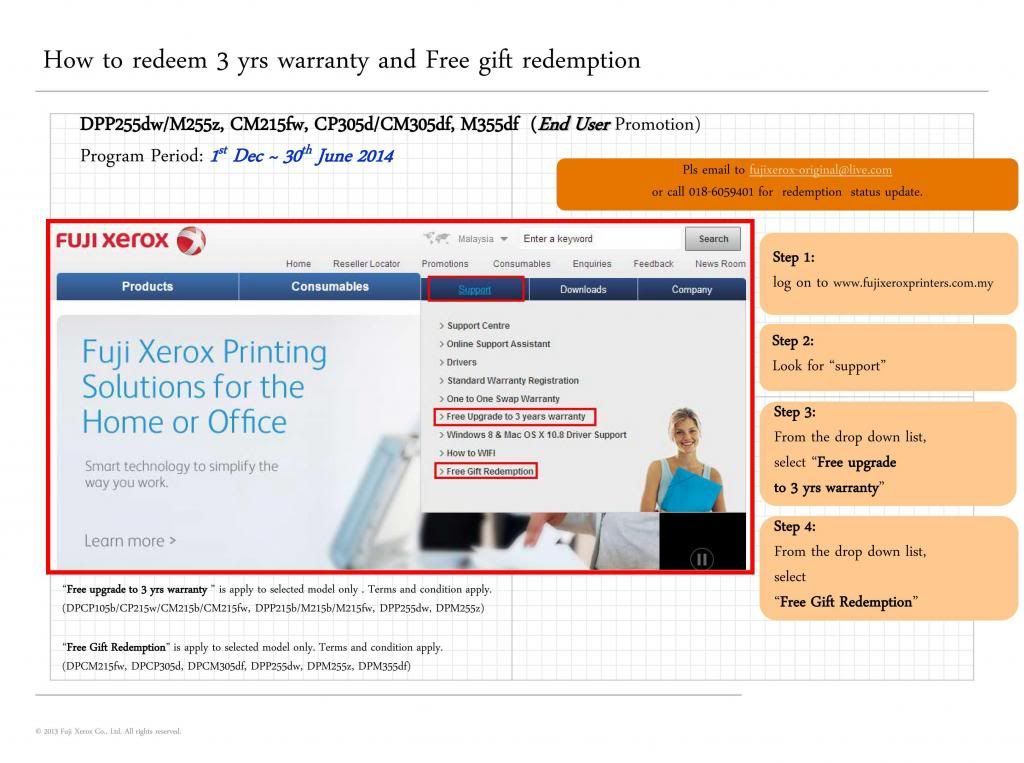 "ADDITIONAL BENEFIT"
Customer who bought from us is entitled to enjoy a FREE ONE TIME "ON-SITE" HOT SWAP Warranty WITHIN THE FIRST YEAR.
After printer arrive, please register WITHIN 14 DAYS at http://excelsla.com/Activation.php
When there's a problem with the printer, simply call toll-free 1300-88-3752 and they will SEND a NEW printer to YOUR DOORSTEP to SWAP (EXCHANGE) with your broken unit.
Optional: Pay RM 99 to get additional ONE Year UNLIMITED "ON-SITE" HOT SWAP Warranty (total TWO Years UNLIMITED "ON-SITE" HOT SWAP Warranty) +

FREE 5 Days 4

Nights ShangHai Tour.

Please let us know @ REMARKS if you wish to buy together. TQ :-)
Became our Excellent card member and the benefits are:
Total 2 Years Unlimited On Site Hot Swap Warranty

Provided 20% discount on the spare parts of others printer for repaired

5 Days 4 Nights Shanghai Travel Voucher for FREE

(Valid Till December 2013)
Travel Date: 1st May 2012 – 31st December 2013.

This voucher is excluding flight ticket.

For itinerary and terms & conditions, please click on www.cutibagus.com.my or www.excelsla.com.my

You may convert the Muslim package to non-Muslim package, provided you manage to gather a minimum of 16 passengers in the group.
Specifications
DocuPrint CM205 b
Printer Type:

A4 Colour Multifunction S-LED Printer

Print Speed (A4):

12ppm (Colour); 15ppm (Monchrome)

Print Resolution:

1200 x 2400 dpi

Memory (Std/Max):

128MB

Paper Input Capability:

150 + 10 sheets

Image Processing:

295MHz, Host Based

Media Size:

A4, A5, A6, ISO B5, JIS B5, Letter, Legal, Executive, Folio

Reduce/Enlarge:

25% - 400%

Copy Resolution:

Up to 600 x 600 dpi

Continuous Copy:

1 to 99 copies

Warranty:

1 to 1 swap on-site warranty (1 year)
Hi-res S-LED technology produces brilliant images
AWARD-WINNING TECHNOLOGY
Fuji Xerox has raised the benchmark for high-quality, colour printing with a range of award-winning breakthroughs in printer technology that not only deliver eye-catching results, but are fast and simple to use, easy to maintain and save you money with every print out.
QUIETLY BRILLIANT
Fuji Xerox's award winning S-LED (Self-Scanning Light Emitting Diode) and DELCIS (Digitally-Enhanced Lighting Control Imaging System) control technology ensure you get accurate, high-imaging quality at 1200 x 2400 dpi. Small and intelligent S-LED chips with fewer moving parts give you ultra-quiet operation, reduced energy usage, a high level of operational reliability and a sleek compact design.
HIGH-SPEED COLOUR CORRECTION
IReCT is a newly developed digital image registration control technology giving the ultra high precision of 1200 x 2400 dpi colour print out, by which image misalignments will be accurately corrected through digital process.
BRILLIANT HIGHLIGHT
MACS (Micro Accurate Control Screen) optimises the shape of screen elements in accordance with the image density of the area. This technology offers reproduction of smooth gradations and beautiful highlight.
RAZOR-SHARP IMAGES
IE (Image Enhancement) technology improves flexibility in the number of screen lines, shapes and angles by scanning in two directions on a finer matrix to give you razor-sharp images, text and graphics. (DP CP105 b, DP CP205 and DP CP205 w Only)
REDUCED ENERGY CONSUMPTION
EA (Emulsion Aggregation)-Eco toner is a newly developed special toner that allows fusing to paper at a much lower temperature so you can save up to 20% power consumption and reduce CO2 emissions by up to 35% compared to conventional Fuji Xerox toners. EA-Eco toner is completely oil free with the sharp-melting characteristics which provide the right gloss even on different types of paper. Overall EA-Eco toner offers you this energy saving performance.
For more enquiries... kindly click on the link below to find out :-)
Fuji Xerox to Roll Out Compact, Eco-Friendly, Affordable S-LED Printers Targeting SMB Market
Kuala Lumpur, November 11,2010 - Fuji Xerox Asia Pacific Pte. Ltd. has announced today its new DocuPrint series of A4 S-LED (Self-Scanning Light-Emitting Diode) printers: DocuPrint CP105b/CP205/CM205 b (full colour) and DocuPrint P205 b/M205b (monochrome). Including some models smallest and lightest in its class, the new series lineup varies from single function printers to multifunction models with flexible pricing to meet with the demands of small and medium sized businesses (SMB) users. Including some models smallest and lightest in its class, the new series lineup varies from single function printers to multifunction models with flexible pricing to meet the demands of small and medium business (SMB) users.

With the new series, Fuji Xerox is making a full-fledged entry to the low-end market. According to the company's study, the global printer market will make a continuous growth with seven-percent average annual growth, and the 2014 market size will be 36 million units as compared to 28 million units in 2010. Also, emerging countries are showing a rapid recovery from the financial crisis, and Fuji Xerox's business there has been marking double-digit growth. To timely and continuously capture the growing business opportunities, Fuji Xerox developed the new DocuPrint series targeting its overseas market, expanding its business from the value market to the volume market, where users demand high print quality, ease of use, eco friendliness and value for money.

Fuji Xerox has applied its award-winning self-scanning LED (S-LED) technology, previously available only to high-end office machines, to these entry-level products' printheats to ensure a compact size whithouth sacrificing print quality. Also, equipped with EA-Eco (EA: Emulsion Aggregation) toner with a fusing temperature more than 20 degrees Celcius lower than conventional EA toner, this new DocuPrint series offers energy-saving performance, up to 40 percent reduction in power consumption during fusion. For the monochrome models, Fuji Xerox first incorporated newly developed low-gloss black EA-Eco toner (EA-LGK toner), which offers controlled gloss for black and white documents.

Award-Winning LED Printhead

LED printheads require neither a polygon mirror nor the motor to rotate the mirror, which enables a size reduction as well as noiseless operation. While they have such advantages, conventional LED printheads had difficulty in realizing higher image quality due to numerous light emitting elements, which cause fluctuations in the amount of light resulting in unevenness in colour density.

Fuji Xerox has responded to these issues by developing a 1,200 dpi, high-resolution self-scanning light-emitting device along with a technology, DELCIS, which enables precise integrated control of all light0emitting elements by a single high performance ASIC (Application Specific Integrated Circuit_ Furthermore, Fuji Xerox adopted lenses with uniform optical characteristics to create a simple-structure high resolution S-LED printhead (1,200 x 2,400 dpi) which has realized downsizing as well as high-quality images equal or superior to those produces via laser raster output scanner (ROS) systems. The S-LED printhead received the Technology Award in 2009 from The Imaging Society of Japan's Technology.

Energy-saving EA-Eco toner and gloss controlled black toner

As part of its EA-Eco toner line-up, Fuji Xerox has developed black toner with controlled gloss, Eco-LGK toner, which was first introduced in the new DocuPrint monochrome models. Fuji Xerox succeeded in achieving to control gloss while saving energy, which was a challenge to create low gloss black toner for business documents which are mostly black and white, and images requiring subtle shades of black.

To start mass production of this newly developed toner, it will increase AE toner production capacity from approximately 8,000 tons to more than 10,000 tons at Fuji Xerox Manufacturing's Toyama Center located at Namerikawa-shi, Toyama, which has exclusive plants for EA toner.

Fuji Xerox first used the EA-Toner in its production system released in 2008, followed by office-use digital colour multifunction devices, the ApeosPort-IV and DocuCentre-IV series, released in 2009. The eleven products in eight models of these two series received the METI Minister's Award in the 20th Energy Conservation Grand Prize for 2009 sponsored by the Ministry of Economy, Trade and Industry of Japan, and EA-Eco toner was one of the factors that contributed to winning the award.

Fixed Drum reduces TCO and waste

The new DocuPrint Series features the industry-first fixed drum. Users do not have to replace a drum, which would reduce total cost of ownership (TCO) as well as waste; thereby users can enjoy easy-to-use and eco-conscious operations. By introducing the fixed drum, Fuji Xerox made the most of the S-LED printhead's small size, which led to the smallest, durable design.

The best colour printout quality in DocuPrint series - CP105 b, CP 205, CM205 b

The colour models in Fuji Xerox's all new DocuPrint series include two single-function printer models (CP105 b and CP 205) and one multi-function printer model that integrated copy, scan and print functions (SM205 b). In addition to the S-LED technology, which delivers 1200 x 2400 dpi printout quality, as well as EA-Eco toner, which allows for considerable power savings, other features of the series include the toner-saving mode, enabling reducing toner use by up to 30 percent, and a maximum speed of 12ppm and a compact design, wherein the CP205 b measure in at a mere 294 x 304 x 234mm, smallest compact design, wherein the CP105 b measures in at a mere 294x204x234mm, smallest in this class.

DocuPrint P205 b and M205 b for business black and white documents

The monochrome series includes one single function printer model (P205b) and one multi-function printer model that integrates copy, scan and print functions (M205b). Monochrome models also feature the S-LED technology, toner saving mode and EA-Eco toner energy saving technologies. With a maximum speed of 24ppm and minimum dimensions of 358 x 198 x 209.4mm, users can enjoy high printout quality with the minimum investment in money and space.

Pricing and Availability

The colour members of the new DocuPrint series - CP105b, CP 205, CM205 b - will carry price tags of RM719, RM999, RM999 respectively. Their monochrome siblings the P205 b and M205 b are also available at RM439 and RM329 respectively.