Item Specification
Product Description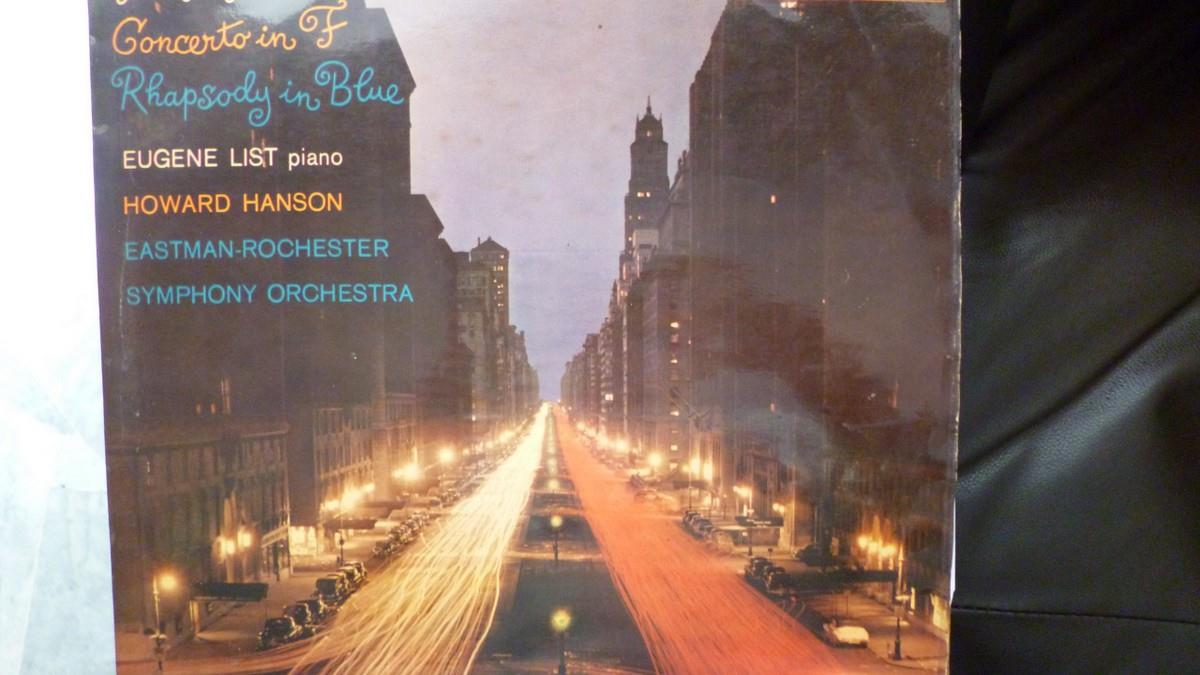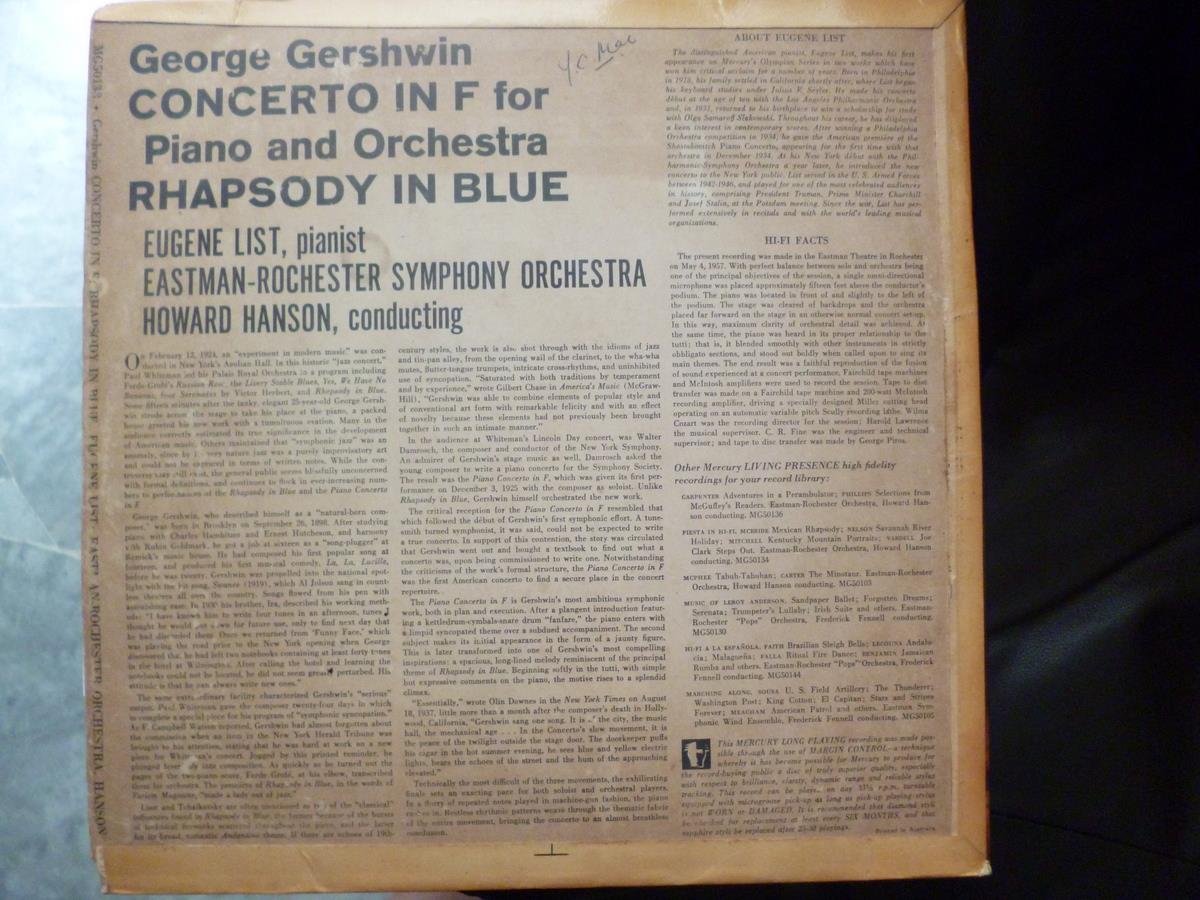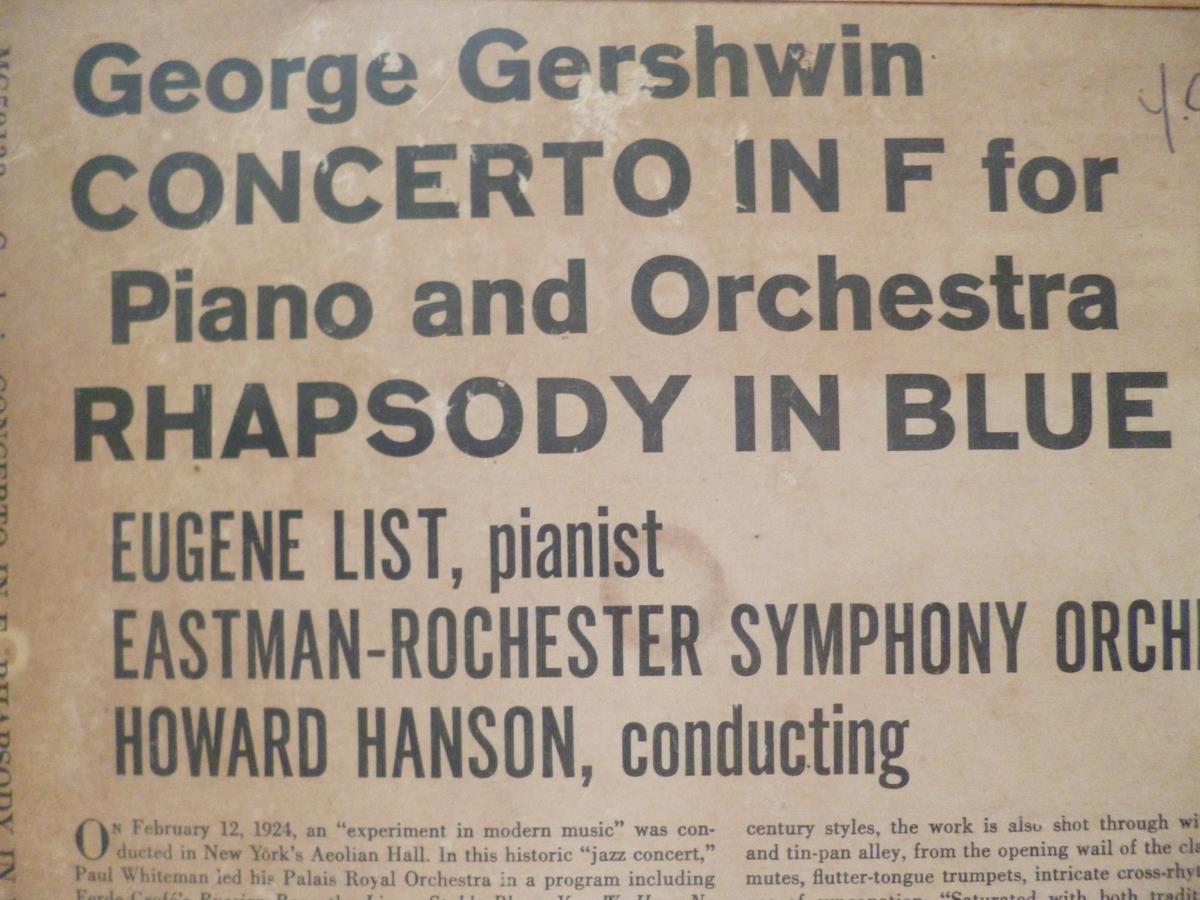 ORIGINAL  VINYL LP  RECORD 33 1/3
G GERSHWIN FAMOUS RHAPSODY IN BLUE CONCERTO IN F MAJOR
PLAYS  EXCELLENT WITH SLIGHT STATIC NOISE
EASTMAN ROCHESTER SYMPHONY ORCHESTRA .
Rhapsody in Blue is a 1924 musical composition by American composer George Gershwin for solo piano and jazz band, which combines elements of classical music with jazz-influenced effects.
Commissioned by bandleader Paul Whiteman, the composition was orchestratedby Ferde Grofé several times, including the original 1924 scoring, "theater orchestra" setting published in 1926, and the symphony orchestra scoring published in 1942, though completed earlier. The piece received its premiere in the concert, An Experiment in Modern Music, which was held on February 12, 1924, in Aeolian Hall, New York, by Whiteman and his band with Gershwin playing the piano.
The editors of the Cambridge Music Handbooks opined that "The Rhapsody in Blue (1924) established Gershwin's reputation as a serious composer and has since become one of the most popular of all American concert works."[1]
Since there were only five weeks left, Gershwin hastily set about composing a piece, and on the train journey to Boston, the ideas of Rhapsody in Blue came to his mind. He told his first biographer Isaac Goldberg in 1931:
Gershwin began his work on January 7 as dated on the original manuscript for two pianos.[2] The piece was titled "American Rhapsody" during composition. The title Rhapsody in Blue was suggested by Ira Gershwin after his visit to a gallery exhibition of James McNeill Whistler paintings, which bear titles such as Nocturne in Black and Gold: The Falling Rocket andArrangement in Grey and Black (better known as Whistler's Mother).[8] After a few weeks, Gershwin finished his composition and passed the score to Whiteman's arranger Ferde Grofé, who orchestrated the piece, finishing it on February 4, only eight days before the premiere.[9]
Rhapsody in Blue premiered in an afternoon concert on Tuesday, February 12, 1924, held by Paul Whiteman and his band Palais Royal Orchestra, entitled An Experiment in Modern Music, which took place in Aeolian Hall in New York City.[10] Many important and influential composers of the time such as John Philip Sousa and Sergei Rachmaninoff were present. The event has since become historic specifically because of its premiere of the Rhapsody.
The purpose of the experiment, as told by Whiteman in a pre-concert lecture in front of many classical music critics and highbrows, was "to be purely educational". It would "at least provide a stepping stone which will make it very simple for the masses to understand, and therefore, enjoy symphony and opera". The program was long, including 26 separate musical movements, divided into 2 parts and 11 sections, bearing titles such as "True form of jazz" and "Contrast: legitimate scoring vs. jazzing". Gershwin's latest composition was the second to last piece (before Elgar's Pomp and Circumstance March No. 1).[11]Many of the numbers sounded similar and the ventilation system in the concert hall was broken. People in the audience were losing their patience, until the clarinet glissando that opened Rhapsody in Blue was heard.[12]
The Rhapsody was performed by Whiteman's band, with an added section of string players, and George Gershwin on piano. Gershwin decided to keep his options open as to when Whiteman would bring in the orchestra and he did not write down one of the pages for solo piano, with only the words "Wait for nod" scrawled by Grofé on the band score. Gershwin improvised some of what he was playing, and he did not write out the piano part until after the performance, so it is unknown exactly how the original Rhapsody sounded.
The opening clarinet glissando came into being during rehearsal when; "... as a joke on Gershwin, [Ross] Gorman (Whiteman's virtuoso clarinettist) played the opening measure with a noticeable glissando, adding what he considered a humorous touch to the passage. Reacting favourably to Gorman's whimsy, Gershwin asked him to perform the opening measure that way at the concert and to add as much of a 'wail' as possible."[13]
Questions & Comments

---
PAYMENTS THRU MAYBANK TRANSFERS, OVERSEAS BUYER , PAYPAL OR WESTERN UNION.FOR OVERSEAS BUYER PLEASE CONFIRM WHICH TYPE OF PAYMENT.
DELIVERY THRU POSLAJU , FOR LOCAL TOWN , P. MALAYSIA CHARGES ARE RM7 .00 AND EAST MALAYSIA IS RM11.00 FOR NORMAL BELOW 500 GRAMS MAILING. ABOVE 501 GRAMS , POS LAJU CHARGES ARE AS ACCORDING TO POS LAJU RATES.
FOR OUT SIDE MALAYSIA , SHIPPING CHARGES AS ACCORDING TO POST OFFICE .
PLEASE DO INQUIRE , COMMUNICATE WITH ME , IF YOU ARE NOT SURE ABOUT THE ITEMS, OR ANY MATTER BEFORE BIDDING.I WILL REPLY YOU ASAP.
FOR EXPENSIVE OLD AMULETS , PLEASE MAKE VERY SURE YOU KNOW THE ITEM AND YOU UNDERSTAND THOROUGHLY WHAT YOU ARE BIDDING FOR.
ANY QUESTIONS PLEASE ASK .
Questions & Answers
Do you have any questions to ask merchant about this product
Ask Seller