HAVE QUESTIONS? PLEASE READ OUR FAQ.


GSKY HIGH POWER 500mW WIRELESS USB ADAPTER
MODEL: GS-27USB
---
Due to the popularity received by GSKY (which started as a low-price alternative to the then costly ALFA), recently few other brands of USB wifi adapters which also incorporate Realtek Backtrack compatible chipset have appeared in the market, however, after careful study and comparison, we decide to stick to the original GSKY, for its better built quality and stability. On the longer antenna offered by some packages/brands which claimed to be of very high gain, if you trust our words, those do not give much difference (if it give any difference at all, we see none in our tests) as compared to the 5dBi antenna in GSKY package, if you want to further boost the signal strength of the already strong GSKY, advisable to go for a 7dbi D-Link antenna, or if budget allowed, a wifi signal amplifier, please refer to our full listing for those items.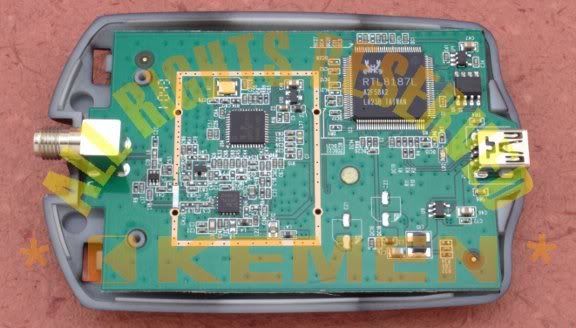 ---
For most people, ths adapter is famous for WEP keys/passwords "discovery", while yes, it is compatible with the Backtrack software for that purpose, it has more unique features and advantages than just the cracking job. One of which is it is USB based and has an RP-SMA antenna connector so that you can add an external antenna to boost your wireless range. And to make things better, by itself it already has a stunning 500mw output power, imagine the range that it covers if coupled with a decent high-gain antenna.



So if you are looking for a device to connect to an outdoor 2.4 GHz antenna, such as on a boat or an RV, this is a perfect solution. Because this is a USB adapter, it works on any computer (desktop or laptop) that has a USB port. In addition to working with the usual Win98SE/200/ME/XP/Vista/Windows 7, this also works with Linux (kernel 2.6.6 and later) and Macintosh (OS version 10.4 and 10.5).

This adapter has a stunning 500mw output power. That's 1/2 watt. That's more than 2x the output power of the Senao USB 200mw adapters w/ RP-SMA connector.

As some new laptops from manufacturers like Dell and HP no longer include a PCMCIA card slot. Up until now if you bought or planned to buy one of these laptops, there would be no way for you to get a wireless connection option with an external antenna connector. This has all changed with this kit we are offering. This will work on any PC with a USB port (laptop or desktop) and is especially ideal for folks whose laptops do not have a PCMCIA slot who need a long range wireless solution! We believe that in the coming years PCMCIA cards will be a thing of the past. So even if your laptop has a slot, why not buy this kit- USB is the wave of the future and then you will be able to use this kit on any laptop you might purchase down the road.

Features:

Wi-Fi Certified
Diagnostic LED indicator
Complies with 802.11g standard for 2.4Ghz Wireless LAN
Contains RP-SMA external antenna jack (one external antenna is included!)
Enterprise-class 64/128 WEP encryption, WPA, WPA-PSK, WPA2, 802.1X support
54 mbps High-Speed Transfer Rate for 802.11g
High powered adapter- 500mw output power
USB 2.0 and 1.1 compliant
Long Range USB Wifi 802.11g
500mw USB Wifi Adaptor
2.4gHz, 802.11b and 11g, 13 Channels
Connects at a full 54Mbps via USB 2.0
Detachable 5dBi antenna with RP SMA connector
High security 64/128/256bit WEP Encryption, TKIP, WPA
OS Support - Windows XP, Vista, Windows 7, 8, 8.1, 10, Linux, Mac OS X.
Package Content:

1 x Gsky Networks 500mw 802.11g High Power USB Adapter GS-27USB
1 x Mini USB cable
1 x Detachable 5dBi antenna with RP SMA connector
1 x Driver + BEINI Password Recovery software CD