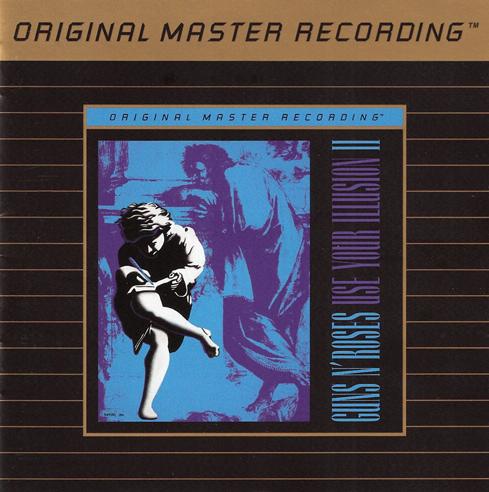 VERY RARE ITEM !!

24KT GOLD PLATED ORIGINAL MASTER RECORDING !

NEW ORIGINAL OPEN BOX AUDIO CD !!

You are bidding for

1 UNIT ORIGINAL 24KT GOLD PLATED AUDIO CD IMPORTED FROM USA !!

GUNS N' ROSES : Use Your Illusion I [EXPLICIT LYRICS] [24KT GOLD PLATED CD]

RETAIL PRICE : RM 1665.00 (Not include shipping charge from USA)

Please visit the link below for more info about the product

http://www.amazon.com/Use-Your-Illusion-Guns-Roses/dp/B000000IW9/ref=sr_1_5?ie=UTF8&s=music&qid=1236278452&sr=1-5

This 24kt Gold CD Disc was made in Japan with the Original Master Recording™ technology.
Refinements to the OMR compact disc results in the launch of the Ultradisc™ -- a limited edition, collectible, 24-karat gold plated, audiophile CD which quickly becomes the audiophile standard among industry leaders. Responding to a growing unrest with traditionally produced CDs, the Ultradisc™ is developed after years of research which yields the most advanced, sonically accurate CD available on the market. In addition to proprietary mastering techniques, perfected through thousands of hours of listening evaluations, and custom-designed equipment, Mobile Fidelity engineers add perhaps the most essential ingredient of all -- time. Engineers work solely on one project at a time, paying meticulous attention to every phase of the mastering process, beginning with a careful inspection of the original master tape.

Why Gold CD's?
The use of 24-karat gold as a CD coating is the result of extensive research which revealed that gold naturally resisted the oxidation sometimes associated with aluminum discs, thereby ensuring that the Gold CD virtually lasts forever. Gold coating also eliminates the pinholes common to aluminum discs, which require excessive error-correction on the part of compact disc players, thus lowering some of the aggressive "CD sound" in the recording. The primary advantage for us audiophiles is that Gold CD's are much more analog sounding - smoother, more pleasant and a more involving listening experience.

* ALL ORDERS WILL BE DELIVER USING NORMAL POST. PLEASE ADD EXTRA RM 5 FOR POSLAJU.