HAVE QUESTIONS? PLEASE READ OUR FAQ.
GX-POWER Electronic DC/AC Inverter
Model: T-150AF (150W)
(Please note this unit is an open-box set (the bristle pack has been cut open from the back), it is the last unit of stock and it was our photography set, i.e. the set that we have opened to shoot product photographs for this listing, the item has never been used, however it has been QC checked to ensure perfect working condition )
---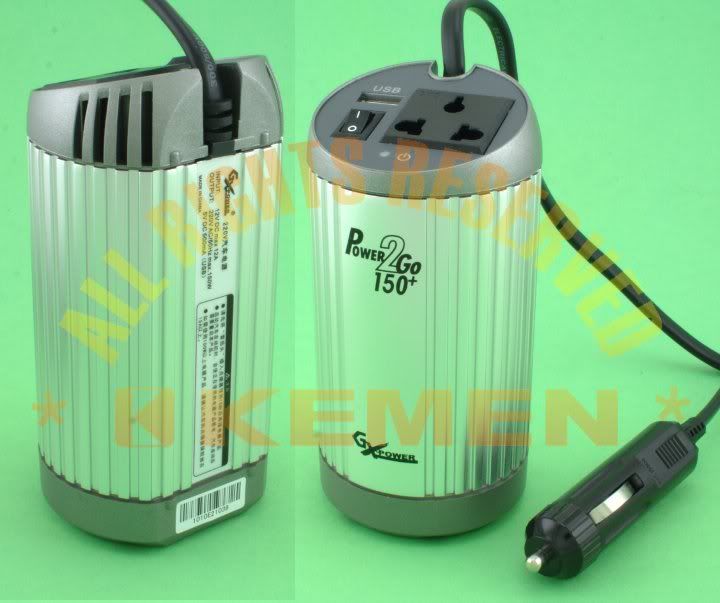 ---
Looking for a good quality and reliable inverter? Please read on.
The GX-Power inverter is of outstanding quality and portability you have been looking for, the adoption of Msine patented pressure stabilization technology achieves more stable performance and smaller volume. When driving on the road, it supply constant alternating current at anytime and anywhere.
You can watch TV, use the computer and listen to the music and so on when you are travelling, camping, fishing, doing business etc, and the operation is easy and convenient.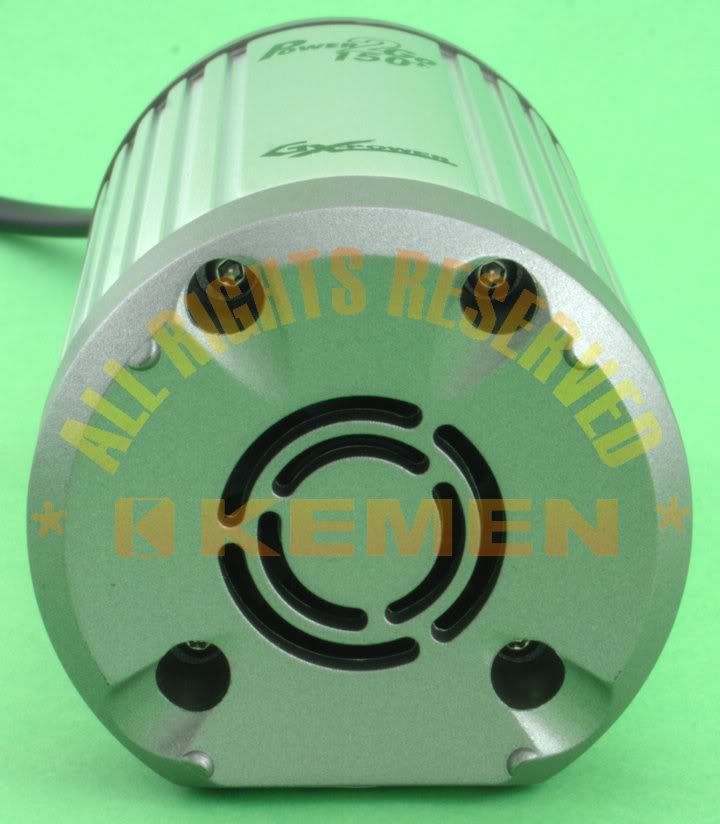 Characteristic:
Equipped with 5 sets of protection circuits - overload, under-voltage, temperature, reverse connection and short-circuit.
New can-shape design that can be put in a drink shelf
Fashionable aluminum body with excellent heat radiation performance.
Almost all kinds of electric household appliances, such as notebook PC, camera, mobile phone charger etc can be used within a car
How to Use:
Insert the plug of Inverter into the cigarrette lighter socket firmly and keep in good contact, the blue indicator will light up. Insert the power plug into the AC socket of the inverter for normal power supply.
Caution:

DO NOT USE THIS INVERTER IN 24V VEHICLES.
Make sure the fuse of the cigarrette lighter jack is 15A or more. The power may be 10A or 12A, depends on the vehicle category, the fuse of the car cigarrette lighter may be burned when a machine with high electric consumption is connected to the car cigarette lighter even if this product work normally.
The following machines should not be used even if their electric consumption is lower than 150W.

Machines that need precise electric frequency, such as clock, timers or measuring gauges, calculators and measuring instruments)
Machines that consume high power during starting, such as machines with high load motors like electric refrigerators, fans etc)
Machines that need correct sine wave, such as electric control blankets.
Fluorescent lamps that use transformer/quick starter to start up.
Specifications:
Nominal Input voltage : DC 12V
Nominal Output voltage: AC220
Rated Power: 150W
Frequency: 50Hz
Output Interface: Standard socket type 8 and USB extension interface
Output Waveform: Analogue sine wave
Power consumption during no load <1.5W
Protection Function: Overload, Overheat, Low Voltage, Reverse Connection, Short Circuit
Electrical wire extent: 0.8m
Size(mm): 128 x 65 diameter
Unit Nett Weight: 380g
Package Content:
Power inverter x 1
Carrying fabric pocket x 1
User Guide