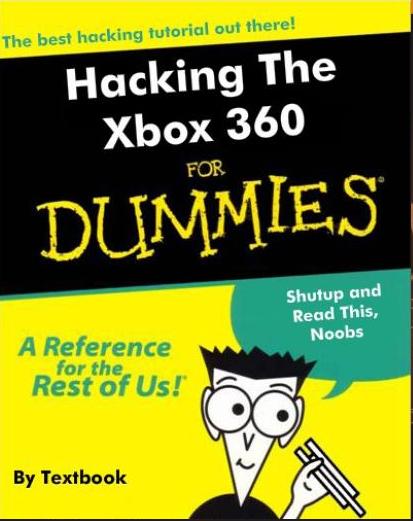 THE HOTTEST :

HACKING THE

X

BOX 360 FOR DUMMIES PREMIUM EBOOK + BONUS Premium
Ebook contains full color hacking tutorials guide book worth RM $$$ ++ !!
eBooks in pdf format direct download
Buy It
Title : Hacking the XBOX 360 For Dummies
About this FUlly Illustrated Ebook :
Description :
This this being the attitude encapsulated in Andrew "bunnie" Huang's Hacking the Xbox is why a lot of people got into the computer industry in the first place. These people liked taking things apart and figuring out how they worked, then making them serve purposes they weren't originally designed for and sharing the new discoveries with others of like mind.


Sure, Huang's book is about how to how to turn Microsoft's game console into a high-performance, general-purpose personal computer with a small price tag, and it contains lots of details about the how the heavily advertised gizmo is put together.
What's valuable about Huang's work is that he communicates the pure joy of taking the Xbox apart, figuring out how it works despite its many designed-in anti-hacking features and making it do new things. This ebook reads like the journal of a seventeenth-century voyage of discovery.

There's a wealth of information in these pages about how to disassemble and reverse-engineer electronics, and Huang is careful to show you what tools you need, and how to use them (don't worry if you don't know how to use a soldering iron that's covered here).
There are step-by-step guides (complete with photos) to a couple of projects, and interviews with key figures in the Xbox-hacking community. David Wall

Topics covered: How to enjoy a Microsoft Xbox game console without the mindless tedium of playing video games. This book shows you how to open an Xbox, make modifications to it (from a cosmetic LED color change, to putting in a new power supply, to adding a USB connector), and make the changes needed to get Linux running on it.
In the process, readers get an education in reverse engineering electronic circuits, as well as in basic electronic techniques (soldering, crimping, etc) and in the intellectual property law that governs hacker activity.


Contents :
Format : PDF
Pages : Full version ebook 96 pages , perfectly illustrated and straight to the point
ISBN: 1593270291

Price: Retails at US$24.99 =RM 85

Testimonials : "Although it's a technical book, it unfolds like a spy novel."-- Peter Wayner, Slashdot.org, ,

"an elegant, smart, and accessible introduction to hacking that happens to use the Xbox as a learning tool" -- San Francisco Bay Guardian, September 17,

I recommend this book even to those who don't want to hack an Xbox...an interesting and informative read. -- About.com

If you are interested in hardware, software hacking and reverse engineering - this book should be on your desk at all times. -- E. Jonathan Hardy, Host, TechWeek TV!, August

Teaches readers to think like hardware hackers, using the game console the way a med school teacher uses Gray's Anatomy -- SecurityFocus, July


PLUS FREE BONUS PREMIUM EBOOK!
Title : Game Console Hacking : Xbox, Playstation, Nintendo, Atari ,Gamepark 32
Summary:
In November of 1977, Atari shipped its first 400,000 Video Computer Systems. Since that time, over 1.2
billion consoles have been sold worldwide, and a large percentage of those are still hanging around as
"classic systems". An avid (some would say rabid) community of video game hackers and hardware geeks has developed around a common passion to push their consoles, and the games themselves, beyond the functionality originally intended by the manufacturers. This book is the first on the market to cover the entire range of consoles produced over the last 25 years (most game hacks and geeks own multiple platforms). It provides detailed instructions on how to customize and reconfigure consoles to a wide variety of ends--from the cosmetic case modifications to the ambitious porting of Linux to the Nintendo GameCube. Platforms covered in this book include Atari, Nintendo, Playstation, Xbox, and Gamepark 32.
Format : PDF
Pages : Full version ebook 593 pages , perfectly illustrated and straight to the point
Retail Price : USD 39.95 = RM135.80
Winner Will Receive Direct Download of the Ebook(s) above
no hassle and no shipping fees ~

Bid now to avoid disappointment , price may increase the next day !
~ Don't waste another moment ~ BID NOW ~

Delivery
All software, ebooks or digital products purchased is sent via email with download link. Therefore, there is no shipping charges incurred.
If you use spam filter (especially hotmail or yahoo mail), check your junk mail / spam mail folder in case our emails are filtered and don't make it your email inbox .TQ friends !
Thank u and have a nice day
For assistance or more info please :: CLICK HERE :: emails will be replied within 24 hours. :)
Please see my other items.. :: CLICK HERE ::
Terms and Conditions :
1. No COD ,please understand the inconvenience .
2. Successful bidder must conclude the deal and transfer appropriate amount of funds into my Maybank account within 2 days, after auction ends.
3. Full shipping charges must be paid together with the final bid price (end price). This shipping term must be agreed before any bidding.
4. Successful bidder must contact seller within 48 hours after the auction close.
6. SERIOUS BIDDERS ONLY.
7. NO JOYBIDDERS PLEASE.
* Joy bidders will be blacklist and be given negative feedbacks.
Please BID with Confidence.