HAVE QUESTIONS? PLEASE READ OUR FAQ.
HP 2.4GHz 1600dpi Wireless Optical Mouse
Model: 5189URF (M)

---
---
Getting a wireless mouse for desktop computer can be tricky due to the fact that we normally place the CPU units far from the working table surface, the normal wireless mouse just do not have enough operating range to effectively cover the distance. This is where this HP 2.4GHz mouse stand out tall !

Ergonomic design, feels great and comfortable in hand, solid build, good finishing, with 2.4GHz technology, the RF frequency operating range can reach up to 10 meters, ideal as control mouse for PC-based multimedia system. Very low power consumption, typically a pair of alkaline batteries can last for months.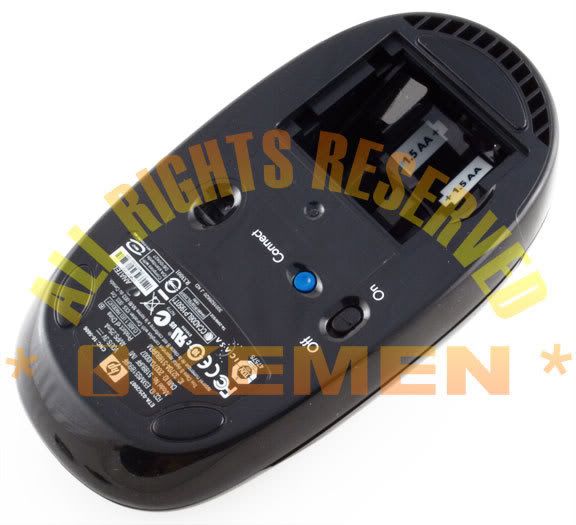 Specifications and Features:
Dimension: 109mm x 53mm x 33mm
Color: Pearl Black
Operating Distance: Up to 10 meters
Optical Resolution: 1600dpi (Agilent chipset)
Enhanced SmartSpeed Auto FPS Adjustment technology
5 times more effective coverage range compared to 27MHz mice - up to 10 meters
6 times more power effective than 27MHz mice
Advance interference resistance, high speed time shift technology - almost totally eliminate the possibility of interference with bluetooth devices
High speed wireless reporting rate: 125RPS (similar to wired mouse, no connection delays)
Power supply: AA batteries x 2 (not inclusive in the package)

Remarks: Please note that this item does not comes in retail packing, but be rest assured that it is new, genuine HP product and of great quality as described. It is commonly bundled with some of the HP high-end computer systems in overseas market, we have the opportunity and honor to bring you this great-working mice as a separate package.


---
Buyer to pay the Shipping and Handling as the following options:



PosDaftar West & East Malaysia: RM4.00


Please note that the Default Shipping Method for this small item is PosDaftar, which typically will take 3 to 6 working days to reach, if you prefer courier service (typical transit time: 1 to 3 working days), the charges as indicate as below:

Courier Service West Malaysia: RM7.00
Courier Service East Malaysia: RM10.00

*Handling charge for additional unit or combined shipping with other items: RM2.00

*

NOTE: The charges mainly for QC procedure and packing works. The highest Shipping & Handling charges in the assortment applied as base, total assortment should not exceed 2Kg in weight and should not form odd-shaped parcels that normally not acceptable to courier. We reserve the rights to decline the combined-shipment request without further explanation
---
Seller Mobile Phone: 016-2335423 (No SMS please, TQ)
Seller Bank Details:
A/C Name: KEMEN MARKETING
MAYBANK A/C#: 514226220991
CIMB A/C#: 12230012246058
RHB BANK A/C#: 21405300073496
Kindly 3rd Party notify choongkt@gmail.com after fund transfer, should you bank in cash or fund transfer with other means, kindly email me the date, time, to which of our account and the total amount for verification, also, don't forget your delivery address too.