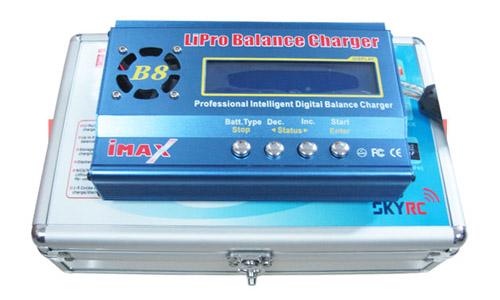 For a small size and a light price tag, it provides RC enthusiasts with a total solution to battery charging and battery care. It can handle a wide variety of battery such as Ni-Cd, Ni-Mh, Pb, Lipo, Li-Ion, and the patented Nano technology LifeP04 battery produced A123systems of USA.

Lithium Polymer / LiFeP04 / Li-Ion:
The B8 has its own build-in cell/voltage balance which keeps your cells balanced during charging. You do not need an external balancer. It also ensure's that your cells are never charged exceeding the required voltage and current. It also allows the user to specify the charge current in an interval of 100mA. Most of all it can handle the LiFeP04 cells which needs different charge voltage different from typical Lipo or Li Ion.

Ni-Cd / Ni-Mh:
With the help of its microprocessor, it is able to charger Nickel batteries to their full peak without over charging them. It deploys "delta-peak" detection in determining the maximum charge of the battery. "Delta-peak" is currently used in all the top-line charger makers like GP and Energizer to ensure the life span and charge state of their batteries. The B8 offers a cycle program which can be configured by the user and used to cycle Nickel batteries back to life or top state after being left unused for a long time.

Pb:
The B8 can also charge Pb batteries (lead acid/sealed lead acid battery). RC enthusiast who uses Pb battery for the heavy load starter or as portable power would enjoy using this feature.

Specifications:
- Operating Voltage: 11VDC ~ 18VDC - AC to DC adaptor (DC11.0-18V/5A)
- LCD status and charge progress display
- Solid aluminum construction
- Circuit power: max. 150W
- Charge current range: 0.1~7.0A
- Discharge current range: 0.1~5.0A
- Discharge current range: 0.1A ~ 5.0A (configurable)
- Charge Current range: 0.1A ~ 7.0A (configurable)
- Current drain for balancing Li-Po:300mA/cell
- Ni-Cd / Ni-Mh cell count: 1 ~ 27 cells
- Lipo / LiFeP04 / Li-Ion cell count: 1 ~ 8 cells
- Pb battery voltage: 2V-36V
- Dimensions: 163.8X106.2X45.6mm
- Weight: 480g
- USB: Yes
- Temp Prop port: Yes

Items included:
- 1 unit charger
- 1 unit aluminum casing with lock
- 2 unit key
- Various charging cables as shown in the photo
- 1 unit user manual

poslaju: west malaysia RM15, sarawak RM12, sabah RM9.
any question, feel free to contact me vester_syl(at)hotmail(dot)com or use the 'contact seller' button to contact me. no sms please.
item will be fully tested before posting out. have a look at my other sales here: http://members.lelong.com.my/Auc/List/List.asp?DataAction=Apply&UserID=vester_syl buyers for more than 1 item can combine for shipping to safe cost.
payment can be made to my maybank or CIMB account through any online transfer, atm transfer, atm cash deposit, bank counter cash deposit, cash deposit machine, etc. i'll send my bank details to your email within 24 hours after auction closed. please check your email inbox and junk/spam mail folder as well (sometimes the email will land in your junk/spam mail folder). after you've paid, please email me the exact amount paid, your shipping choice (pos daftar or poslaju), your mailing name, full address with post-code, and a valid telephone number as soon. item will be posted out within 2 working days after the fund is transfered. communicate through email only please. kindly settle the deal within 3 days after auction closed. thanks in advance.
please understand that we are web based trader and we don't meet up with buyers, so please don't insist on C.O.D. (self collect). thank you.