Item Specification
Product Description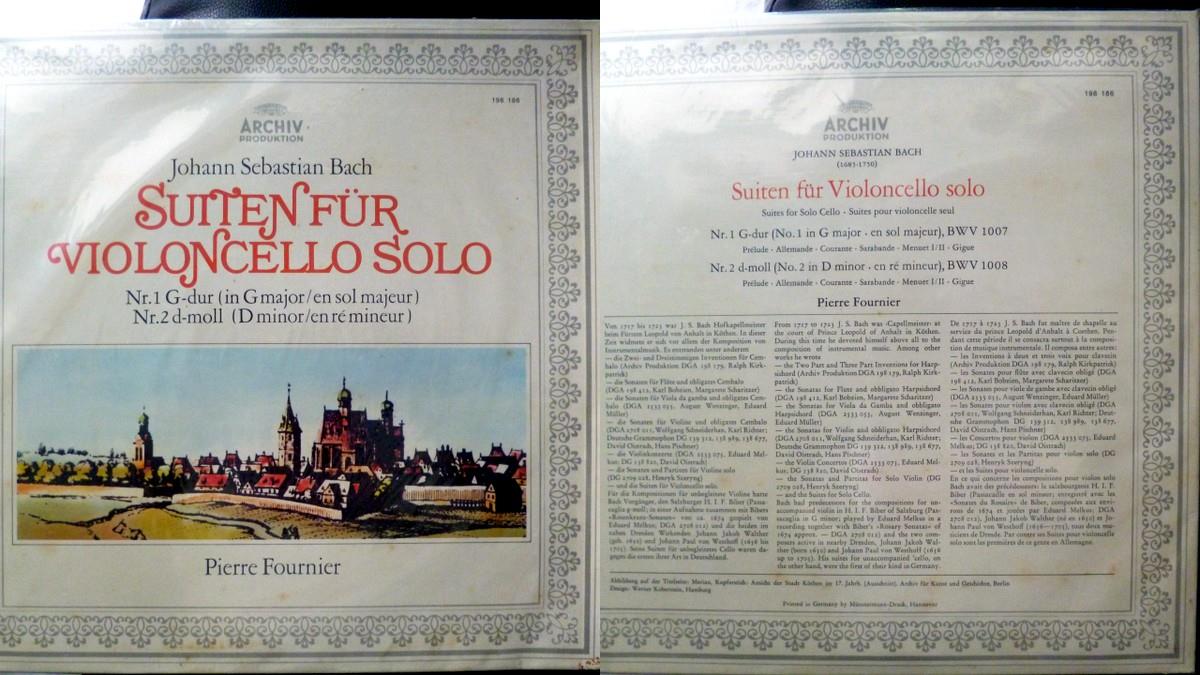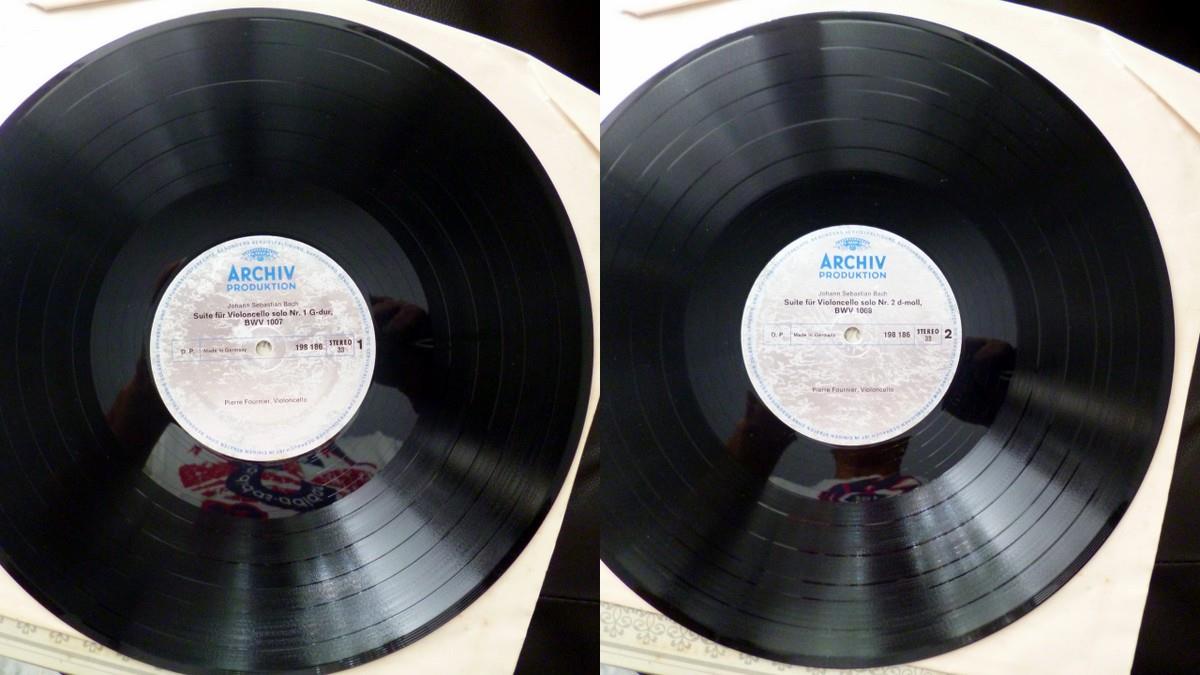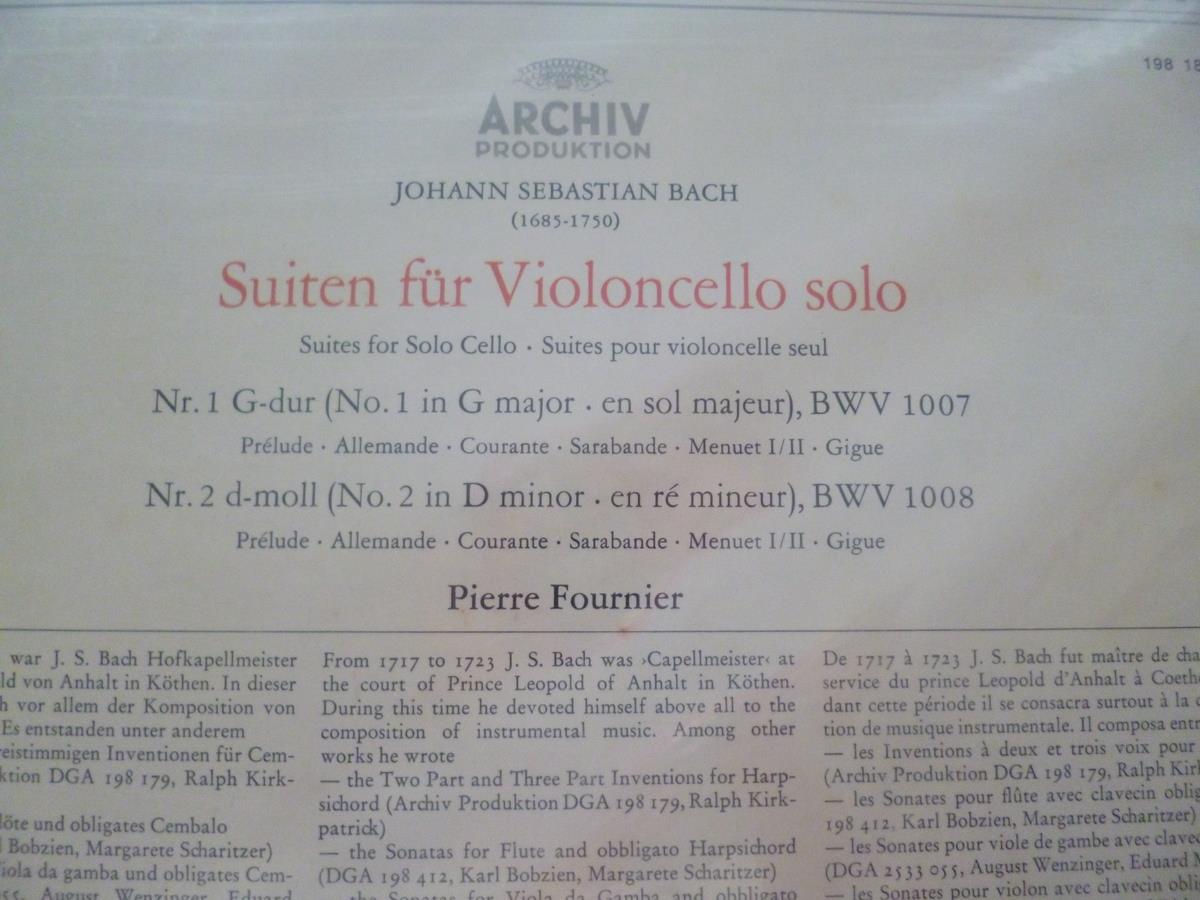 MANKIND'S  GREATEST CLASSICAL  COMPOSERS  JOHANN SEBASTIAN  BACH 
IN VINYL RECORD 33 1/3 
EXCELLENT  PLAYING  CONDITION , WITH SOME  STATIC  NOISE 
SLEEVE IS  GOOD.
VIOLIN SOLO PERFORMANCE NO.1  AND  NO 2 .
A magnificent baroque-era composer, Johann Sebastian Bach is revered through the ages for his work's musical complexities and stylistic innovations.
Synopsis
Born on March 31, 1685 (N.S.), in Eisenach, Thuringia, Germany, Johann Sebastian Bach had a prestigious musical lineage and took on various organist positions during the early 18th century, creating famous compositions like "Toccata and Fugue in D minor." Some of his best-known compositions are the "Mass in B Minor," the "Brandenburg Concertos" and "The Well-Tempered Clavier." Bach died in Leipzig, Germany, on July 28, 1750. Today, he is considered one of the greatest Western composers of all time.
After a year in Mühlhausen, Bach won the post of organist at the court of the Duke Wilhelm Ernst in Weimar. He wrote many church cantatas and some of his best compositions for the organ while working for the duke. During his time at Weimar, Bach wrote "Toccata and Fugue in D Minor," one of his most popular pieces for the organ. He also composed the cantata "Herz und Mund und Tat," or Heart and Mouth and Deed. One section of this cantata, called "Jesu, Joy of Man's Desiring" in English, is especially famous.

In 1717, Bach accepted a position with Prince Leopold of Anhalt-Cöthen. But Duke Wilhelm Ernst had no interest in letting Bach go and even imprisoned him for several weeks when he tried to leave. In early December, Bach was released and allowed to go to Cöthen. Prince Leopold had a passion for music. He played the violin and often bought musical scores while traveling abroad.

While at Cöthen, Bach devoted much of his time to instrumental music, composing concertos for orchestras, dance suites and sonatas for multiple instruments. He also wrote pieces for solo instruments, including some of his finest violin works. His secular compositions still reflected his deep commitment to his faith with Bach often writing the initials I.N.J. for the Latin In Nomine Jesu, or "in the name of Jesus," on his sheet music.

In tribute to the Duke of Brandenburg, Bach created a series of orchestra concertos, which became known as the "Brandenburg Concertos," in 1721. These concertos are considered to be some of Bach's greatest works. That same year, Prince Leopold got married, and his new bride discouraged the prince's interest in music. Bach completed the first book of "The Well-Tempered Clavier" around this time. With students in mind, he put together this collection of keyboard pieces to help them learn certain techniques and methods. Bach had to turn his attentions to finding work when the prince dissolved his orchestra in 1723.
Later Works in Leipzig
After auditioning for a new position in Leipzig, Bach signed a contract to become the new organist and teacher at St. Thomas Church. He was required to teach at the Thomas School as a part of his position as well. With new music needed for services each week, Bach threw himself into writing cantatas. The "Christmas Oratorio," for example, is a series of six cantatas that reflect on the holiday.

Bach also created musical interpretations of the Bible using choruses, arias and recitatives. These works are referred to as his "Passions," the most famous of which is "Passion According to St. Matthew." This musical composition, written in 1727 or 1729, tells the story of chapters 26 and 27 of the Gospel of Matthew. The piece was performed as part of a Good Friday service.

One of his later religious masterworks is "Mass in B minor." He had developed sections of it, known as Kyrie and Gloria, in 1733, which were presented to the Elector of Saxony. Bach did not finish the composition, a musical version of a traditional Latin mass, until 1749. The complete work was not performed during his lifetime.

 

By 1740, Bach was struggling with his eyesight, but he continued to work despite his vision problems. He was even well enough to travel and perform, visiting Frederick the Great, the king of Prussia in 1747. He played for the king, making up a new composition on the spot. Back in Leipzig, Bach refined the piece and gave Frederick a set of fugues called "Musical Offering."

In 1749, Bach started a new composition called "The Art of Fugue," but he did not complete it. He tried to fix his failing sight by having surgery the following year, but the operation ended up leaving him completely blind. Later that year, Bach suffered a stroke. He died in Leipzig on July 28, 1750.

During his lifetime, Bach was better known as an organist than a composer. Few of his works were even published during his lifetime. Still Bach's musical compositions were admired by those who followed in his footsteps, including Amadeus Mozart and Ludwig van Beethoven. His reputation received a substantial boost in 1829 when German composer Felix Mendelssohn reintroduced Bach's "Passion According to St. Matthew."

Musically, Bach was a master at invoking and maintaining different emotions. He was an expert storyteller as well, often using melody to suggest actions or events. In his works, Bach drew from different music styles from across Europe, including French and Italian. He used counterpoint, the playing of multiple melodies simultaneously, and fugue, the repetition of a melody with slight variations, to create richly detailed compositions. He is considered to be the best composer of the Baroque era, and one of the most important figures in classical music in general.

 

 

Pierre Fournier (1906-1986) was born in Paris on June 24, and known in his lifetime as "the aristocrat of cellists," because of his lyrical playing, and for his impeccable artistic sensitivity.

Fournier was the son of a French army general, and as a child was taught piano by his mother. At the age of nine he suffered a mild case of polio, and lost some of the dexterity in his legs and feet. No longer able to master the use of the piano pedals, he searched for another musical instrument, and turned to the cello.

He quickly made good progress on his new instrument, and was able to win entrance to the Paris Conservatoire, where he became a pupil of Paul Bazelaire, and later Anton Hekking. He graduated at the age of seventeen, in the year 1923. Maurice Marechal called him "the cellist of the future." Even at such a young age, Fournier had tremendous virtuosity, and was famous for his bowing facility. Fournier was a friend of another great French cellist, Tortelier. Once, meeting backstage after a recital by Tortelier, Pierre said to him, "Paul, I wish I had your left hand." Tortelier replied, "Pierre, I wish I had your right arm!"

Fournier became well known in 1925 after a successful performance with the Edouard Colonne Orchestra in Paris, and began to give concerts all over Europe. Fournier played with all the great musicians of his time, including Cortot, Thibaud, Furtwangler, Karajan and Kubelik. Together with Artur Schnabel, Szigeti and Primrose he recorded nearly all of the chamber music of Brahms and Schubert. Unfortunately the acetates on which the BBC recorded the series deteriorated before they could be copied to a more durable medium.

In the years 1937-1939 Fournier directed the cello class at the Ecole Normale, and from 1941-1949 also at the Paris Conservatoire.

Fournier made his first tour of the USA in 1948 to great acclaim in New York and Boston. Virgil Thomson wrote in the New York Herald Tribune, "I do not know his superior among living cellists, nor any...who give one more profoundly the feeling of having been present at music-making." His performing career occupied more and more of his time, and he had to resign from his teaching post in Paris. In 1959 he appeared for the first time in Moscow, where he played most of the standard concertos of the cello repertoire.

He enjoyed modern music, as well as classical. Many modern composers wrote works for him, including Martinu, Martinon and Poulenc. As a teacher Fournier insisted that his students develop a smooth tone, and a high elbow for the right arm. He believed that the Sevcik violin exercises were valuable for cellists who wanted to perfect bowing technique.

In 1956 he made his home with his family in Switzerland, but retained his French citizenship. His son, Jean Pierre Fournier was a fine pianist, and often performed cello/piano sonatas together with his father. In 1963 he was made a member, and a year later an officer, of the French Legion of Honor.

Fournier was still performing and playing well at the age of 78, when he gave a recital at the Queen Elizabeth Hall in London. He died in January 1986, at the age of 80. In 1988 the Royal Northern College of Music began an International Cello Festival to honour his memory.

 

 
Questions & Comments

---
PAYMENTS THRU MAYBANK TRANSFERS, OVERSEAS BUYER , PAYPAL OR WESTERN UNION.FOR OVERSEAS BUYER PLEASE CONFIRM WHICH TYPE OF PAYMENT.
DELIVERY THRU POSLAJU , FOR LOCAL TOWN , P. MALAYSIA CHARGES ARE RM7 .00 AND EAST MALAYSIA IS RM11.00 FOR NORMAL BELOW 500 GRAMS MAILING. ABOVE 501 GRAMS , POS LAJU CHARGES ARE AS ACCORDING TO POS LAJU RATES.
FOR OUT SIDE MALAYSIA , SHIPPING CHARGES AS ACCORDING TO POST OFFICE .
PLEASE DO INQUIRE , COMMUNICATE WITH ME , IF YOU ARE NOT SURE ABOUT THE ITEMS, OR ANY MATTER BEFORE BIDDING.I WILL REPLY YOU ASAP.
FOR EXPENSIVE OLD AMULETS , PLEASE MAKE VERY SURE YOU KNOW THE ITEM AND YOU UNDERSTAND THOROUGHLY WHAT YOU ARE BIDDING FOR.
ANY QUESTIONS PLEASE ASK .
Questions & Answers
Do you have any questions to ask merchant about this product
Ask Seller