Item Specification
Product Description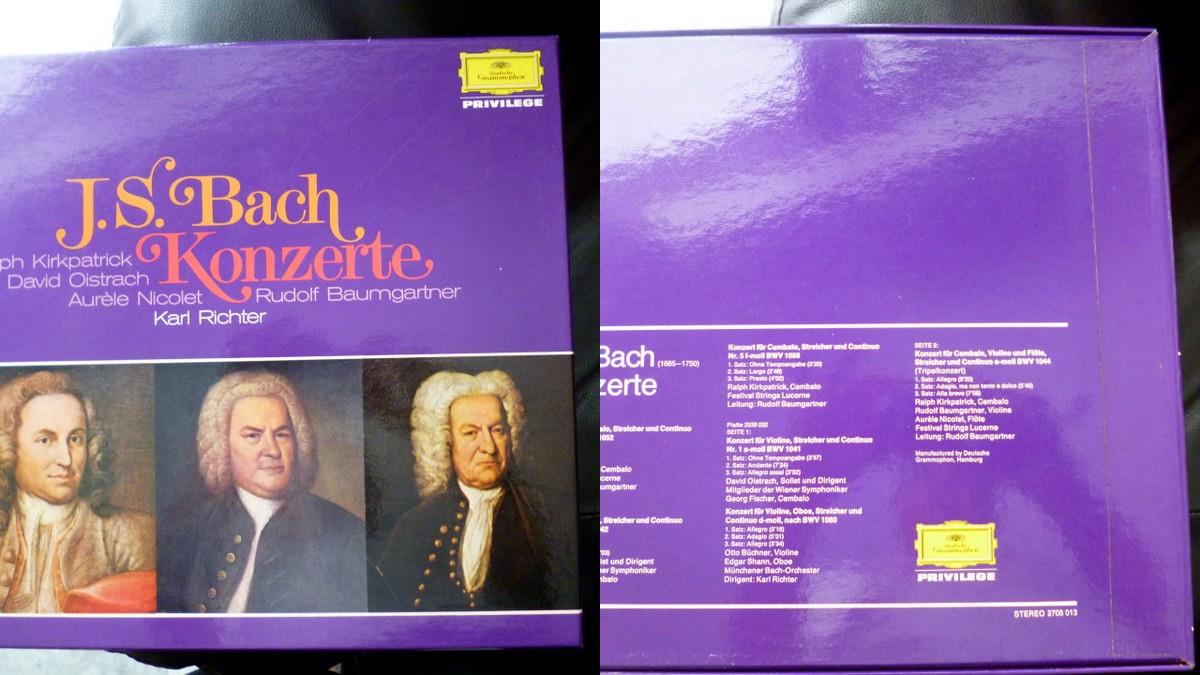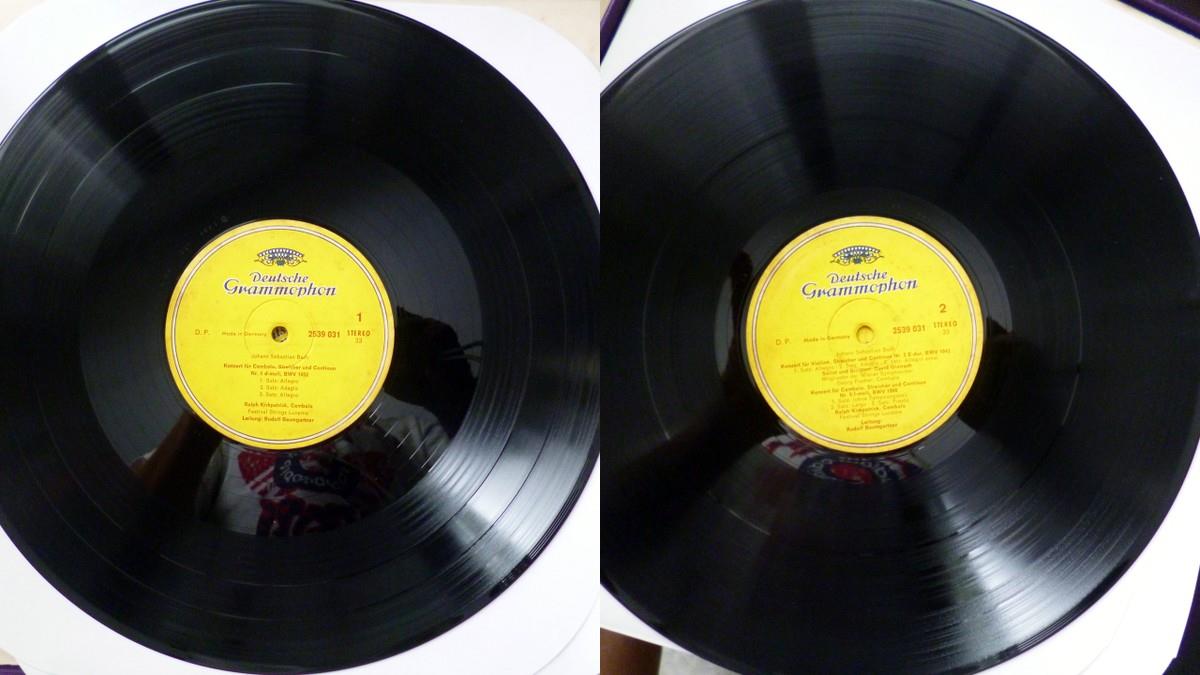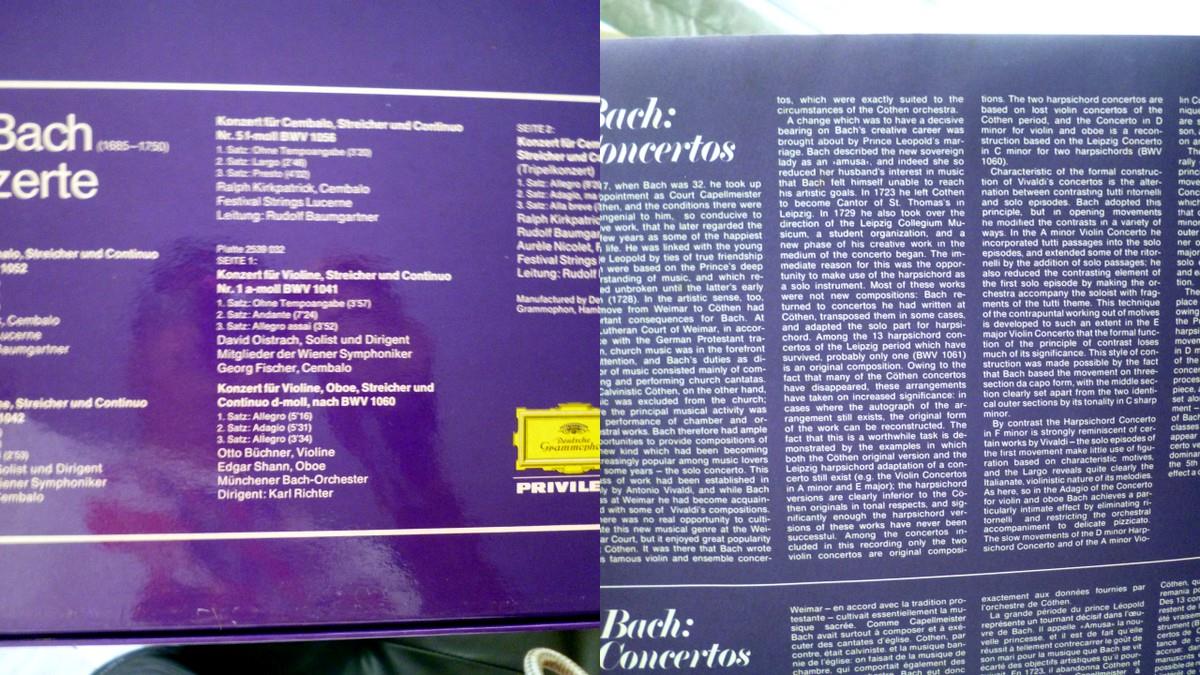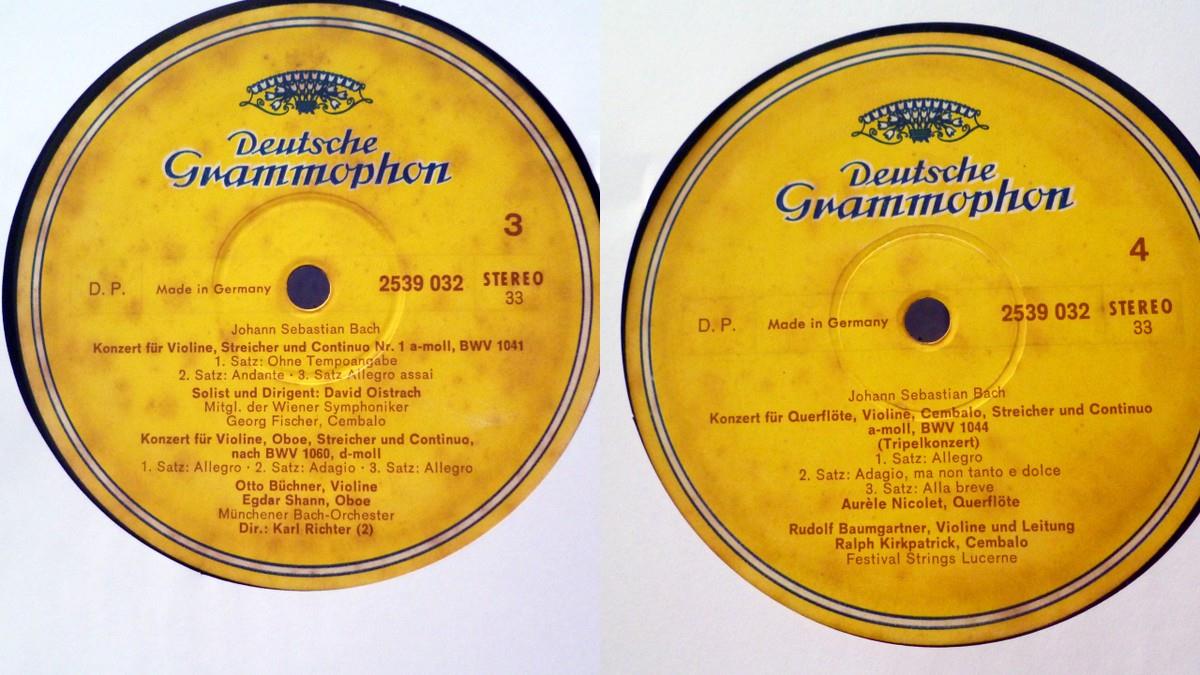 JS  BACH CONCERTO 2 LP SET
ORIGINAL GERMAN RECORDING PRESSING
PLATTE 031
SEITE 1 , CONCERTO FOR CEMBALO , STREICHER AND CONTINUO , NO 1 D - MOLL BWV 1052
SEITE 2. CONCERTO FOR  VIOLIN, STREICHER AND CONTINUO NO 2 E - DUR BWV 1042
               CONCERTO FOR CEMBALO , STREICHER AND CONTINUO NR . 51 - MOLL BWV 1056
PLATTE 032 
CONCERTO FOR VIOLIN , STREICHER AND CONTINUO  NR. 1  A- MOLL BWV 1041
CONCERTO FOR VIOLINE , OBE , STREICHER AND  CONTINUO D - MOLL NACH BWV 1060
SEITE 2 . 
CONCERTO  FOR CEMBALO, VIOLINE AND FLUTE , STREICHER AND  CONTINUO A - MOLL BWV 1044
GERMAN GRAMAPHONE ORIGINAL PRESSING IN MINT CONDITION.
The harpsichord concertos, BWV 1052–1065, are concertos for harpsichord, strings and continuo by Johann Sebastian Bach. There are seven complete concertos for a single harpsichord (BWV 1052–1058), three concertos for two harpsichords (BWV 1060–1062), two concertos for three harpsichords (BWV 1063 and 1064), and one concerto for four harpsichords (BWV 1065). Two other concertos include solo harpsichord parts: the concerto BWV 1044, which has solo parts for harpsichord, violin and flute, and Brandenburg Concerto No. 5 in D major, with the same scoring. In addition there is a nine-bar concerto fragment for harpsichord (BWV 1059) which adds an oboe to the strings and continuo.
Most of Bach's harpsichord concertos (with the exception of the 5th Brandenburg Concerto) are thought to be arrangements made from earlier concertos for melodic instruments probably written in Köthen. In many cases, only the harpsichord version has survived. They are among the first concertos for keyboard instrument ever written.
The concertos for one harpsichord, BWV 1052–1059, survive in an autograph score (now in the Staatsbibliothek Berlin, Mus. ms. Bach P 234); based on the paper's watermarks and the handwriting, scholars have dated it to 1738 or possibly 1739.[1]The manuscript is not a "fair copy" but a "first draft containing an extraordinary number of corrections to certain passages." [2]Two theories have been proposed for why Bach created this manuscript. One centers on his work as director of the Collegium musicum in Leipzig, a student musical society, founded by Georg Philipp Telemann in 1703, which often gave performances atZimmermann's coffee house; Bach served as director from spring 1729 to summer 1737, then again from October 2, 1739 though 1740 or 1741. This theory holds that the manuscript was intended for concerts given when Bach resumed leadership of the Collegium musicum in 1739; evidence for the theory is that the manuscript remained in Leipzig.[3] However, Peter Wollny (director of the Bach Archive in Leipzig) argues that "the carefully laid-out fair copy does not quite fit into the context of that student ensemble, which did not enjoy much in the way of formal organization."[1] Wollny prefers an alternate theory, arguing that "it seems more plausible to link [the autograph manuscript] to the visit we know Bach made to Dresden in May 1738, in the course of which he certainly performed at court or in private aristocratic circles."[1]
As for the concertos for multiple harpsichords, there is less doubt that these date from Bach's first period directing the Collegium musicum in Leipzig; the parts from the Concerto for four harpsichords BWV 1065 (Bach's arrangement of the Concerto for Four Violins, RV 580, by Antonio Vivaldi ), have been dated to around 1730.[3] The first biographer of Bach,Johann Nikolaus Forkel, reported in 1802 that performance of the multiple-harpsichord concertos involved his sons C. P. E. Bach and W. F. Bach (both excellent keyboard players, and both informants to Forkel), who were living at home until 1733 and1734, respectively, which would mean that these concertos were completed before their departure. It is possible that Johann Ludwig Krebs, who studied with Bach until 1735, also played harpsichord in the Collegium musicum.
Bach's harpsichord concertos were, until recently, often underestimated by scholars, who did not have the convenience of hearing the benefits that historically informed performance has brought to works such as these.  For instance Albert Schweitzer believed "[t]he transcriptions have often been prepared with almost unbelievable cursoriness and carelessness. Either time was pressing or he was bored by the matter." Recent research has demonstrated quite the reverse to be true; he transferred solo parts to the harpsichord with typical skill and variety. Bach's interest in the harpsichord concerto form can be inferred  from the fact that he arranged every suitable melody-instrument concerto as a harpsichord concerto, and while the harpsichord versions have been preserved the same is not true of the melody-instrument versions.
The works BWV 1052–1057 were intended as a set of six, shown in the manuscript in Bach's traditional manner beginning with 'J.J.' (Jesu juva, "Jesus, help") and ending with 'Finis. S. D. Gl.' (Soli Deo Gloria). Aside from the Brandenburg concertos, it is the only such collection of concertos in Bach's oeuvre, and it is the only set of concertos from his Leipzig years. The concerto BWV 1058 and fragment BWV 1059 are at the end of the score, but they are an earlier attempt at a set of works (as shown by an additional J.J.), which was however abandoned.[4]
Allegro moderato
Largo
Presto
Scoring: harpsichord solo, violin I/II, viola, continuo (cello, violone)
Length: c. 10 minutes
The outer movements probably come from a violin concerto which was in G minor, and the middle movement is probably from an oboe concerto in F major; this movement is also the sinfonia to the cantata Ich steh mit einem Fuß im Grabe, BWV 156.
This middle movement closely resembles the opening Andante of a Flute Concerto in G major (TWV 51:G2) by Georg Philipp Telemann; the soloists play essentially identical notes for the first two-and-a-half measures. Although the chronology cannot be known for certain, Steven Zohn has presented evidence that the Telemann concerto came first, and that Bach intended his movement as an elaboration of his friend Telemann's original.[22]
The Violin Concerto in A minor, BWV 1041, was composed by Johann Sebastian Bach. While it is "generally thought to have been composed at Köthenin 1717-23",[1] Christoph Wolff has argued that the work may have been written inLeipzig [2] during Bach's time as director of the Collegium Musicum; John Butt also believes that Bach wrote it "probably soon after taking over the Leipzig Collegium Musicum in 1729".[3] In any event, the only autograph source to survive are parts Bach copied out (along with other copyists)[4] in Leipzig circa 1730 [5] from a now lost score or draft.
Questions & Comments

---
PAYMENTS THRU MAYBANK TRANSFERS, OVERSEAS BUYER , PAYPAL OR WESTERN UNION.FOR OVERSEAS BUYER PLEASE CONFIRM WHICH TYPE OF PAYMENT.
DELIVERY THRU POSLAJU , FOR LOCAL TOWN , P. MALAYSIA CHARGES ARE RM7 .00 AND EAST MALAYSIA IS RM11.00 FOR NORMAL BELOW 500 GRAMS MAILING. ABOVE 501 GRAMS , POS LAJU CHARGES ARE AS ACCORDING TO POS LAJU RATES.
FOR OUT SIDE MALAYSIA , SHIPPING CHARGES AS ACCORDING TO POST OFFICE .
PLEASE DO INQUIRE , COMMUNICATE WITH ME , IF YOU ARE NOT SURE ABOUT THE ITEMS, OR ANY MATTER BEFORE BIDDING.I WILL REPLY YOU ASAP.
FOR EXPENSIVE OLD AMULETS , PLEASE MAKE VERY SURE YOU KNOW THE ITEM AND YOU UNDERSTAND THOROUGHLY WHAT YOU ARE BIDDING FOR.
ANY QUESTIONS PLEASE ASK .
Questions & Answers
Do you have any questions to ask merchant about this product
Ask Seller