Item Specification
Product Description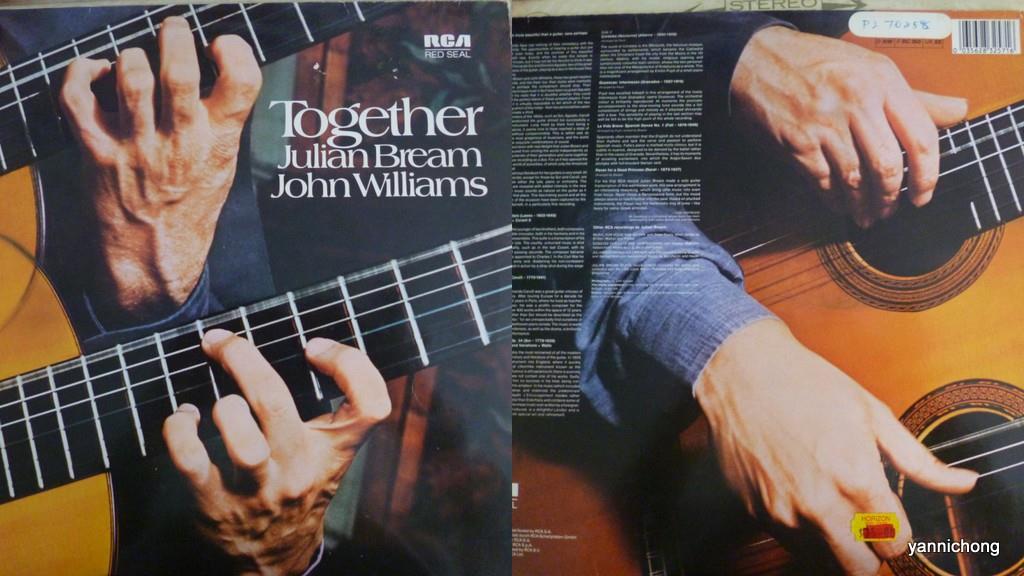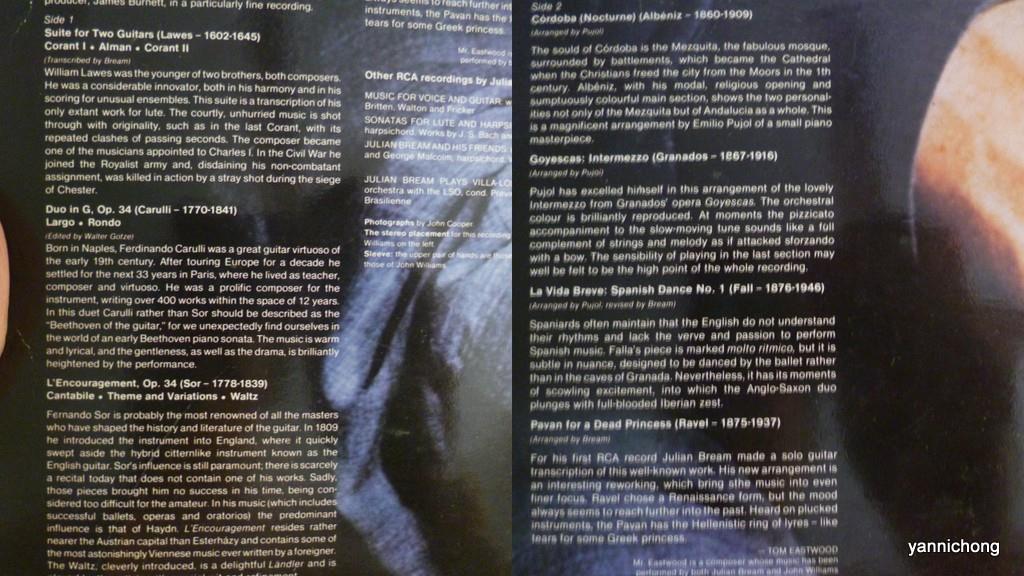 JULIAN BREAM AND  JOHN WILLIAMS VINYL RECORD
1972  RCA RECORDS GERMAN PRESSING PLAYS  EXCELLENT.
Bream has recorded extensively for RCA Victor and EMI Classics. These recordings have won him several awards, including four Grammy Awards, two for Best Chamber Music Performance and two for Best Classical Performance.[7] RCA also released The Ultimate Guitar Collection, a multi-CD set commemorating his birthday in 1993.
From the beginning of the 1990s Julian Bream continued his recording career with EMI Classics, featuring music by Johann Sebastian Bach, a Concerto album (with the City of Birmingham Symphony Orchestra and Sir Simon Rattle), and discs devoted to contemporary works and guitar sonatas.
Despite his importance as a classical guitarist, however, many of his RCA recordings (including the series of 20th-century guitar music) were out of print for several years. In 2011, RCA/Sony Classical released My Favorite Albums, a 10-CD set of albums chosen by Julian Bream himself. In 2013, RCA/Sony Classical released Julian Bream: The Complete RCA Album Collection, a 40-CD set of all his RCA albums, also including two DVDs with The Lively Arts -- Julian Bream: A Life in the Country, the 1976 BBC film; and four BBC shows: Omnibus: Anniversary of Sir William Walton [1982], The Julian Bream Consort (1961), Monitor -- Film Profile of Julian Bream [1962], and The Julian Bream Consort (1964).
A highly successful film, A Life in the Country, was first shown on BBC TV in 1976. In it, the narrator and Bream discuss his beginnings and his life as a concert guitarist. Bream also presented a series of four master-classes for guitarists on BBC TV. In 1984 he made eight films on location in Spain for Channel 4, exploring historical perspectives of Spanish guitar music.
In 1991, BBC Radio and TV broadcast Bream's BBC Prom performance of Malcolm Arnold's Guitar Concerto. He also participated in a recital and concerto performances of works by Tōru Takemitsu at the Japan Festival in London with the London Symphony Orchestra.
During the 1992-93 season he performed on two separate occasions at the Wigmore Hall - at their Gala Re-opening Festival, and at a special concert celebrating his 60th birthday. In the same period, he toured the Far East, visiting Hong Kong, Taiwan, Korea and Japan, and performed the premiere of Leo Brouwer's arrangement for guitar and orchestra of Albéniz's Iberia at the Proms. In 1994 Bream made debuts in both Turkey and Israel to great acclaim, and the following year played for the soundtrack to the Hollywood film Don Juan DeMarco.
In 1997, in celebration of the 50th anniversary of his debut, he performed a recital at Cheltenham Town Hall. A few weeks later, the BBC dedicated a special television tribute This Is Your Life programme to Julian Bream, filmed after a commemorative concert at the Queen Elizabeth Hall, London.
In recent years, his engagements have included a Gala solo performance at the Philharmonic Hall, Liverpool, a Kosovo Aid concert at St. John's, Smith Square, London, with the Academy of St. Martin in the Fields recitals at the Snape Proms, Aldeburgh, and at the Norfolk and Norwich Festival and a tour of UK National Trust properties in summer and autumn 2000.
In November 2001 he gave an anniversary recital at Wigmore Hall, celebrating 50 years since his debut there in 1951. His final recital was at Maddermarket Theatre, Norwich on May 6, 2002.[5]
The 2003 DVD video profile Julian Bream: My Life in Music contains three hours of interviews and performances. It has been declared by Graham Wade "the finest film contribution ever to the classic guitar." It became "GRAMOPHONE DVD of the year". His series Guitarra! was made for Channel 4 television and charts a journey across Spain.
Bream's recitals are wide-ranging, including transcriptions from the 17th century, many pieces by Bach arranged for guitar, popular Spanish pieces, and contemporary music, for much of which he was the inspiration. He has stated that he has been influenced by the styles of Andrés Segovia and Francisco Tárrega.
Bream's playing can be characterised as virtuosic and highly expressive, with an eye for details, and with strong use of contrasting timbres.
Many composers have worked with Bream, and among those who dedicated pieces to him are Malcolm Arnold, Richard Rodney Bennett, Benjamin Britten, Leo Brouwer, Peter Racine Fricker, Hans Werner Henze, Humphrey Searle, Toru Takemitsu, Michael Tippett, William Walton and Peter Maxwell Davies. Britten's Nocturnal is one of the most famous pieces in the classical guitar repertoire and was written with Bream specifically in mind.[8] It is an unusual set of variations on John Dowland's "Come, Heavy Sleep" (which is played in its original form at the close of the piece).
Bream has also taken part in many collaborations, including work with Peter Pears on Elizabethan music for lute and voice, and three records of guitar duets with John Williams.
Bream was appointed Officer of the Order of the British Empire (OBE) in 1964 for services to music, and in the Queen's Birthday Honours List of 1985 he was made a Commander of the Order of the British Empire. He has received Honorary Doctorates from the Universities of Surrey (1968), and Leeds (1984). In 1976 he was personally presented with the Villa-Lobos Gold Medal by the composer's widow. He was elected an Honorary Member of the Royal Academy of Music (1966), and has been honoured with Fellowships of the Royal College of Music (1981) and the Royal Northern College of Music (1983). In 1988 he became an Honorary Member of the Royal Philharmonic Society, and was also presented with the Royal Philharmonic Society Instrumentalist's Award in 1996.
In 1984 Bream's arm was seriously injured in a car accident. It cost him great effort to regain his previous technical ability.
He is keen on the game of cricket[4] and is a member of the MCC.
Bream has said that he had some "sessions" with Segovia but never really studied with him. Segovia provided a personal endorsement and scholarship request to assist Bream in taking further formal music studies.[9]
Bream does not consistently hold his right-hand fingers at right angles to the strings, but uses a less rigid hand position for tonal variety.[10]
Bream met Igor Stravinsky in Toronto, Canada in 1965. He tried unsuccessfully to persuade the composer to write a composition for the lute and actually played a pavane by Dowland for him. The meeting between Bream and Stravinsky, including Bream's impromptu playing, was filmed by the National Film Board of Canada in making a documentary about the composer.[11]
Bream lived for over forty years in a Georgian farmhouse at Semley in Wiltshire. In 2008 he moved to a smaller house in Donhead St Andrew, Wiltshire.[12]
John Christopher Williams (born 24 April 1941) is an Australian-born British virtuosic classical guitarist renowned for his ensemble playing as well as his interpretation and promotion of the modern classical guitar repertoire. In 1973, he shared a Grammy Award in the Best Chamber Music Performance category with fellow guitarist Julian Bream for Julian and John (Works by Lawes, Carulli, Albéniz, Granados).[1] Guitar historian Graham Wade has said: "John is perhaps the most technically accomplished guitarist the world has seen."[2]
John Williams was born on 24 April 1941 in Melbourne, Australia, to an English father, Len Williams, who later founded the London Guitar School, and Malaan (née Ah Ket), a daughter of Melbourne barrister William Ah Ket. In 1952, the family moved to England, where he attended Friern Barnet Grammar School, London.[3] Williams was initially taught guitar by his father, who was an accomplished guitarist.[4] From the age of 11, Williams attended summer courses with Andrés Segovia at the Accademia Musicale Chigiana in Siena, Italy. Later, he attended the Royal College of Music in London, from 1956 to 1959, studying piano because the college did not have a guitar department at the time. Upon graduation, he was invited to create such a department. He took the opportunity and ran the department for its first two years. Williams has maintained links with the college (and with the Royal Northern College of Music[5] in Manchester) ever since.
Williams' first professional performance was at the Wigmore Hall in London on 6 November 1958. Since then, he has been performing throughout the world and has made regular appearances on radio and TV. He has extended the repertoire by commissioning guitar concertos from composers such as Stephen Dodgson, André Previn, Patrick Gowers, Richard Harvey and Steve Gray. Williams has recorded albums of duets with fellow guitarists Julian Bream and Paco Peña.
Williams is a visiting professor and honorary member of the Royal Academy of Music[6] in London.
Williams mostly uses Greg Smallman guitars, after using Spanish Fleta during the 1970s.[7] He also plays a guitar by Paulino Bernabe II.[8]
Williams has expressed his frustration and concern with guitar education and teaching,[9] if it is too one-sided, e.g. focusing only on solo playing, instead of giving guitar students a better education including ensemble playing, sight-reading and a focus on phrasing and tone production and variation. Williams notes that "students [are] preoccupied with fingerings and not notes, much less sounds"; some are able "to play [...] difficult solo works from memory", but "have a very poor sense of ensemble [playing] or timing". He notes that students play works from the solo repertoire that are often too difficult, so that the teachers often put more "emphasis [...] on getting through the notes rather than playing the real substance of each note". To encourage phrasing, tone production and all-around musicianship, Williams arranges for students to play together in ensembles, choosing works from the existing classical music repertoire, such as the "easier Haydn String Quartets".
Although Williams is best known as a classical guitarist, he has explored many different musical genres. Between 1978 and 1984 he was a member of the fusion group Sky. He is also a composer and arranger. At the invitation of producer Martin Lewis he created a highly acclaimed classical-rock fusion duet with celebrated rock guitarist Pete Townshend of The Who on Townshend's anthemic "Won't Get Fooled Again" for the 1979 Amnesty International benefit show The Secret Policeman's Ball. The duet featured on the resulting album and the film version of the show – bringing Williams to the broader attention of the rock audience.
Williams recorded "Cavatina" by Stanley Myers. The piece originally included only the first few measures but, at Williams' request, it was rewritten for guitar and expanded by Myers. After this transformation it was used for a film, The Walking Stick (1970). In 1973, Cleo Laine wrote lyrics and recorded it as the song "He Was Beautiful" accompanied by Williams. The guitar version became a worldwide hit single when it was used as the theme tune to the Oscar-winning film The Deer Hunter (1978).
Questions & Comments

---
PAYMENTS THRU MAYBANK TRANSFERS, OVERSEAS BUYER , PAYPAL OR WESTERN UNION.FOR OVERSEAS BUYER PLEASE CONFIRM WHICH TYPE OF PAYMENT.
DELIVERY THRU POSLAJU , FOR LOCAL TOWN , P. MALAYSIA CHARGES ARE RM7 .00 AND EAST MALAYSIA IS RM11.00 FOR NORMAL BELOW 500 GRAMS MAILING. ABOVE 501 GRAMS , POS LAJU CHARGES ARE AS ACCORDING TO POS LAJU RATES.
FOR OUT SIDE MALAYSIA , SHIPPING CHARGES AS ACCORDING TO POST OFFICE .
PLEASE DO INQUIRE , COMMUNICATE WITH ME , IF YOU ARE NOT SURE ABOUT THE ITEMS, OR ANY MATTER BEFORE BIDDING.I WILL REPLY YOU ASAP.
FOR EXPENSIVE OLD AMULETS , PLEASE MAKE VERY SURE YOU KNOW THE ITEM AND YOU UNDERSTAND THOROUGHLY WHAT YOU ARE BIDDING FOR.
ANY QUESTIONS PLEASE ASK .
Questions & Answers
Do you have any questions to ask merchant about this product
Ask Seller