<form action="http://www.lelong.com.my/logitech-2-1-speaker-z323-blk-chocobozz-K983950-2007-01-Sale-I.htm" id="headlinePricing" style="color: rgb(51, 51, 51); font-family: Arial; font-size: small; visibility: visible;">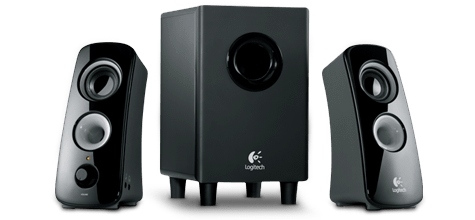 Rich bass and 360-degree sound transport you into your music, movies, and games.


360-degree sound
The speakers project sound evenly in all directions, so you enjoy rich, clear sound from any angle throughout the room.A 360-degree explanation of why you're going to love 360-degree sound.

Ported, down-firing subwoofer
Your music, movies, and games come to life with the 10.2 cm down-firing subwoofer.Satellite? Subwoofer? So what? Learn more about speakers.

Two auxiliary inputs
RCA jacks and an auxiliary input make it easy to connect your Logitech Squeezebox™ network music player, gaming console, DVD player, or iPod®.

Integrated headphone jack
When you want to listen privately, you just plug in your headphones.

30 watts (RMS)
This system packs enough power to fill the room with big, bold sound.Watt? Learn more about audio terminology and what it means for you.