Item Specification
Product Description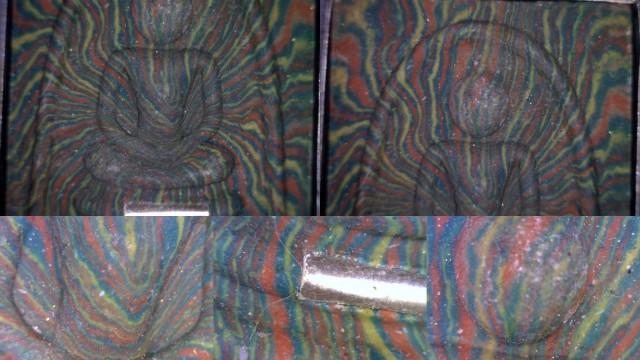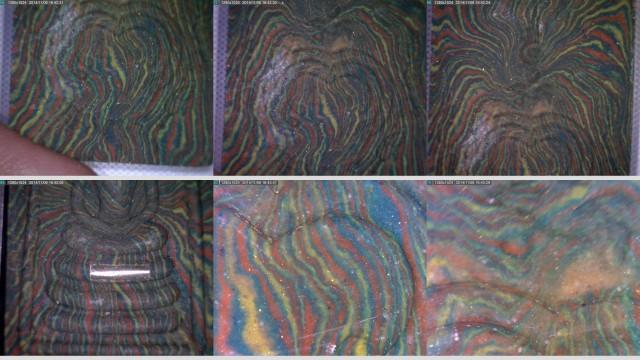 LP PAE'S  COLORFUL WONDERFUL  SOMDEJ THONGPIKUL
STUDENT OF  FAMOUS  WAT  RAKANG AJARN TOH
ALSO  FAMOUS FOR JACKIE CHAN'S PIM  SOMDEJ
AND BEING SUCH  FAMOUS PIMS THERE ARE  BOUND TO BE FAKES  MADE, YES  FOR 100 PIECES MADE 90 PIECES  ARE  FAKES.
HOW  DO  YOU  SEE  FAKES , IF  YOU DONT GET ONE ORIGINAL LPAE 'S  AMULETS YOU  WILL  NEVER KNOW WHICH IS  WHICH.
FAKES ARE  MADE AS  CLOSE  AS 90%  ACCURACY AS  THE  REAL PIMS, BUT  WHAT THEY  CANT  FAKE  IS  THE REAL  SACRED AND  WONDERFUL  POWDER
FAKE  MAKERS  WILL NEVER USE  ANY HERBS OR  FLOWERS  OR  SACRED POWDER  TO REMAKE  THEM AND PACK AND  SELL AS  THE REAL THING. 
NORMALLY THEY USE PLASTER POWDER , THE JOSS STOCKS  ASHES , LITTLE BITS OF  SAND  AND DIRT , FLOWER BITS  SCENTED  WATER, AND COLORING. 
SOME  EVEN USED  CEMENT POWDER .
THE  MOLD IS MADE  BY PRESSING ON TO THE GENUNINE PIM, SO THE  FAKE  PIM WILL BE  SLIGHTLY BIGGER  AND  SOMDEJ SIZE OUT OF  PROPORTION , ARMS  AND BODY SLIGHTLY BIG , IF  YOU HAVE  A  GENUNINE ONE  TO COMPARE  WITH.
THE SACRED POWDER  OF LP  PAE'S SOMDEJ PIMS  ARE SAVED AND KEPT FOR  MANY YEARS BEFORE THEY  ARE  USED  TO MAKE AMULETS. ALSO OLD AMULETS  FROM DIFFERENT TOP  MASTER  ARE USED  FOR  THE FINAL  MIX  TOGETHER .
THE  AROMA  AND  SMELL IS HEAVENLY SWEET  FLOWER , VERY DISTINCTIVE SMELL IN ALL LP PAE'S  POWDERED AMULETS  AND  THIS  IS EXACTLY WHAT IT MUST BE.
EVEN THE COLORFULL POWDER SWIRLING PATTERNS  ARE A  WORK OF  ART.
SOME  SOMDEJ PIM, 3  GOLD  TAKRUTS  ARE INSERTED , 2 BOTTOM AND ONE  TOP.VERY  THIN NEEDLE TAKRUT ON TOP. AND  SOME  ARE  EVEN HIDDEN INSIDE  THE AMULET, IN THE BODY ITSELF, NEED  TO USE X RAY   MACHINE TO  SEE  THIS.
SOME JUST HAVE BRASS , COPPER , LEAD , TIN , GOLD  PAPER , GOLD POWDER , BUDDHA RELICS , GEMSTONES BITS .
THE MOST IMPORTANT ISSUED IN ANY POWDERED AMULET IS  THE POWDER ITSELF . IF YOU CANT  SEE ANY THING THAT LOOKS LIKE AN ORIGINAL LP PAE'S , DROP IT.
THE 1ST STEP  TO LOOKING  AT  GENUINE , INDENFICATION OF  GENUNINE  AMULETS IS , THE PIM ITSELF .
MEANING , YOU  HAVE  TO KNOW WHAT IS  THE PIM NAME , THE EXACT STYLE PRESSINGS.THE  YEAR MADE , THE TEMPLE ISSUE , AND  THE MASTER WHO  MADE IT.
WHICH  MEANS YOU  ARE KNOWLEDGABLE ON THE PIM YOU ARE LOOKING  AT.IF  ALL  THESE POINTS  ARE IN PLACE , NEXT COMES NO 2.
NO2. IS  THE POWDER ,THE  AGE ,THE  HARDNESS WILL TELL  THE  AGE, STUDYING AND  LOOKING AT  THE POWDER  SURFACES WILL TELL ALOT ABOUT THE  MAKER.
NOTHING POWDER WILL TELL YOU NOTHING ABOUT  THE  MAKER.IF IT IS LP PAE 'S  POWDER , IN THIS  CASE YOU WILL BE LOOKING  FOR ALL HIS SACRED POWDER INGREIDENTS.
SO , NO 2 , IS OK , YOU  CAN MOVE ON  TO NO 3.
NO3 IS THE VERY  GOOD CLOSE UP PICTURES , AT CLOSE  AS 150X IF POSSIBLE , THEN ONLY YOU WILL SEE THE EXACT INGREIDENTS AS THE  MAKER  HAS USED TO  MAKE HIS   FAMOUS AMULETS.
FOR  EVEN MORE  SECURED VERIFICATION AND CONFIRMATION , YOU  NEED  TO  SEE  CLOSEUPS  AT 300- 500 X ZOOM PICURES, IN THE  CASE OF  OLD AMULETS , LIKE AJARN TOH'S 2400'S AMULETS OR LP  THUAD 2497 , OR ANY OTHER  METAL BASED AMULETS  TOO.
FROM  THESE MICROSCOPIC ZOOM YOU WILL SEE  EXACTLY THE INGREIDENTS ON THE POWDER  USED, IF  YOU DONT  FIND ANY , YOU CAN THROW IT AWAY.
DONT  FALL FOR  THE CERTIFICATE OR AWARD  WINNING CON SCAM , ITS JUST A  MARKETING SCAM , BECAUSE ITS A  GOOD BELIEVEABLE FIRST LOOK CONVINCING TRICK.A  GOOD SCAM ALWAYS  STARTS WITH  A GOOD LINE OR  WORDS TO TRICK YOU. AND PICTURES ALSO ARE USED .
AND  EVEN SOME SO  CALLED SELF  MADE SIFU AND MASTERS OF  BULLSHIT THEMSELVES WILL ADVICE YOU , WHEN THEY THEMSELVES DONT EVEN KNOW HOW TO  SEE A GENUNINE AMULET. YOU  NEED  TO OWN ONE  TO TELL THE DIFFERENCE .
EXAMPLE ARE SOMDEJ PIMS OF AJARN TOH, ENDLESS FAKES AND  REMAKES.ALMOST 99% OF  THEM.
I  HAVE COUNTLESS OF  THESE  PEOPLE WHO WILL TRY TO  SELL YOU ONE OR  TWO , AJARN SOMDEJ, QUITE DISAPPOINTING , BECAUSE STRAIGHT AWAY YOU WILL  KNOW THIS PERSON IS DOING  A CON ON YOU.
INSTEAD OF  GIVING GOOD  ADVICE AND INSIGHT INTO AMULET INFO, HE IS  TRYING TO TAKE YOU FOR  A SUCKER.
REAL  LP PAE'S OLD PIMS  ARE  VERY EXPENSIVE , ITS  NOT USD  9.90. ITS AROUND RM 700-1K .
 FOR  THIS LP  PAE SOMDEJ PIM KAISER . EXCELLENT ORIGINAL  CONDITION
WITH ORIGINAL  TEMPLE  BOX.
LOVELY  AROMATIC  SACRED SMELL POWDER 
ONE  SILVER  TAKRUT 
100% ABSOLUTE GAURANTEED ORIGINAL LP PAE ISSUED .
NO FAKES , NO REMAKES NO FUNNY PIMS.
FOR  EVEN MORE PICTURES , AT  150 -300 X  ZOOM , GO TO MY  FB ACCOUNT , SOMDEJKING KING . AND  YOUTUBE , CHONG YANNICHONG .
Questions & Comments

---
PAYMENTS THRU MAYBANK TRANSFERS, OVERSEAS BUYER , PAYPAL OR WESTERN UNION.FOR OVERSEAS BUYER PLEASE CONFIRM WHICH TYPE OF PAYMENT.
DELIVERY THRU POSLAJU , FOR LOCAL TOWN , P. MALAYSIA CHARGES ARE RM7 .00 AND EAST MALAYSIA IS RM11.00 FOR NORMAL BELOW 500 GRAMS MAILING. ABOVE 501 GRAMS , POS LAJU CHARGES ARE AS ACCORDING TO POS LAJU RATES.
FOR OUT SIDE MALAYSIA , SHIPPING CHARGES AS ACCORDING TO POST OFFICE .
PLEASE DO INQUIRE , COMMUNICATE WITH ME , IF YOU ARE NOT SURE ABOUT THE ITEMS, OR ANY MATTER BEFORE BIDDING.I WILL REPLY YOU ASAP.
FOR EXPENSIVE OLD AMULETS , PLEASE MAKE VERY SURE YOU KNOW THE ITEM AND YOU UNDERSTAND THOROUGHLY WHAT YOU ARE BIDDING FOR.
ANY QUESTIONS PLEASE ASK .
Questions & Answers
Do you have any questions to ask merchant about this product
Ask Seller