Item Specification
Product Description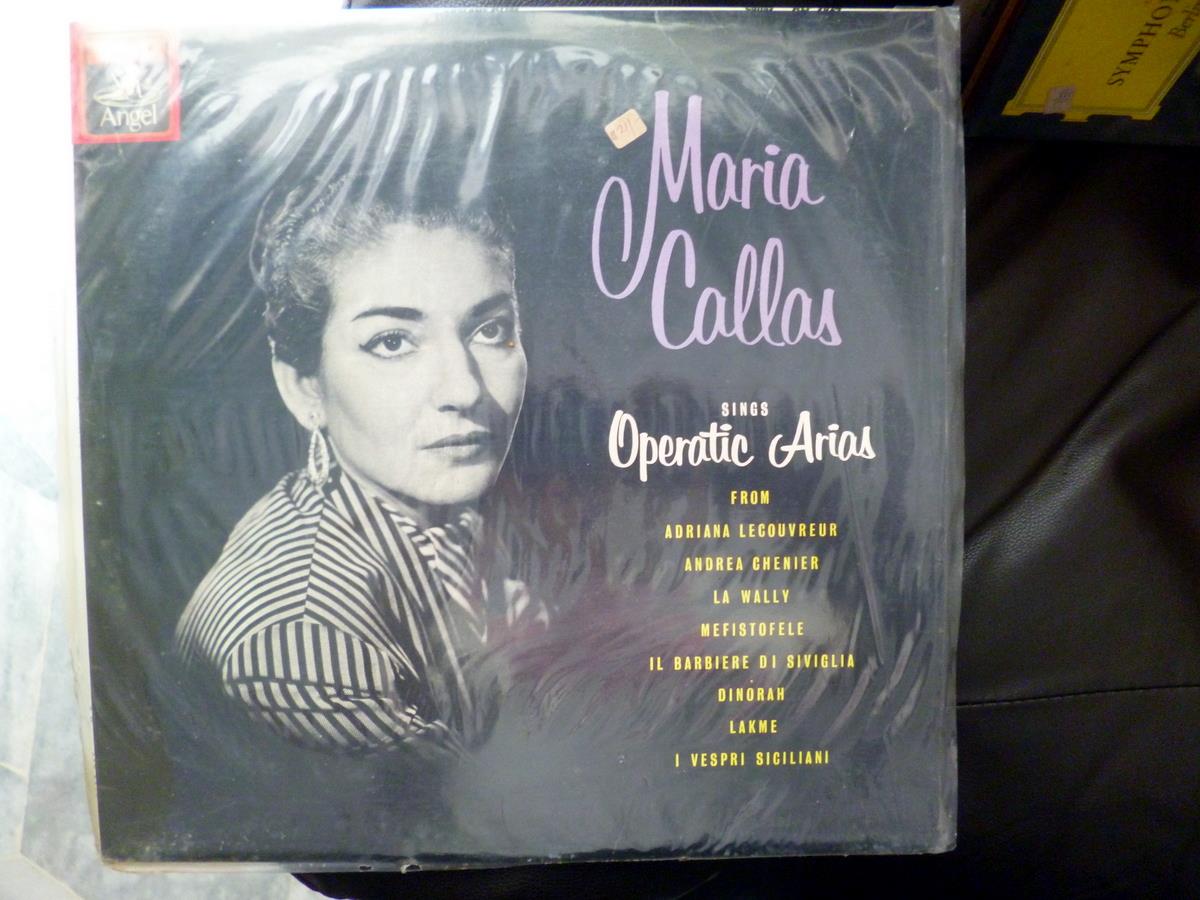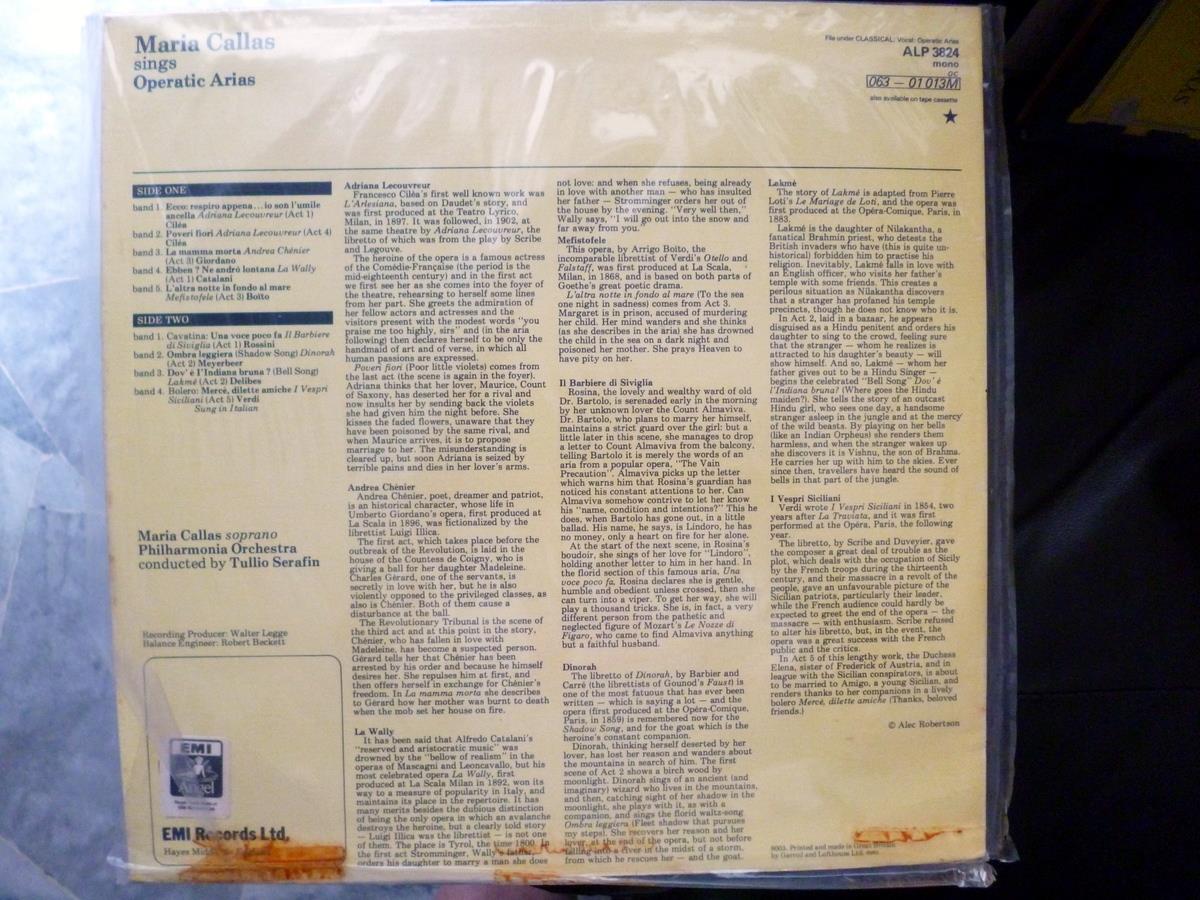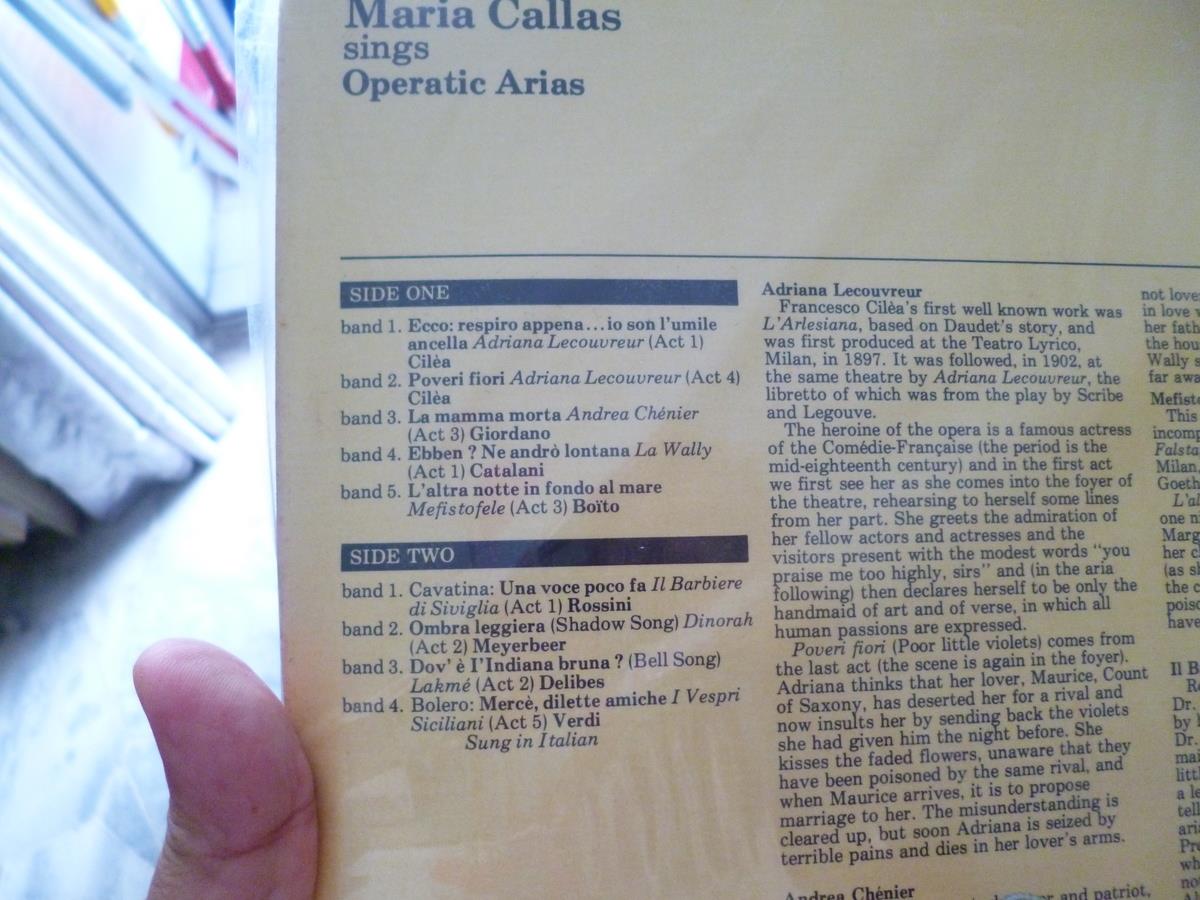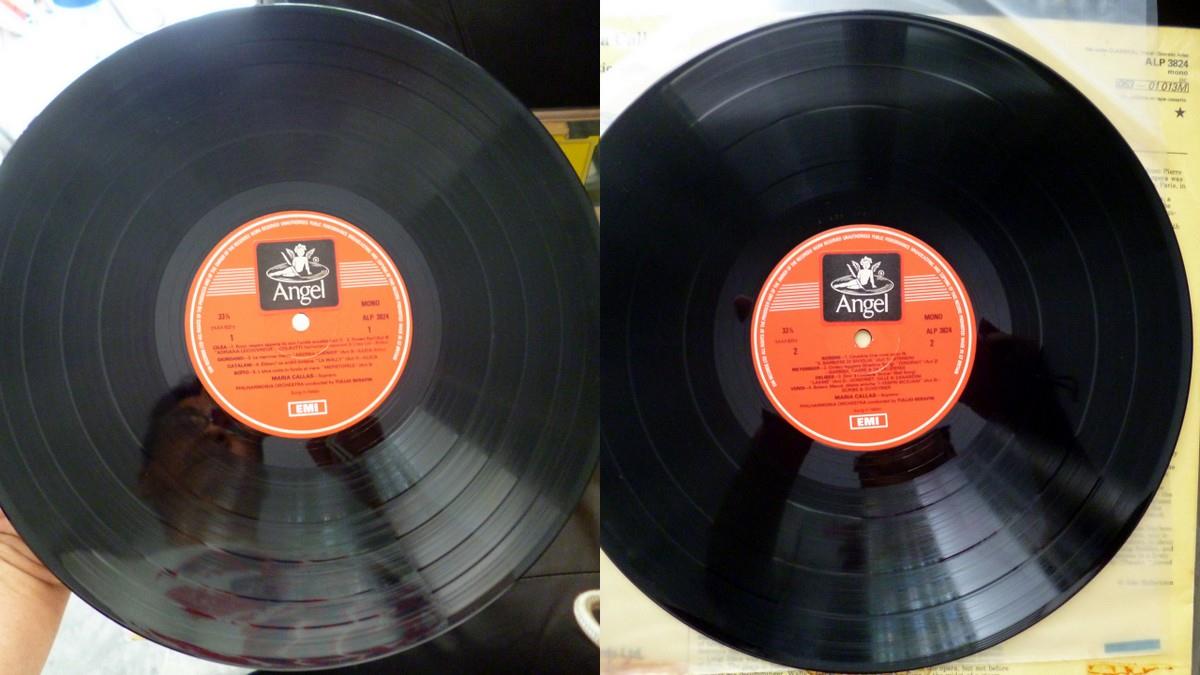 MARIA CALLAS OPERATIC ARIAS RECORD  33 1/3 
EXCELLENT PALYING  CONDITION WITH SLIGHT  STATIC  NOISE
ORIGINAL PRESSING LP
Maria Callas, Commendatore OMRI[1] (Greek: Μαρία Κάλλας; December 2, 1923 – September 16, 1977), was a Greek-American soprano, and one of the most renowned and influential operasingers of the 20th century. Many critics praised her bel canto technique, wide-ranging voice and dramatic interpretations. Her repertoire ranged from classical opera seria to the bel canto operas of Donizetti, Bellini and Rossini and further, to the works of Verdi and Puccini; and, in her early career, to the music dramas of Wagner. Her musical and dramatic talents led to her being hailed as La Divina.
Born in New York City and raised by an overbearing mother, she received her musical education in Greece and established her career in Italy. Forced to deal with the exigencies of wartime poverty and with myopia that left her nearly blind onstage, she endured struggles and scandal over the course of her career. She turned herself from a heavy woman into a svelte and glamorous one after a mid-career weight loss, which might have contributed to her vocal decline
and the premature end of her career. The press exulted in publicizing Callas's temperamental behavior, her supposed rivalry with Renata Tebaldi and her love affair with Greek shipping tycoonAristotle Onassis. Although her dramatic life and personal tragedy have often overshadowed Callas the artist in the popular press, her artistic achievements were such that Leonard Bernstein called her "the Bible of opera"[2] and her influence so enduring that, in 2006, Opera News wrote of her: "Nearly thirty years after her death, she's still the definition of the diva as artist—and still one of classical music's best-selling vocalists."[3]
The great turning point in Callas's career occurred in Venice in 1949.[17] She was engaged to sing the role of Brünnhilde in Die Walküre at the Teatro la Fenice, when Margherita Carosio, who was engaged to sing Elvira in I puritani in the same theatre, fell ill. Unable to find a replacement for Carosio, Serafin told Callas that she would be singing Elvira in six days; when Callas protested that she not only did not know the role, but also had three more Brünnhildes to sing, he told her "I guarantee that you can.".[14]Michael Scott's words, "the notion of any one singer embracing music as divergent in its vocal demands as Wagner's Brünnhilde and Bellini's Elvira in the same career would have been cause enough for surprise; but to attempt to essay them both in the same season seemed like folie de grandeur".[10] Before the performance actually took place, one incredulous critic snorted, "We hear that Serafin has agreed to conduct I puritani with a dramatic soprano ... When can we expect a new edition of La traviata with [baritone] Gino Bechi's Violetta?"[10] After the performance, one critic wrote, "Even the most sceptical had to acknowledge the miracle that Maria Callas accomplished... the flexibility of her limpid, beautifully poised voice, and her splendid high notes. Her interpretation also has a humanity, warmth and expressiveness that one would search for in vain in the fragile, pellucid coldness of other Elviras."[18] Franco Zeffirelli recalled, "What she did in Venice was really incredible. You need to be familiar with opera to realize the enormity of her achievement. It was as if someone asked Birgit Nilsson, who is famous for her great Wagnerian voice, to substitute overnight for Beverly Sills, who is one of the great coloratura sopranos of our time."[13]
Scott asserts that "Of all the many roles Callas undertook, it is doubtful if any had a more far-reaching effect."[10] This initial foray into the bel canto repertoire changed the course of Callas's career and set her on a path leading to Lucia di Lammermoor, La traviata, Armida, La sonnambula, Il pirata, Il turco in Italia, Medea, and Anna Bolena, and reawakened interest in the long-neglected operas of Cherubini, Bellini, Donizetti and Rossini.[13][16]
Callas's voice was and remains controversial; it bothered and disturbed as many as it thrilled and inspired.[16][19] Walter Leggestated that Callas possessed that most essential ingredient for a great singer: an instantly recognizable voice.[30]
During "The Callas Debate", Italian critic Rodolfo Celletti stated, "The timbre of Callas's voice, considered purely as sound, was essentially ugly: it was a thick sound, which gave the impression of dryness, of aridity. It lacked those elements which, in a singer's jargon, are described as velvet and varnish... yet I really believe that part of her appeal was precisely due to this fact. Why? Because for all its natural lack of varnish, velvet and richness, this voice could acquire such distinctive colours and timbres as to be unforgettable."[31] However, in his review of Callas's 1951 live recording of I vespri siciliani, Ira Siff writes, "Accepted wisdom tells us that Callas possessed, even early on, a flawed voice, unattractive by conventional standards—an instrument that signaled from the beginning vocal problems to come. Yet listen to her entrance in this performance and one encounters a rich, spinning sound, ravishing by any standard, capable of delicate dynamic nuance. High notes are free of wobble, chest tones unforced, and the middle register displays none of the "bottled" quality that became more and more pronounced as Callas matured."[32]
Nicola Rossi-Lemeni relates that Callas's mentor Tullio Serafin used to refer to her as "Una grande vociaccia"; he continues, "Vociaccia is a little bit pejorative—it means an ugly voice—but grande means a big voice, a great voice. A great ugly voice, in a way."[33] Callas herself did not like the sound of her own voice; in one of her last interviews, answering whether or not she was able to listen to her own voice, she replies,
Questions & Comments

---
PAYMENTS THRU MAYBANK TRANSFERS, OVERSEAS BUYER , PAYPAL OR WESTERN UNION.FOR OVERSEAS BUYER PLEASE CONFIRM WHICH TYPE OF PAYMENT.
DELIVERY THRU POSLAJU , FOR LOCAL TOWN , P. MALAYSIA CHARGES ARE RM7 .00 AND EAST MALAYSIA IS RM11.00 FOR NORMAL BELOW 500 GRAMS MAILING. ABOVE 501 GRAMS , POS LAJU CHARGES ARE AS ACCORDING TO POS LAJU RATES.
FOR OUT SIDE MALAYSIA , SHIPPING CHARGES AS ACCORDING TO POST OFFICE .
PLEASE DO INQUIRE , COMMUNICATE WITH ME , IF YOU ARE NOT SURE ABOUT THE ITEMS, OR ANY MATTER BEFORE BIDDING.I WILL REPLY YOU ASAP.
FOR EXPENSIVE OLD AMULETS , PLEASE MAKE VERY SURE YOU KNOW THE ITEM AND YOU UNDERSTAND THOROUGHLY WHAT YOU ARE BIDDING FOR.
ANY QUESTIONS PLEASE ASK .
Questions & Answers
Do you have any questions to ask merchant about this product
Ask Seller