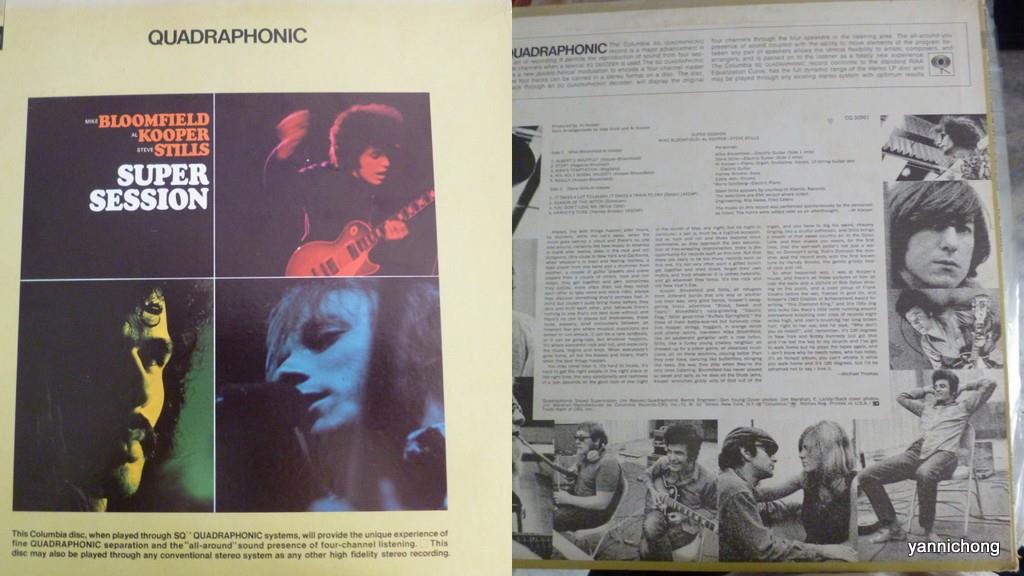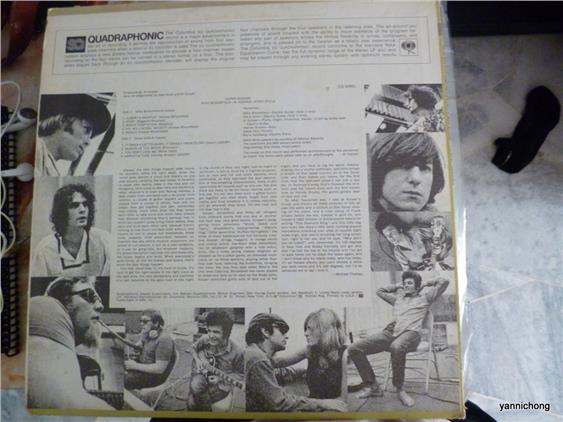 MIKE BLOOMFIELD AL KOOPER VINYL RECORD
COLUMBIA LABEL US PRESSING QUADRAPHONIC GOLD LABEL
RAW BLUES OF BLOOMFIELD AND KOOPER
PLAYS EXCELLENT
Michael Bernard "Mike" Bloomfield (July 28, 1943 – February 15, 1981) was an American guitarist and composer, born in Chicago, Illinois, who became one of the first popular music superstars of the 1960s to earn his reputation almost entirely on his instrumental prowess, since he rarely sang before 1969. Respected for his guitar playing, Bloomfield knew and played with many of Chicago's blues legends before achieving his own fame and was instrumental in popularizing blues music in the mid-1960s. He was ranked number 22 on Rolling Stone's list of "100 Greatest Guitarists of All Time" in 2003[1] and number 42 by the same magazine in 2011.[2] He was inducted into the Blues Hall of Fame in 2012 and, as a member of the Paul Butterfield Blues Band, was inducted into the Rock and Roll Hall of Fame in 2015.
Bloomfield's musical influences include Scotty Moore, Chuck Berry, Little Richard, B.B. King, Big Joe Williams, Otis Rush, Albert King, Freddie King and Ray Charles.[11]
Bloomfield originally used a Fender Telecaster, though he had also used a Fender Duo-Sonic while recording for Columbia following his 1964 signing to the label. During his tenure with the Butterfield Blues Band he used that Tele on the first Butterfield Album and on their earliest tours in fall of 1965. By November he had swapped that guitar with International Submarine Band guitarist John Nuese for Nuese's 1954 Gibson Les Paul Goldtop model, which he used for some of the East-West sessions and which he acquired in Boston.
In 1967 Bloomfield swapped the Goldtop with his friend repairman/musician Dan Erlewine for Dan's 1959 Les Paul Standard and $100. The Les Paul Standard had proven unpopular in the late 1950s because it was deemed too heavy and too expensive by rock and roll guitarists. Gibson discontinued manufacturing the model in 1960. Bloomfield used the Les Paul Standard in the Electric Flag and on the Super Session album and concerts. He later switched between the Les Paul and the Telecaster, but his use of the Les Paul inspired other guitarists to use the model and spurred Gibson to reintroduce the Les Paul Standard in 1968.
Bloomfield eventually lost the guitar in Canada; Wolkin and Keenom's biography revealed that a club owner kept the guitar as partial compensation after Bloomfield cut short a round of appearances. This turned out to be accurate and the gig in question was at the Cave in Vancouver, booked from Tues. Nov. 12th 1974, for five days, until Sat. the 16th. The band played the first night but the next day, MB boarded a plane and flew home to San Francisco with virtually no notice to the club, hotel, or band members, his very close friend Mark Naftalin found a little note on a torn piece of paper in the hotel room that read, "bye bye, sorry". Mike's two guitars had been left at the club so they were retained by club owner Stan Grozina, who wanted compensation for lost revenues. These two guitars were a Tele with a custom blue paint job, and a '59 Les Paul Standard sunburst. Grozina kept these in the "basement" for almost a year, but Bloomfield had not called for them, so they went on sale for $1,000 each.
In mid Oct. '75, a young guitar player from Vancouver/Toronto named Chris Okey had come off the road after six months to replace his drummer, and while backstage at the Cave, heard of two guitars with no details but returned the next day and bought the '59 burst. Just days later, Okey went back on the road but now with drummer Brian Johnstone of "Heart" fame, and a badly beat up Les Paul that was barely playable but sounded great. While that band was reforming the following year, he had the back of the neck refinished by Mike Kinal in Vancouver to make it normally playable, and it did more gigs in BC before Okey worked with it in and around Toronto in '76 and '77. It was sold with a micro-phonic bridge pickup and a growing crack in the headstock/neck in spring of '77 to a collector at the Beaches in Toronto. He had it for sale for a few years with no takers, until one day, an American collector bought three of the four 50's "bursts" that were for sale there, including the Bloomfield, which he still owns to this day.
Bloomfield's original Telecaster was featured in a series of online videos by the Stewart-MacDonald company, a guitar parts and tool merchant, with Dan Erlewine doing the repairs, in 2015 and 2016.
Unlike contemporaries such as Jimi Hendrix and Jeff Beck, Bloomfield rarely experimented with feedback and distortion, preferring a loud but clean, almost chiming sound with a healthy amount of reverb. One of his amplifiers of choice was a 1965 Fender Twin Reverb. His solos, like most blues guitarists', were based primarily on the minor pentatonic scale and the blues scale. However, his liberal use of chromatic notes within the pentatonic framework and his periodic lines based on Indian and Eastern modes allowed a considerable degree of fluidity in his solos. He was also renowned for his use of vibrato.
Gibson has since released a Michael Bloomfield Les Paul—replicating his 1959 Standard—in recognition of his impact on the blues genre, his role in the revived production of the guitar, and his influence on many other guitarists.[12] Because the actual guitar had been unaccounted for so many years, Gibson relied on hundreds of photographs provided by Bloomfield's family to reproduce the guitar. The model comes in two configurations—a clean Vintage Original Specifications (VOS) version, with only Bloomfield's mismatched volume and tone control knobs, missing toggle switch cover, and kidney-shaped tuners replacing the Gibson originals indicating its inspiration and a faithful, process-aged reproduction of the guitar as it was when Bloomfield played it last, complete with the finish smudge below the bridge and various nicks and smudges elsewhere around the body.
His influence among contemporary guitarists continues to be widely felt, primarily in the techniques of vibrato, natural sustain, and economy of notes. Guitarists such as Joe Bonamassa, Arlen Roth, Carlos Santana, Slash, Jimmy Vivino, Chuck Hammer, Eric Johnson, Elliot Easton, Robben Ford, John Scofield, Jimmy Herring, Phil Keaggy, and G.E. Smith remain essentially influenced by Bloomfield's early recorded work.
Bloomfield also made an impact through his work with Al Kooper, who had played with Bloomfield on Dylan's "Like a Rolling Stone". Kooper had become an A&R man for Columbia Records, and Bloomfield and Kooper had played piano on Moby Grape's 1968 Grape Jam, an instrumental album that had been packaged with the group's Wow collection.
"Why not do an entire jam album together?" Kooper remembered in 1998, writing the booklet notes for the Bloomfield anthology Don't Say That I Ain't Your Man: Essential Blues, 1964–1969. "At the time, most jazz albums were made using this modus operandi: pick a leader or two co-leaders, hire appropriate sidemen, pick some tunes, make some up and record an entire album on the fly in one or two days. Why not try and legitimize rock by adhering to these standards? In addition, as a fan, I was dissatisfied with Bloomfield's recorded studio output up until then. It seemed that his studio work was inhibited and reined in, compared to his incendiary live performances. Could I put him in a studio setting where he could feel free to just burn like he did in live performances?"
The result was Super Session, a jam album that spotlighted Bloomfield's guitar skills on one side. Bloomfield, who suffered from insomnia, left the sessions after the first day. Guitarist Stephen Stills completed the album with Kooper. . It received excellent reviews and became the best-selling album of Bloomfield's career. Its success led to a live sequel, The Live Adventures of Mike Bloomfield and Al Kooper, recorded over three nights at Fillmore West in September 1968.
Kooper, born in Brooklyn,[1] grew up in a Jewish family[2] in Hollis Hills, Queens, New York. His first musical success was as a 14-year-old guitarist in the Royal Teens, best known for their 1958 ABC Records novelty 12-bar blues riff, "Short Shorts". In 1960, he joined the songwriting team of Bob Brass and Irwin Levine and with them wrote "This Diamond Ring", which became a hit for Gary Lewis and the Playboys, and "I Must Be Seeing Things", a hit for Gene Pitney (both 1965). When he was 21, Kooper moved to Greenwich Village.
He performed with Bob Dylan in concert in 1965, including playing Hammond organ with Dylan at the Newport Folk Festival, and in the recording studio in 1965 and 1966. Kooper also played the Hammond organ riffs on Dylan's "Like a Rolling Stone". It was in those recording sessions that Kooper met and befriended Mike Bloomfield, whose guitar playing he admired. He worked extensively with Bloomfield for several years. Kooper played organ once again with Dylan during his 1981 world tour.
Kooper joined the Blues Project as their keyboardist in 1965; he left the band shortly before their gig at the Monterey Pop Festival in 1967. He formed Blood, Sweat & Tears in 1967, leaving due to creative differences in 1968, after the release of the group's first album, Child Is Father to the Man.[3] He recorded Super Session with Bloomfield and Stills in 1968,[4] and in 1969 he collaborated with 15-year-old guitarist Shuggie Otis on the album Kooper Session. In 1975 he produced the debut album by the Tubes.
Kooper has played on hundreds of records, including ones by the Rolling Stones, B. B. King, the Who, the Jimi Hendrix Experience, Alice Cooper, and Cream. On occasion, he has even overdubbed his own efforts, as on The Live Adventures of Mike Bloomfield and Al Kooper and other albums, under the pseudonym "Roosevelt Gook".[5] After moving to Atlanta in 1972, he discovered the band Lynyrd Skynyrd, and produced and performed on their first three albums, including the single "Sweet Home Alabama" and "Free Bird".
He wrote the score for the TV series Crime Story and for the film The Landlord and wrote music for several made-for-television movies. He was the musical force behind many of the pop tunes, including "You're the Lovin' End", for The Banana Splits, a children's television program.
During the late 1980s Kooper had his own dedicated keyboard studio room in the historic Sound Emporium recording studio in Nashville, next to studio B.
"I'm so pleased to be in Britain, I could just sit and pour tea over my head."
Al Kooper
[6]
Kooper published a memoir, Backstage Passes: Rock 'n' Roll Life in the Sixties (1977), which was revised and published as Backstage Passes and Backstabbing Bastards: Memoirs of a Rock 'n' Roll Survivor (1998). The revised edition includes indictments of "manipulators" in the music industry, including his one-time business manager, Stan Polley. Kooper's status as a published author enabled him to join (and act as musical director of) the Rock Bottom Remainders, a band made up of writers, including Dave Barry, Stephen King, Amy Tan, and Matt Groening.
Kooper is retired from teaching songwriting and recording production at Berklee College of Music, in Boston, and plays weekend concerts with his bands the ReKooperators and the Funky Faculty. In 2008, he participated in the production of the album Psalngs,[7] the debut release of Canadian musician John Lefebvre.
Kooper was inducted into the Musicians Hall of Fame and Museum, in Nashville, in 2008.[8]
In 2005, Martin Scorsese produced a documentary titled No Direction Home: Bob Dylan for the PBS American Masters Series in which Kooper's contributions are recognized.
Al Kooper is most notable as the driving force behind the multi-platinum albums, Super Session (with Stephen Stills and Mike Bloomfield) (1968) and Blood, Sweat & Tears (1968), as well as playing the organ parts of Bob Dylan's "Like a Rolling Stone" and with Michael Bloomfield, at Dylan's infamous 'electric folk' gig at the Newport Folk Festival (1965).
Kooper had been invited to the session as an observer and hoped to be allowed to sit in on guitar, his primary instrument. He uncased his guitar and began tuning it. After hearing Mike Bloomfield, who was the hired session guitarist, warming up, he concluded that Bloomfield at that point was a much better guitarist, so Kooper put his guitar aside and retreated into the control room.
As the recording sessions progressed, keyboardist Paul Griffin was moved from the Hammond organ to piano. Kooper quickly suggested to producer Tom Wilson that he had a "great organ part" for the song (which he later confessed was just a ruse to play in the session), and Wilson responded, "Al, you're not an organ player, you're a guitar player", but Kooper stood his ground. Before Wilson could explicitly reject Kooper's suggestion, he was interrupted by a phone call in the control room. Kooper immediately went into the studio and sat down at the organ, though he had rarely played organ before the session. When Wilson returned, he was shocked to find Kooper in the studio. By this time, Kooper had been playing along with Dylan and his backing band. His organ can be heard coming in an eighth note behind the other members of the band, as Kooper followed to make sure he was playing the proper chords. During a playback of tracks in the control room, when asked about the organ track, Dylan was emphatic: "Turn the organ up!"[9]
Sample of "I Can't Quit Her". From the album Rare and Well-Done.

---

Problems playing this file? See media help.
Sample of "Flute Thing". From the album Rare + Well-Done.

---

Problems playing this file? See media help.
Black Coffee (August 2005)
White Chocolate (2008)[1]
Soul of a Man (February 1995)
Sample of "Albert's Shuffle". From the album Super Session.

---

Problems playing this file? See media help.
"The 30th Anniversary Concert - Bob Dylan 1992"