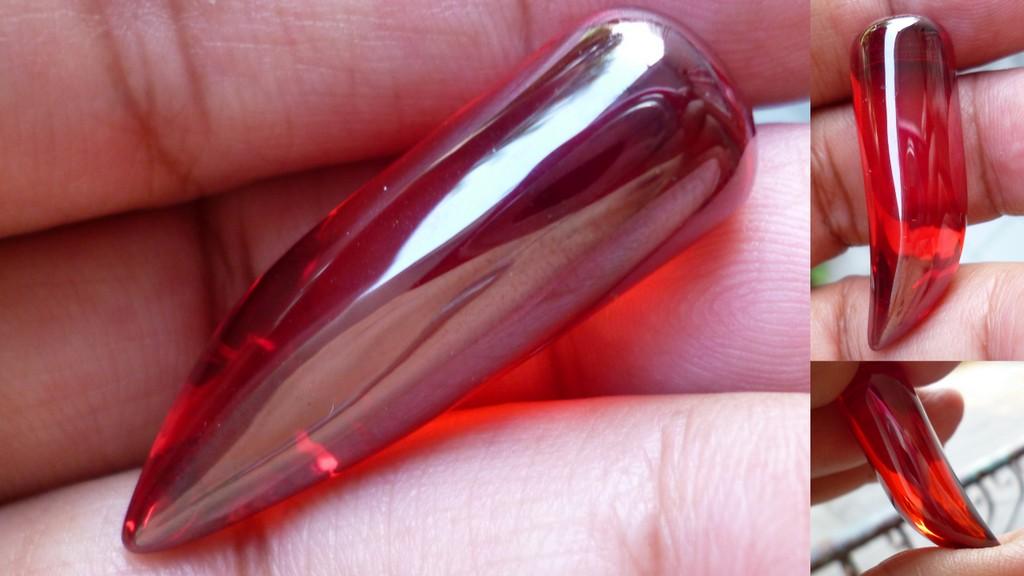 INCREDIBLE  LOVELY TIGER  TOOTH SHAPED NAGA  GEMSTONE
FLAWLESS  BEAUTY
SACRED AUTHENTIC REAL DRAGON NAGA EYE STONE FROM THAILAND NONGKHAI DISTRICT 
SUPERB BEAUTY LUSTER , ALL NATURAL GEMSTONE QUALITY LIKE 
THSI NAGA EYE IS ALL NATURAL FORMED THOUSANDS OF YEARS AGO , OBTAINED FROM INSIDE A LARGE BOULDER ROCK FOUND DEEP UNDER THE MEKONG RIVER THAT FLOWS THRU THE MOUNTAINS REGIONS INSIDE THAILAND.REAL NAGA EYE STONES DONT SELL FOR RM30 OR RM 50, ITS AS RARE AS LEKLAI .IN BANGKOK A 30- 40 MM SIZE , WILL EASILY COST RM 700.00 ABOVE
ITS AMAZING THAT SUCH A SUPERB HIGH QUALITY GEMSTONE LIKE , NAGA EYE CAN BE FORMED WITHOUT HUMAN INTERFERANCE , LIKE CUTTING  AND POLISHING THESE STONES.
AS IN ANY PRECIOUS GEMSTONES , EXAMPLE LIIKE SAPPHIRE STONES, IT NEEDS TO BE CUT ,POLISHED TO PERFECT ION, BUT THESE NAGA EYE STONES JUST APPEARS AS THEY ARE ALREADY CUT AND POLISHED.
EACH AND EVERY NAGA EYE STONE LUSTER IS SUPERB AND WONDERFULL AND ITS NOT EVEN POLISH????
BY LOOKING BELOW THE STONE/CRYSTAL STRUCTURE OF ALL THE NATURAL STONES ON EARTH , NONE SEEM TO MATCH THESE NAGA EYE STONES.  
EACH NAGA EYE STONE DOES NOT HAVE ANY FACETED CUT OR SEAMS .
BELOW AN EXPLANATION ON GEMSTONES FOUND IN NATURE:
Gemstones - the word itself brings to ones mind an extravagant range of colourful stones. Some of us only relate gemstones to the nine-navagraha stones and for some other it may mean only diamond, ruby, sapphire and emerald. However, gemstones are much more than just a few stones that we frequently come across. Gemstones are found in all hues that the human eye can think of. So what are these gem stones made of? How are they produced? Where are they found? What exactly makes a gemstone a gem? Are all the stones that are found in nature be qualifies as a gem material? Or all the material that is used in jewellery like bones, seeds, wood etc. also is qualified as gem material? Where are these natural and precious gem stones found ?
Most of the gem material is found in nature and each stone take million s and millions of years to form. The low cooling of the earth's molten lava and chemicals gives birth to a natural gemstone. It requires a combination of prefect chemical composition, temperature and pressure to be formed into a crystal. Most gem roughs are a part of a crystal. A regular arrangement of atoms in a defined order results in a framework of atoms, this is the basic form of a crystal. These are mostly minerals or rocks that are hidden in the earths crust which come to the earth's surface over a period of time or need to be mined in order to be obtained. These are called inorganic gemstone for e.g. Diamond, ruby, sapphire, emeralds etc. The other type of gemstone is the organic gems that mostly come from plants and animals and don't have a definite crystal structure and are called amorphous gems for e.g. Pearls, amber, coral, ivory, jet etc.What make a mineral a valuable gem ?
There are certain qualities that a gem must possess to be called as a gemstone. Most of the gem materials are minerals and are formed in the earths crust. However some of the gem materials like coral, amber, ivory, turtle shell, pearls etc. are organic substances that is they come from plants and animal origin. The three attributes that make these organic and inorganic gem material valuable are its beauty, rarity and durability.