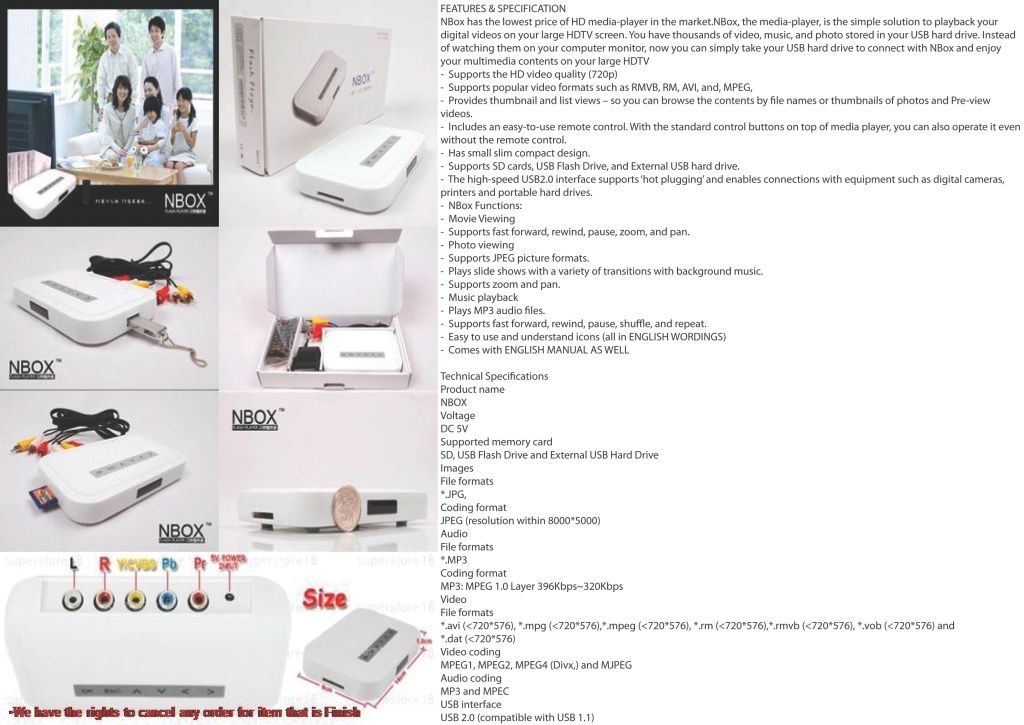 As mentioned, this is a GENUINE (ENGLISH VERSION) NBOX HDTV HD Media player, plays RMVB, AVI, MPEG video USB Drive + SD Support for auction.
The set is a BRAND NEW SET.
Comes with 3 Months Full Manufacturer's Warranty
Specifications
FEATURES & SPECIFICATION
NBox has the lowest price of HD media-player in the market.NBox, the media-player, is the simple solution to playback your digital videos on your large HDTV screen. You have thousands of video, music, and photo stored in your USB hard drive. Instead of watching them on your computer monitor, now you can simply take your USB hard drive to connect with NBox and enjoy your multimedia contents on your large HDTV
- Supports the HD video quality (720p)
- Supports popular video formats such as RMVB, RM, AVI, and, MPEG,
- Provides thumbnail and list views – so you can browse the contents by file names or thumbnails of photos and Pre-view videos.
- Includes an easy-to-use remote control. With the standard control buttons on top of media player, you can also operate it even without the remote control.
- Has small slim compact design.
- Supports SD cards, USB Flash Drive, and External USB hard drive.
- The high-speed USB2.0 interface supports 'hot plugging' and enables connections with equipment such as digital cameras, printers and portable hard drives.
- NBox Functions:
- Movie Viewing
- Supports fast forward, rewind, pause, zoom, and pan.
- Photo viewing
- Supports JPEG picture formats.
- Plays slide shows with a variety of transitions with background music.
- Supports zoom and pan.
- Music playback
- Plays MP3 audio files.
- Supports fast forward, rewind, pause, shuffle, and repeat.
- Easy to use and understand icons (all in ENGLISH WORDINGS)
- Comes with ENGLISH MANUAL AS WELL

Technical Specifications
Product name
NBOX
Voltage
DC 5V
Supported memory card
SD, USB Flash Drive and External USB Hard Drive
Images
File formats
*.JPG,
Coding format
JPEG (resolution within 8000*5000)
Audio
File formats
*.MP3
Coding format
MP3: MPEG 1.0 Layer 396Kbps~320Kbps
Video
File formats
*.avi (<720*576), *.mpg (<720*576),

*.mpeg (<720*576), *.rm (<720*576),

*.rmvb (<720*576), *.vob (<720*576) and

*.dat (<720*576)

Video coding
MPEG1, MPEG2, MPEG4 (Divx,) and MJPEG

Audio coding
MP3 and MPEC

USB interface
USB 2.0 (compatible with USB 1.1)

Package Contents
1 NBox Media Player
1 Remote control with batteries (English Version)
1 set of composite video / audio connecting lines
1set component cable (for free)
1 power adapter
1 User Guide (English Version)
Warranty: 3 Months (Player only) (Power Adaptor and Remote Control not include)