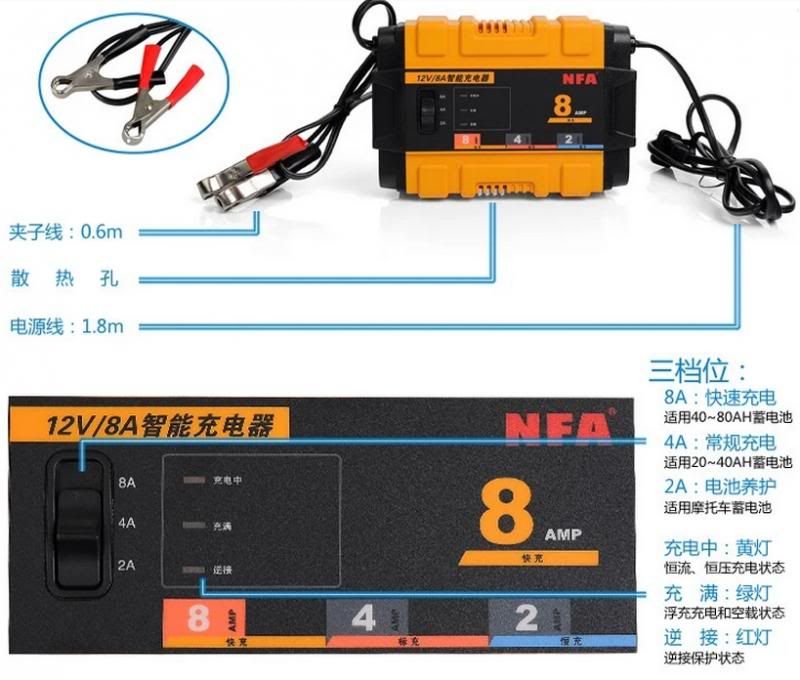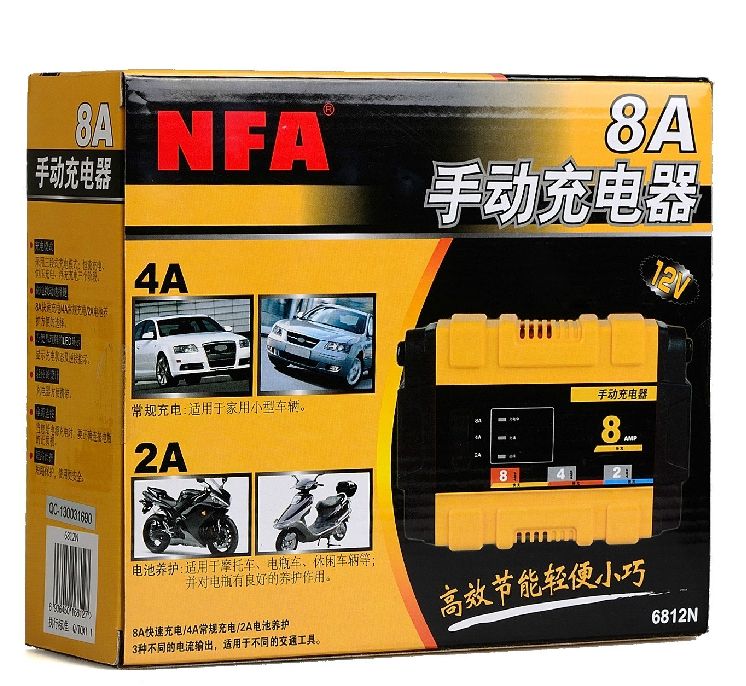 To Maintain Battery In Good Condition.
Name: NFA NFA 8A Battery Charger 6812N (N is upgraded version)
Input Voltage: AC 220V / 50HZ Input Current: 0.7A
Maximum output current: 8±0.5A Constant output voltage: 14.2±0.3V
Constant output voltage: (14.2V Floating Output Voltage: 13.5±0.3V
Battery Type: Capacity is greater than the voltage of 12V 6AH Operating Temperature: -20℃~+40℃
Size: 185*128*63mm (L * W * H) Power cord length: 1.8m
Clip length: 0.6m Product Weight: 0.85KG
*Charging mode: Three-stage charging mode , constant current charging, constant voltage charging, floating charge
*Charging options: 8A Fast charge / 4A normal charge / 2A Battery Maintenance / automatic charging , convenient choice
Key Features
1) Three-stage constant current charging constant voltage charging floating charge
2) With short circuit protection, reverse polarity protection , overshoot protection
3) LED lights indicate charging status
4) Battery repair circuit effectively extend battery life
5) Energy efficient, compact and lightweight
6) PCB using dipping process , strong corrosion resistance
Applicable models (12V 10AH-80AH Battery)
1 Fast Charge (8A) 40-80AH Battery (Around 6 hours)
2 Normal charge (4A) 20-40AH Battery (Around 12 hours)
3 Battery Maintenance (2A) Motorcycle Battery (Around 4-5 hours)
Suitable For Battery: 12V 7AH-80AH
(Make sure open air outdoor charging and remove the battery cap while charging)
6 Months warranty
Note: The Charger won't fix totally flat battery or Malfunction battery, Battery less than 9V, Will not able to charge. Pls replace new battery.