ONE merupakan sebuah jenama telco TERBARU kini memasuki pasaran industri telekomunikasi Malaysia.
Bermula di pasaran pada 31 OGOS 2012 kini ONE Salam melangkah jauh kehadapan mengatasi jualan semua perkhidmatan telco yang sedang beroperasi.
Kadar panggilan suara serendah 7.5sen
Blok panggilan suara: 30 saat
Kadar family & friends (fnf): 6sen (panggilan suara), 2sen (sms)
PERCUMA: 1,800 sms
Dengan kemudahan reload/credit transfer
Pelan data (3.5G/HSDPA) secara harian & bulanan yang murah
Insentif kekalkan pengguna: 10% dari jumlah topup pelanggan (dibayar setiap bulan)
Tambah nilai prabayar boleh diperolehi di semua outlet e-Pay, 7-Eleven, Pejabat Pos, Mobility One, Stesyen Minyak, dll
Website: http://www.onetelco.my/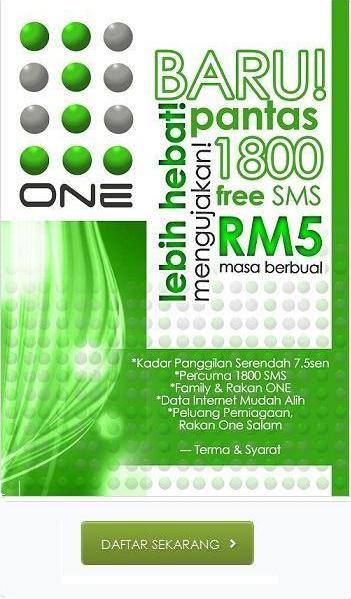 1.) My numbers are for value seekers only, NOT LOW BALLER.
2.) All price stated are NETT and FINAL. (I believe my price are fair and reasonable enough.)
3.) NO NEGO, NO BEST PRICE, NO LAST PRICE. (Save your credit and time from asking me that.)
4.) All item will be send out by POSLAJU. If you request for other courier, you pay the extras.
5.) COD only in BANGI or PUTRAJAYA. (Follow my time)
6.) NO RESERVATION unless deposit is given.
7.) Prices are subject to changes from time to time without prior notice.
8.) Postage risk is bear solely by the buyer.
9.) T&C are subject to changes.
10.) PLEASE READ from 1 to 10 again.
11.) I myself dont want to come up with such T&C. But i`m just very tired of some people`s action.