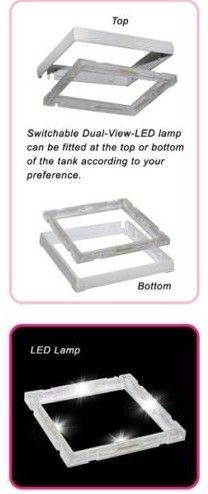 The Bettaspace, where nature, art and innovation comes together !
The LED illuminated frames can be placed either at the top or the bottom of your tank according to your preference.
For the first time ever, the clever switchable Dual-View LED lamp design allows you to create different lighting and visual impact as you please.
The timeless minimalistic design makes it a pleasing decorative piece in any home, office or study etc.
BETTA SPACE HIGH CLARITY GLASS NANO TANK WITH LED LIGHTS
Size : 15.5cm x 15.5cm x 20.5cm (4.95L)
Color : Black
Contact : 019 2883311

Last Updated @ 9/15/2016 6:41:13 PM