Item Specification
Product Description
Openbox i-Box F3 Full HD 1080p PVR Receiver Latest Model
HD has arrived! Can completely replace the DM Series, becoming the mainstream DVB-S2 HD and SD viewing platform!
This machine is absolute powerhouse! Using Latest Chipset (Dual CPU, 396Mhz) and DDR2 RAM. It completely defected DM800! ! ! Built in robust casing design! More durable and stable. Run amazing faster and better than previous model e.g. S12, S11 and S10. It also support 1080p Video output and smooth 1080p mkv playback. 


Function: CA CI USB PVR HDMI INTERNET DVB S2
Support: Main board (DB-M3601-02V01), ALi 48 Keys IR controller, USB HDD BOX (customer option)
Equipment Output: HDMI (576i, 576p, 720p, 1080p), CVBS, YPBPR, SCART
Whether the full share: support (agreement with CCCAM, NEWCAM, MGCARD)
Random device accessories: remote control, manual.

Note:
The i-Box F3 come with authorized DOLBY AC3 license KEY, can decode AC3 sound properly.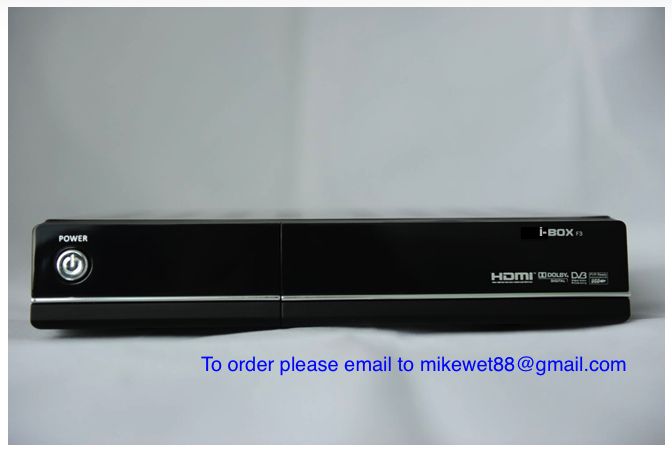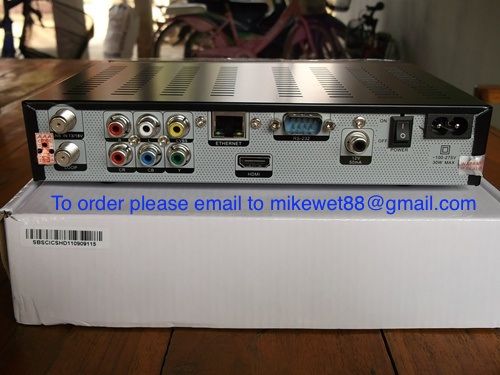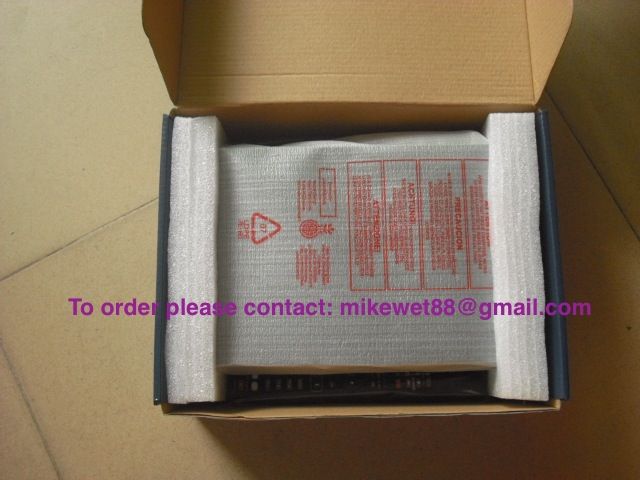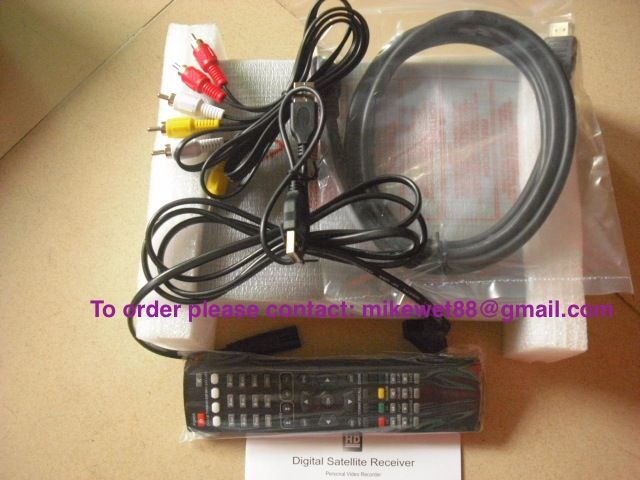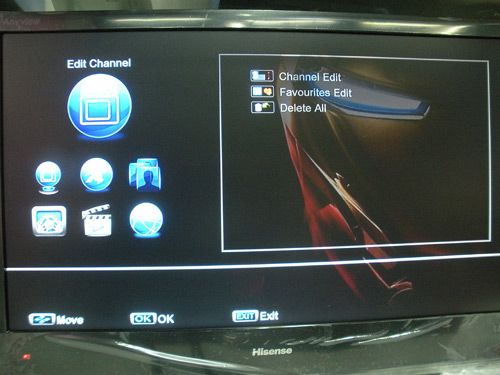 What u need to watch tv from i-Box F3:
i-Box F3 Full HD Receiver
CS Service
Internet Connection Using LAN cable (Streamyx/Unifi/P1/Celcom/Maxis) * must be stable
1 Dish Axtxo

1. GENERAL INFORMATION:
1) CPU: Ali3601, 128MB DDRII RAM
2) Full 1080p Video Output
3) Media File Playback (from USB stick/HDD). Support 1080p mkv media; 
4) Tuner: DVB-S2. Can receive more channels than DM800HD;
5) HDMI 1.3/ 1.4 Compatible

2. Main FEATURES:
1) Dual CPU, 396 MHz MIPS Processor 
2) Fully compliant MPEG-4 H. 264/AVC Main Profile Level 3 & High Profile Level 4.1; 
3) Fully compliant MPEG-2 MP@HL & MP@ML; 
4) Fully compliant MPEG-1 Layer I & II & III, Dolby Digital Audio(AC3) Compliance; 
5) SCPC & MCPC receivable from C/Ku/S band satellites; 
6) Multiple LNB-Switching control (supports DiSEqC1.0/1.1/unicable/1.2/1.3(USALS);
7) NIT search supported; 
8) Support MHEG-5; 
9) Support HDMI 1.3 and 1.4
10) Support PVR(store in USB disk); 
11) Multimedia files playback(by USB); 
12) Support Electronic Program Guide(EPG) for 7 days;
13) Teletext and subtitle out through OSD; 
14) Support multi-lingual DVB subtitle and teletext; 
15) Automatic and manual channel scan options;  Automatic service scan
16) Automatic service scan 
17) Channel-change time < 1 second 
18) OSD in many languages and skin-support
19) Multilingual support on screen menu (OSD): English, French, Deutsch, 
Italian, Spanish, Swedish, Danish, Greece, Portuguese, Finland, Holland, 
Turkish, Czech, selectable;
20) Upgrade Software & Update Channel Database through USB2.0 port or PC software
21) Multiple display mode: 1080p/1080I/720p/570p/576I/480p; Screen format: 4:3/16:9 Auto
22) MPEG-2 / H. 264 Hardware decoding, Videotext decoder 
23) CA (One Slot), 10/100 Mbit Ethernat Interface

Package include:
1) 1 X i-Box F3 HD
2) 1 X Remote Control (Latest V3 version)
3) 1 X Audio/Video Cable
We also have cline to sell separately
Advanage on our cline:
1) True Dual Axtr0 Servers hosted in different datacenter. Using server grade hardware (If 1 server down, another wil backup. You can still enjoy your favourite channels) 
2) Support First movie now!
3) Dedicated personnel to monitor/ maintenace 24/7
4) Bonus, Additional Pay TV!
- 78.5Ku (Th@ic0m5) Tru3Visi0n - 3 HD channels
- 88.0C & 88.0Ku (ST-2) offer latest Taiwan Variety shown, Hokkien/Mandarin Drama Series
- 100.5ku (Asi@sat 5)
- 108.0C (T3lk0m1) T3lk0mVisi0n 
- 108.2S (S3s7) Ind0Visi0n - Super Galaxy pakage: more than 100+ channels 
- 115.5C (Ch1naSat 6B) - 2 HD channels.
- 125.5C (Ch1naSat 6A)
- 128.8C (JCS@t 3A)
- 132.0Ku (V1n@Sat 1) K+ & VTSee Digital: 12 HD channels.


Contact: mikewet88@gmail.com
MSN: mikewet88@hotmail.com
My Openbox S9 HD stock photos below: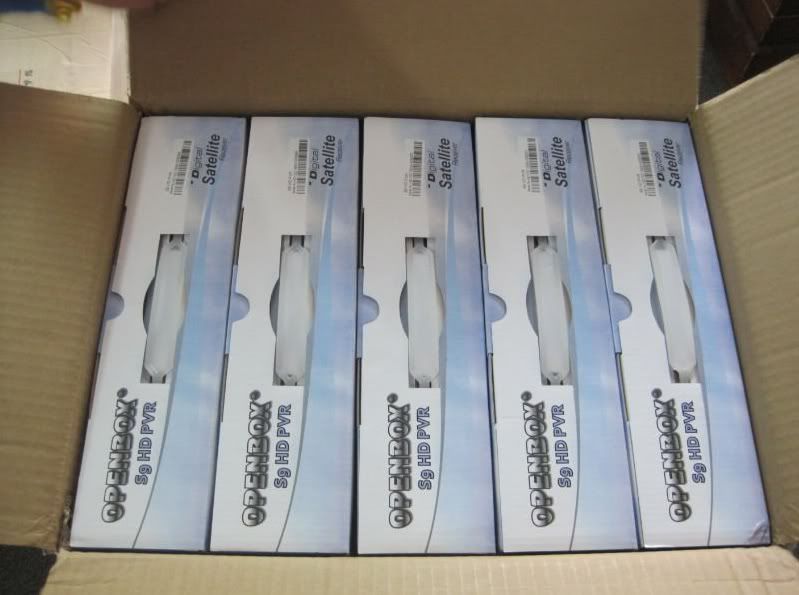 Last Updated @ 6/26/2012 1:46:27 PM

Last Updated @ 8/21/2012 8:57:02 PM
Recently Viewed Items
---
Questions & Answers
Do you have any questions to ask merchant about this product
Ask Seller