The Party Bullet Perfect Drink Making System gives you all the power and time-saving benefits of the Magic Bullet PLUS the ALL NEW festive Spin and Sip Goblets. Blend and serve frozen party drinks in the same goblet 
The new Mixmaster Blade whips cream, muddles, ingredients and blends the freshest drinks ever. Whether you're making cocktails for one or four, it always feels like a party
32-ounce party pitcher with lid is perfect for blending frozen drinks for a large group of people
High-torque power base uses all the power behind the original magic bullet to bring your drinks to life
The new stainless steel mixmaster blade whips cream, muddles, ingredients and blends the freshest drinks
Includes 4 spin and sip party goblets with 4 comfort rings
Convenient shaker top with pop lid for measured pouring lets you measure and strain ingredients like a pro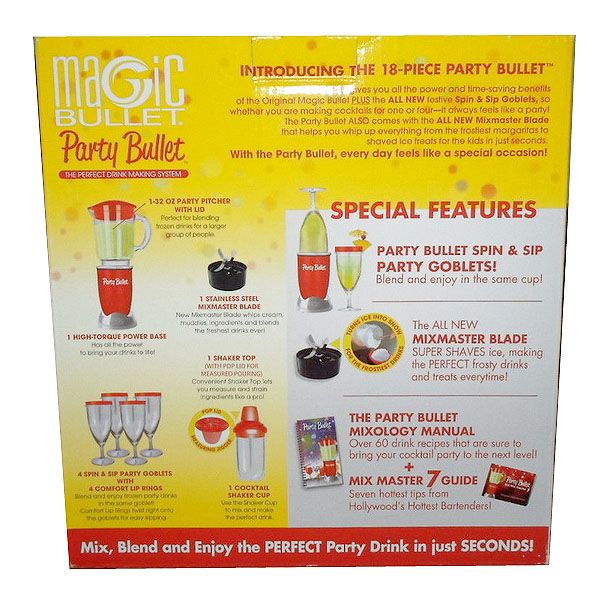 The Power Base
The Power Base is the heart of the Party Bullet. Thanks to its unique design, there are no buttons to press, no complicated manuals to read. Just press the pitcher or goblet onto the powerful 250 watt motor and twist. It doesn't get any easier!
The Yuki Blade
The revolutionary Yuki Blade instantly turns ice to snow, whips cream, shaves ice, muddles herbs and blends the freshest, frostiest drinks and treats ever! The blade is made of stainless steel, so it's dishwasher safe and never needs sharpening.
4 Spin & Sip Goblets
Prepare and enjoy your favorite frosty beverages in the same cup! The comfort lip rings twist right onto the goblets for easy sipping. These festive cups turn any occasion into a special occasion.
The Cocktail Shaker
Mix up the perfect cocktail every time with the Party Bullet Shaker Cup. It's convenient pop-top lid becomes a measuring jigger and strainer, making it easy to concoct everything from classic cocktails to your own original masterpieces in just seconds!
The Party Pitcher
This large 32-ounce pitcher is perfect for blending your favorite festive drinks for a crowd. Just twist on the Yuki Blade and you're ready to start the party!
The Party Bullet Mixology Manual
Over 60 drink recipes that are sure to bring your cocktail party to the next level! Whether you are a seasoned mixologist, or just starting on your path to becoming the perfect party drink maker, this step-by-step manual is for you!
Mix Master 7 Guide
It's all about the details. 7 hot tips from Hollywood's Hottest Bartenders are just what you need to make the perfect party drink... every time!