Lelong.my merchants can now integrate PayPal as an additional payment option to increase their sales, expand globally, attract more buyers, and keep their business secure.
Dear Lelongers!
The day you been anticipated is here now. We know most of our lelongers are already a paypal users! Lelongers are always the most advanced internet retailers in Malaysia. (don't be shy to admit that).


Today, You, Lelong and Paypal, together, we start a new era in Internet Shopping in Malaysia!

Lelong have fully integrate Paypal into our system, You can now have a single checkout using Lelong Paypal System in both your Auction and Buynow.
If you are accepting paypal in Lelong, you will soon see how it can have great impact in your business in lelong!

So, please login to your store account, start activitating your paypal in Lelong (see from the tab below) and see your business explodes! At our end, we will continuously improving the shopping checkout experience to make it as sweet as possible for buyers. We welcome any input from you to make it even better!
And our marketing are cracking their head to think of more, if you have ideas, do contribute to us via email: paypal@lelong.com.my
So, What are you waiting for ? Login and Activate your Lelong Paypal Now!
"PayPal is committed to making sure that the transactions are secure. This really seems to reassure buyers."
- Kurt Denke, BlueJeansCable.com
Read More

How much will it cost?
PayPal has no set-up or monthly fees.  Pay only a nominal transaction fee with PayPal when you receive a payment (8). However there is activication fee in Lelong RM39.90 per year.
See transaction fees.
3 Easy steps to activate Paypal in Lelong.my:
1. Login to your Lelong Store Account and Make a Request to use Paypal!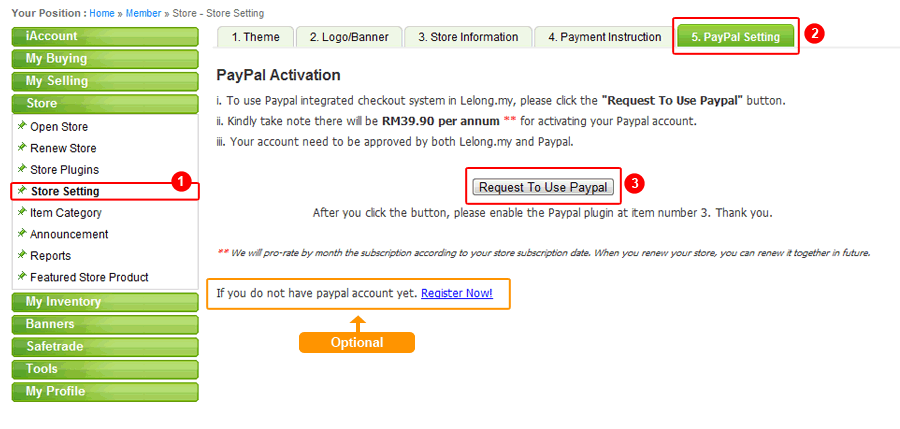 2. Entering your PayPal email address &Type of products you are selling.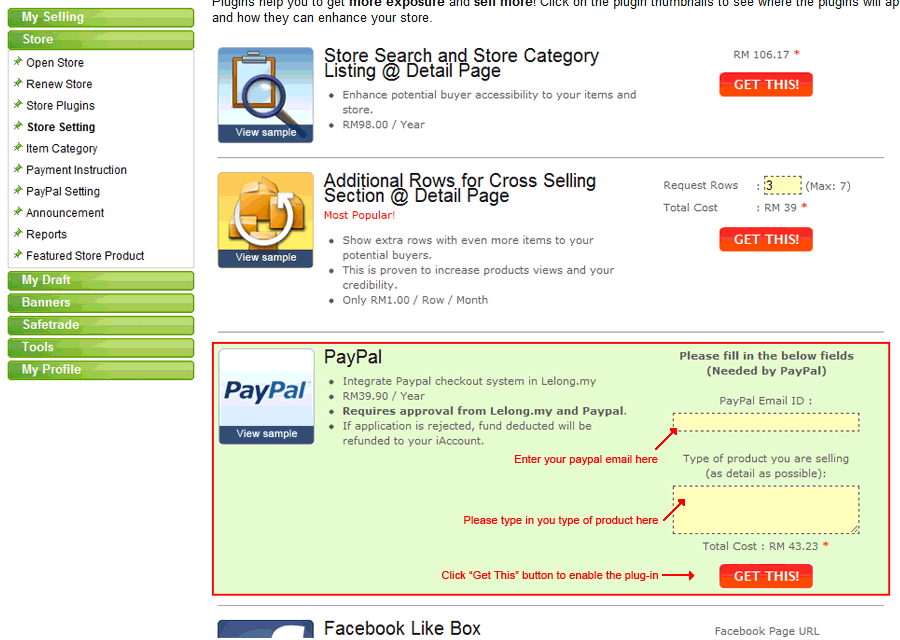 3. After enabling plugin, you need to wait for lelong and paypal approval.
Once it is approved, this is how your PayPal Setting look like. Enter your paypal email again and click "Save".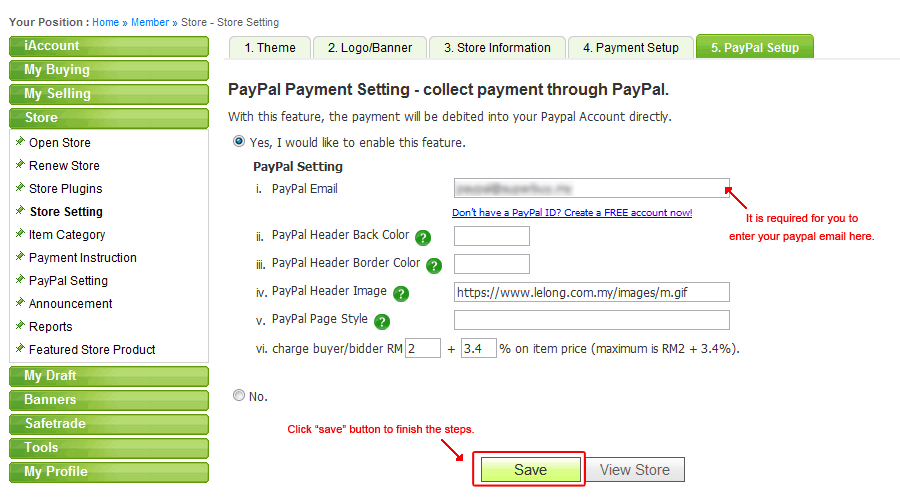 This is the process when buyer purchase your products:
1. When buyers click 'Buy Now' on your item, they'll go to this page.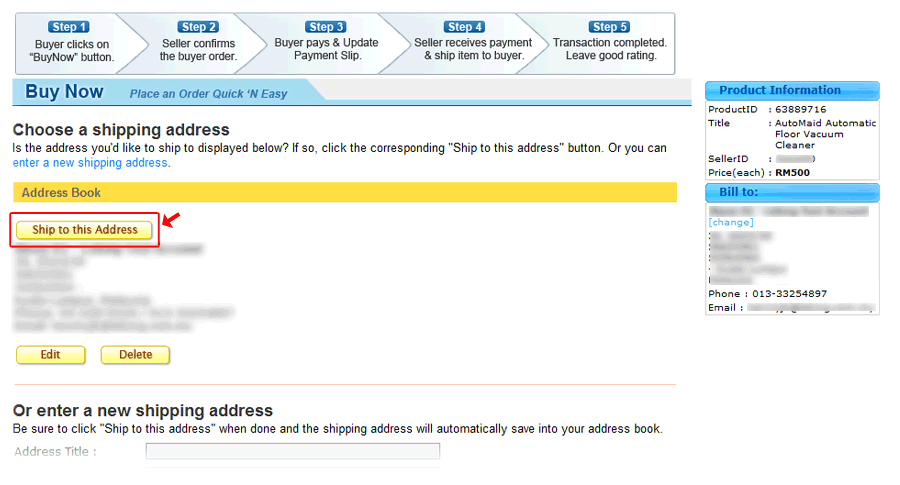 2. After that, buyer will check the item details and confirm purchase.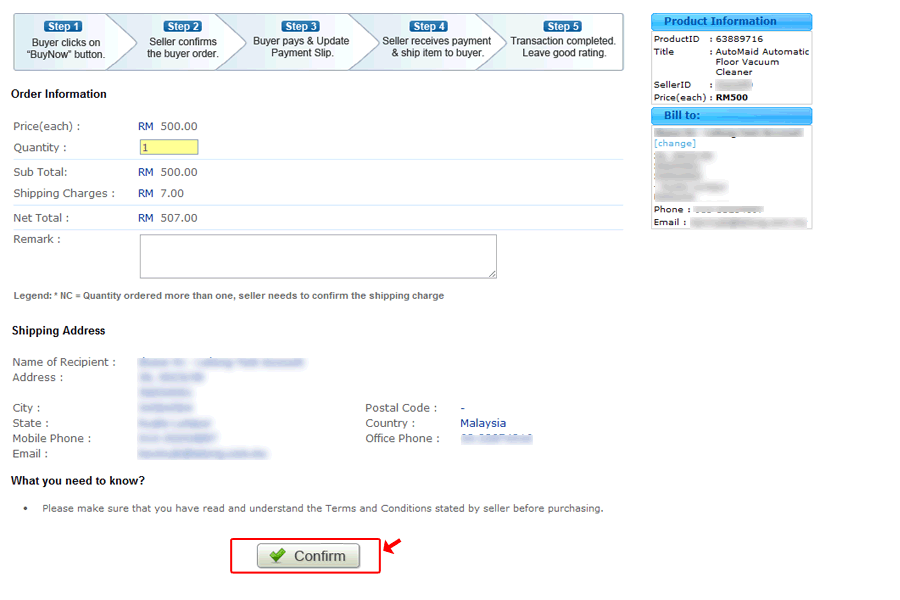 3. When buyers click 'Confirm', they'll see the PayPal option.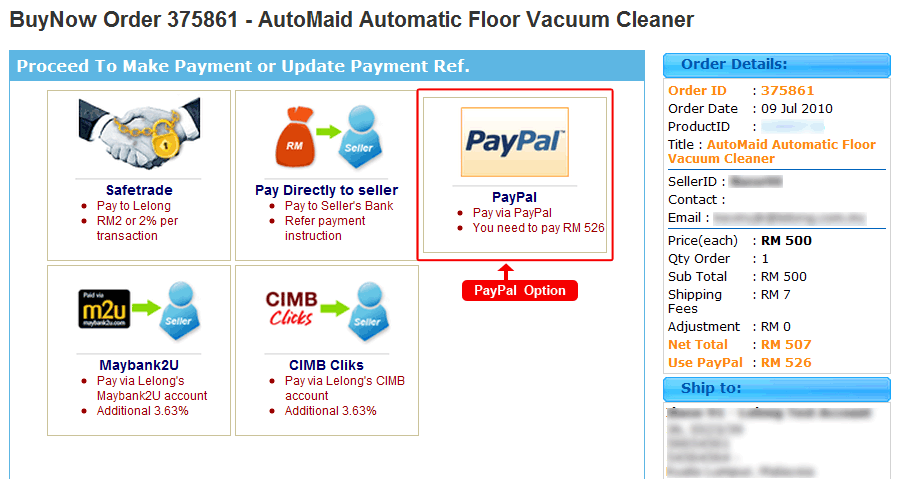 4. Buyer clicks PayPal and logs into their PayPal account: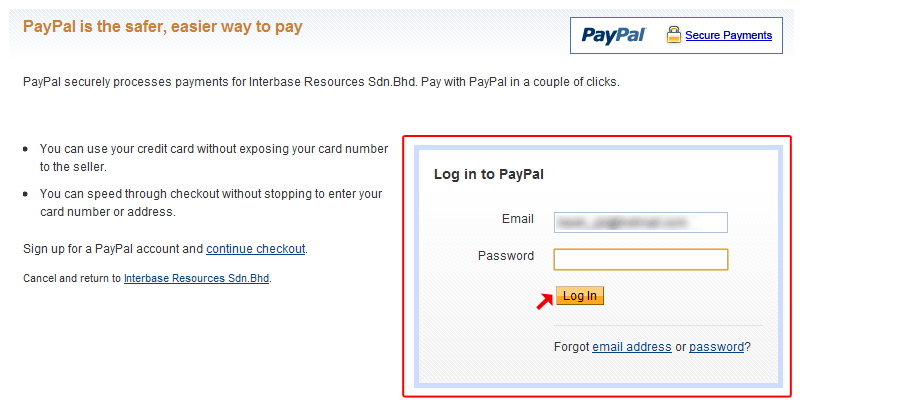 5. Buyer clicks 'Pay Now' and you receive the payment in your PayPal account.

What is Paypal?
PayPal is a global leader in online payments with a total payment volume of US$71 billion in 2009 – approximately 15% of global ecommerce and 16.5% of US ecommerce

(1)

.

Increase Your Sales

Businesses get an average sales increase of 14% when they add PayPal

(2)

Receive payments from more than 81 million active accounts worldwide

(3)

57% of online shoppers who purchased from a small/medium-sized business would not have done so if PayPal had not been a payment option

(4)

Expand Globally with PayPal

Accept a variety of local payment methods worldwide with one solution.
Sell to customers in 190 countries using 24 currencies
Diversify and reduce dependence on local markets
Alleviate seasonal market fluctuations

Stay Secure with PayPal

No worrying about storing sensitive customer data - leave it to PayPal
Over 2,000 specialists working 24/7 to prevent fraud and identity theft
Highest available data encryption keeps transactions secure
· Advanced fraud prevention tools keep PayPal's loss rates extremely low < 0.2%

Attract more buyers with PayPal

1 in 3 US online shoppers has a PayPal account
Active PayPal buyers in the US use PayPal on average for over 50% of their online spending

(5)

In Australia and UK, PayPal is the most preferred payment service on the web
90% of US shoppers who prefer PayPal cite security most often as the reason for their preference

(6)
Helpful links: News I Fees I PayPal Help Center
More questions? Contact PayPal at Telephone (65) 6535-7227. Visit www.paypal.com for more details.
---
Credits

Based on Forrester's estimates of US e-commerce, with the addition of eBay Inc. internal metrics totaling approximately US$256B.
Based on Q1 2006 PayPal phone survey of US small- and medium-sized businesses doing a minimum of $120,000 in annual sales online.
Active accounts are those that have had activity in the past 12 months.  PayPal has a total of 210 million accounts worldwide.
Based on Q4 2007 survey of PayPal shoppers, conducted by Northstar Research.
Based on Walker information Inc.'s February 2006 Customer Relationship Assessment (Buyers); sample frame: used PayPal once in past three months, twice in past year.
PayPal Brand Tracker Q4 08.
Receiving payments via bank transfers is available from approved countries.
Your transaction will be completed at a retail foreign exchange rate determined by PayPal, which is adjusted regularly based on market conditions. This exchange rate includes a 2.5% spread above the wholesale exchange rate at which PayPal obtains foreign currency, and the spread is retained by PayPal. The specific exchange rate that applies to your multiple currency transaction will be displayed at the time of the transaction.