PCsensor KeyFere Programmable USB Keyboard
KEYFERE USB PROGRAMABLE KEYBOARD
The KeyFere PCsensor is designed to simplify computer operations for the all users.
KeyFere is a mini keyboard that can be customized by the user to remember shortcuts,
these can then be used by pushing just one button and can do away with all the complex mouse
and keyboard operations such as Ctrl+Alt+Del, Alt+F+ mouse left and many more.
To program the device you need to download the free KeyFere software from the PCsensor website.
Once launched you can commence programming the keys or even use one of the many templates
for that come with preset shortcuts for common software and the most frequently used functions.
MUTI PLATFORM AND LANGUAGE SUPPORT
Having 15 programmable keys and 5 control keys to swap between different preset functions
and pages you can set up hundreds of commonly used software keyboard shortcuts.
You can use the KeyFare to open up different programs or websites and set your own functions
for games or other software. With the OTG cable provided you can connect it to supported smart phones
or your tablet PC to bring greater usability and quick functions to your fingertips that will save you time
and reduces the need for remembering a large array of shortcuts.
The LCD display will show you any preset names in any of the multiople languages it supports as well as
the operational functions for the set shortcuts and with the easy to use software you can set user defined shortcuts
for Windows, Linux, Mac or Android systems as the KeyFere is compatible with them all.
It will greatly improve efficiency and streamline your work, reducing the burden on your memory
and fingers as it makes shortcuts just one simple button push away.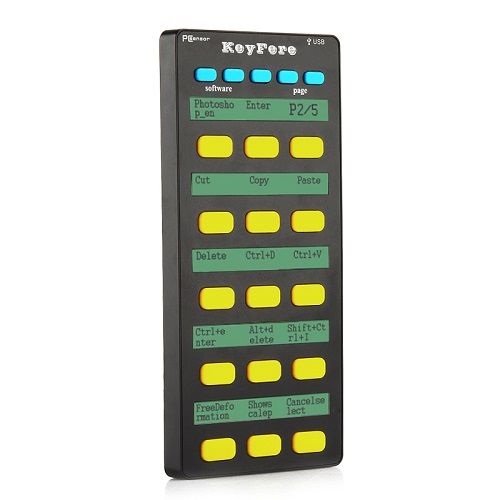 Programmable USB Keyboard
OS Support: Windows, Linux, Mac, Android
Supports PC and Tablet device with OTG USB port
20 Keys, Multi Language, Shortcut Templates, Multi Platform
Connection: USB and OTG USB
OS Support: Windows, Linux, Mac, Android system
Devices Support: PC and the tablet device with OTG USB port, Such as: Samsung, millet and other mobile phone
Equipment can be set up for hundreds of commonly used software keyboard shortcuts
Conforms to international HID standard
Language: Chinese, French, Russian, German, English, Spanish, Portuguese,etc
Dimensions: 180x82x11 mm (L x W x D)
Buy at wholesale price with no minimum order!
Have a question?
Please send email to: 1click2buy@gmail.com
Or call / sms / whatsapp: 019-2241838
Many satisfied customers, buy with confidence.
Click here to check out our other products
WHOLESALE INQUIRIES WELCOME
For more details, contact: 1click2buy@gmail.com
PH: 019-2241838
Thank you